Vive Pro VR headset has 78% higher resolution, supports new wireless adapter
HTC Vive leapt ahead of the VR competition with a new Pro model. The major upgrade are two new OLED displays with a combined resolution of 2,880 x 1,600px, a massive 78% increase over the original Vive headset (and well ahead of Oculus and Sony).
This will offer a sharper view with crisp text and better-looking graphics - a 37% jump in pixel density to 615ppi.
The HTC Vive Pro headset also comes with two cameras (up from one) to help developers build AR experiences. The Pro also features dual mics (with noise cancellation) and headphones with built-in amp. Alert mode and Conversation mode will help you when you need to interact with the real world without taking off the headset.
The headset has been redesigned for increased comfort. Weight has been shifted away from the front and the head strap has been improved. A redesigned face cushion will also block more of the outside light.
Price and launch date for the Vive Pro will be announced later.
HTC also unveiled the Vive Wireless Adapter. Based on Intel's WiGig tech, it will finally rid you of the dangling cables. The adapter will be be compatible with both the Pro and the original Vive headset. It will become available worldwide in Q3.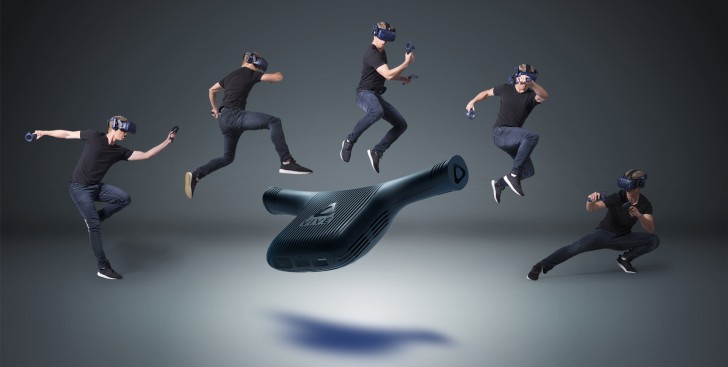 Meanwhile the Viveport store got a VR redesign. Gone is the immersion-breaking 2D catalog, replaced with a VR experience that offers interactive "VR previews" that offer a much better representation of the game.
Vive also partnered with Vimeo to offer a wide catalog of high-quality, curated content. As with the app store, Vive Video will let you browse in VR to prevent the jarring transition from virtual to real reality.
K
Thank you all for your replies ! From what i understand : Yes the resolution between the Vive and the S8+ are theoricaly the same, put HTC put it on Two 3.5" screens instead of one 6.2 screen. PLUS, the tehnology behind the screen is very important...
?
Lol this resolution good for nothing to support this amount of pix you need 2 graphics card around 3000 usd and you get unstable 60 fps Second problem is conten the support of pc vr is close to 0 (the support of gear is -1) best options is sadly P...
?
I don't know what type of screen Vive uses, but the screen door efect is much more prominent on pentile matrix screens - like the ones used in Galaxy S series. Long story short, perceived resolution is lower that what's written on paper. My old pho...