There are no phones quite like the LG V40 ThinQ, a rugged handset with a refined taste in multimedia. It's the first phone with five cameras on board, three on the back and two on the front. More importantly, we could argue that this is the first triple camera done right.
Three lenses, three fields of view – 107°, 78°, 47°. Mechanized optics for zooming never caught on in the mobile world, so this is the only way to overcome the last remaining advantage of point & shoot cameras.
Huawei and Leica produced the first phone with a triple camera on its back, but we felt that the B&W sensor wasn't strictly necessary. Not when you have a massive Quad Bayer sensor for low-light. That's why we like LG's setup better.
Speaking of sensor size and low-light performance, the main 78° camera of the V40 features large 1.4µm pixels and a brighter f/1.5 aperture, quite an improvement compared to the LG G7 (1.0µm, f/1.6). LG even adopted Dual Pixel AF, which offers fast and accurate focus locks in most lighting situations (we think it's a fine replacement of Laser AF).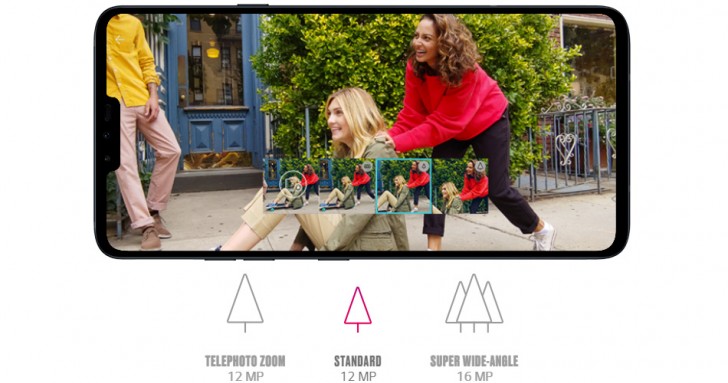 Then there's a dual selfie camera on the front, something LG hasn't done since the V10, the original V-series phone.
Like it, the V40 ThinQ takes durability seriously with MIL-STD-810G compliance in addition to the usual IP68 waterproofing. There's no grippy rubber back anymore, but the fast wireless charging is a fine development. The V-series is not one to give into trends just because. Case in point – the V10 had a proto-notch because LG found a good use for it, not because it wanted to copy Apple. That was before the iPhone X, anyway (but we digress).
Similarly, LG hasn't given into the whole "no headphone jack" trend – the company is in the business of selling you phones with 32-bit Quad DACs, not Bluetooth headphones. Plus, the BoomBox speaker is constructed like a dedicated speaker with a resonance chamber to produce a deeper bass. The speaker was tuned by Meridian to boot.
You can find more details on the flagship in our hands-on (if you're not in the mood for reading, watch the video instead). Don't forget to check out the camera samples! When you're done, you can cast your vote – LG V40 ThinQ, love it or hate it?
LG V40 ThinQ - love it or hate it?
?
LG, HTC and Sony should be grouped together. At least the other two brands have decent quality.
Well they offer Excellent TVs best in the world and they make profit here. But the Mobile phone section is just laughable.
?
Why do they cover the entire phone with camera and call it PINEAPPLE phone.