According to the latest report from Net Market Share, Microsoft's Windows 10 is continuing its upward spiral in terms of how many PCs it powers. This version now sits at 12.82% of the market for desktop operating systems, as you can see from the pie chart below.
Windows 10 claimed 11.85% of that market back in January, so it looks like more and more people and businesses are adopting it. However, its growth is slowing down, so it's unclear what the future will hold.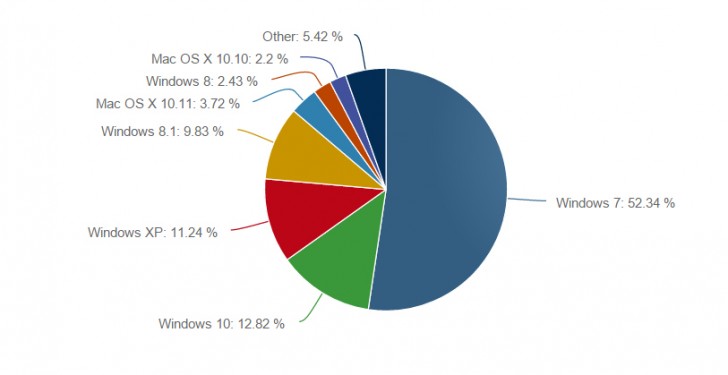 The world's most used desktop OS is still Windows 7, now down to 52.34% of the market (it was at 52.47% in January). It's followed by Windows 10, and then XP comes in at 11.24%. Windows 8.1 has grabbed a 9.83% market share, with Mac OS X 10.11 boasting 3.72%, Windows 8 at 2.43%, and Mac Os X 10.10 at 2.2%. Every other desktop OS is in the "Others" category, which makes up 5.42% of the pie. In that, Linux apparently represents 1.78%.
B
This really is pathetic to say how many people it has hoodwinked into this update, Also forcing people to update by killing off software or support, Win 8 was so bad Win 8.1 marginally better Windows 7 last good one Microsoft is doomed and about time...
?
I am surprised. Considering the number of Windows 7 and Windows 8 systems that were/are eligible for free upgrades to Windows 10, the percentage is underwhelming. Windows 10 is a huge improvement over 8, but only marginally better than 7.
B
:)))))) . Grow up people . You are making fools of yourselves. For as long as you will live MS will be the most used OS , and in terms of operating system, Windows 10 is great.