Other apps and services
The Xiaomi Mi 3 and Mi 4 come with the feature-rich MIUI Browser. It does a great job browsing, supports downloads, there is a night mode, too. It is as fast as Chrome, but does not support Find on Page or copy text (only links). On the positive side, it has a built-in Reading mode, which lacks in Chrome. It enlarges the text font and strips away unneeded elements, leaving only the article you are reading in focus.
Unfortunately, the MIUI Browser turned less capable of handling pressure - it couldn't handle our battery-test browsing script for more than three minutes without crashing.
That's why we suggest you install Chrome, at least as a backup, just in case you need to avoid crashes or you need to find something on a page. Plus it can sync with your Google account easily.
The MIUI v5 offers a great file managing app called Explorer, but there is no document viewer/editor pre-installed. There are plenty of free options in the Play Store (even ones made by Google), so this shouldn't pose a problem.
Xiaomi provides its own app repository and cloud service for content syncing between devices. While the Mi Market somewhat mirrors the Play Store functionality, Mi Cloud is a different story.
Each Mi Cloud account is granted with 5GB of free storage. You can use it to backup contacts, messages, your entire gallery, call log, notes, settings, voice recordings, Browser content (history, tabs, webapp data) and your music library. Sounds familiar? Yes, indeed! Xiaomi's sync and backup service shares lots of similarities with the Apple iCloud. There is even a free Cloud Messaging option that allows Xiaomi users to exchange messages over the internet connection instead of being billed for SMS.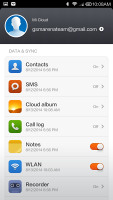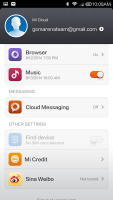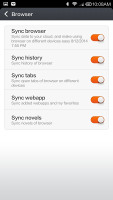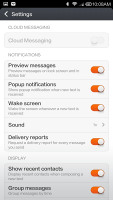 Configuring Mi Cloud and Cloud Messaging
Finally, if you signed in with your Mi Cloud account, you can opt for the Find device function - a handy feature in case you misplace your Xiaomi Mi or someone steals it.
Winner: Tie