Xiaomi unveiled the new generation of its Android TV box, but not much seems to have changed. The Mi Box 4 comes with a refreshed chipset but still runs Android 6.0.
The chipset is an Amlogic S905L and the major addition compared to the old one is Hybrid Log Gamma HDR and HDMI 2.0b support. However, Xiaomi only lists HDMI 2.0a support in the specs (which lacks HLG HDR).
That doesn't matter too much, though, you're still looking at 4K video decoding at up to 60fps (for HEVC/h.265 files) with HDR10 support. DTS and Dolby Digital Plus ensure high-quality audio, which comes out of the HDMI port or an optical out.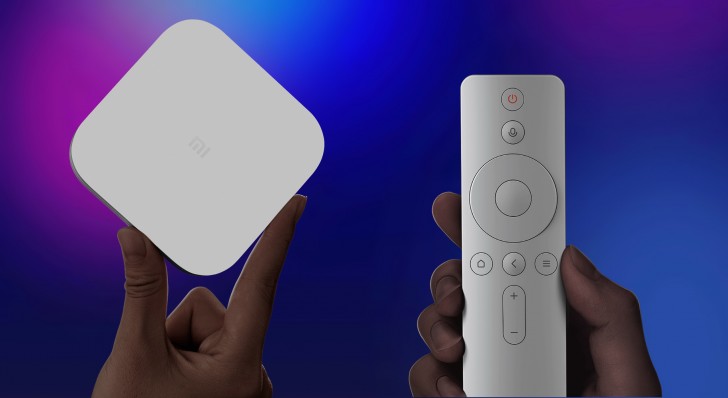 Xiaomi advertises its AI-enhanced movie suggestion engine and in China, you could stream movies and TV shows through its service. The remote is slightly redesigned, the mic key is now above the clickwheel (you use it for voice commands).
The Xiaomi Mi Box 4 comes with 2GB of RAM and 8GB of storage, which you can expand over the USB 2.0 jack (still no 3.0 or USB-C). There's a Mi Box 4c model, which comes with half the RAM – 1GB. There are a few more differences, e.g. the 4c lacks Bluetooth and Dolby.
Xiaomi advertises the gaming capabilities of the Mi Box 4, but its chipset only packs a quad Cortex-A53 processor (2.0GHz) and a Mali-450 GPU (750MHz, 3 + 2 core). And don't forget that the 4c version is strapped for RAM.

The Mi Box 4 and 4c will go on sale in China on February 1. The 4 comes in white only and will cost CNY 350 ($55/€45) while the 4c model is available only in black and will cost CNY 250 ($40/€32).
There may be an international version of this box at some point, but honestly you're not missing much compared to the current one.
?
It is Android TV 6.0, not the same thing as Android 6.0. Duh..
?
So in other words, Mi Box 3 in white.
?
seriously! same exact specs as the mi box 3