Performance
The Xiaomi Mi Mix 3 is powered by a Snapdragon 845. It's a highly capable chipset and we're quite familiar with its performance (we ran some early benchmarks anyway). While MIUI is not the lightest of skins, the interface feels snappy and fluid, apps launch quickly.
Note that this is a pre-release unit and the software isn't final, so we'll re-run them for the full review. That said, the numbers match other S845 phones, so no surprises here. These tests were run on the 8/256GB model.
Basemark X
Higher is better
Xiaomi Mi Mix 3
44648
Xiaomi Mi MIx 2S
44267
LG V40 ThinQ
43860
Sony Xperia XZ3
43843
Samsung Galaxy Note9
41994
Basemark OS 2.0
Higher is better
Xiaomi Mi Mix 3
4292
LG V40 ThinQ
4211
Sony Xperia XZ3
3700
Xiaomi Mi MIx 2S
3155
Samsung Galaxy Note9
3064
The special edition and 5G model
Xiaomi's teaser campaign made a big fuss about 10GB of RAM and 5G connectivity. However, you can't have both of these and not today. The Forbidden City Edition will be the only one with 10GB of RAM. Also, it's a different kind of blue, based on the one used for ceramic vases by one of the ruling dynasties of China. It features a gold inlay of a mythical creature on its back (inspired by the statues at said museum). In fact, you will get a statuette in the box alongside this special edition of the Mi Mix 3 and it's has 24K gold plating. This version of the phone is coming out by the end of November (Xiaomi is yet to make up its mind if it will be available outside of China or not).
If you want 5G connectivity, there will be another version of the Mi Mix 3 that will have a 5G modem. How much RAM it will have will be revealed later on. This one will arrive in Europe in Q1 next year.
If you can't wait, the regular Mi Mix 3 models are on pre-sale now and will be available from November 1.
Final thoughts
Sliders and flip phones were highly popular once, but the all touchscreen phone killed them off. The slider form factor is back and better than ever. Will the Xiaomi Mi Mix 3 start a trend the same way that the original did (which was among the first tall aspect ratio smartphones)?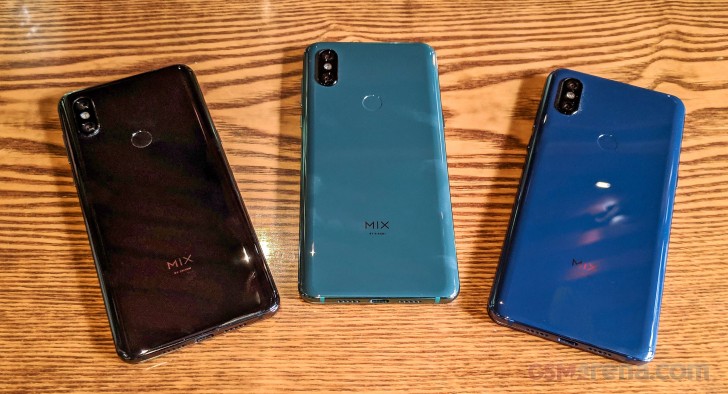 While we think that the sliding action is quite cool, useful even, it adds a lot of complexity to the phone. That in turn brings the cost up and will limit this kind of design to flagships only. It also creates other issues, like limiting battery capacity and precluding waterproofing (which may be possible, but with even more complexity).
So, the Xiaomi Mi Mix 3 is one of a kind, Apple, Samsung, Huawei, Oppo and all the others have nothing quite like this.