Striking the right note
Xiaomi Mi Note review: Striking the right note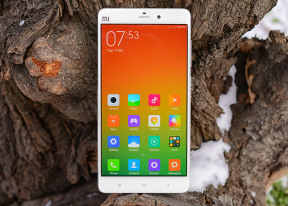 Conclusion
The Xiaomi Mi Note has a clear purpose: provide flagship-worthy performance at an affordable price. We think they nailed the execution but the 64GB model carries a hefty price tag - by no means extreme for what the phablet really offers but steeper than usual for Xiaomi.
That's still a good 100 euro less than what a 16GB Samsung Galaxy Note 4 will run you in Europe but the premium is easily justified by the extra software features, the more reliable OS updates, the proper after-market support and the microSD slot. And that's before you even start considering the S Pen.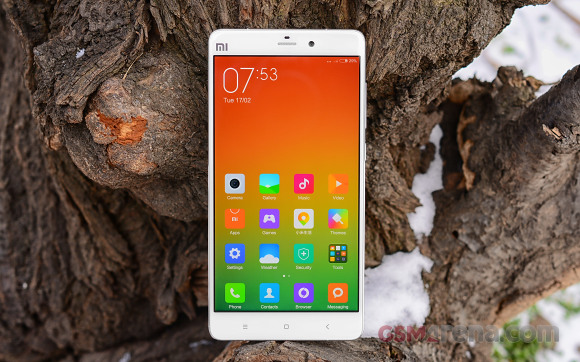 No, we're not trying to belittle Xiaomi's effort by comparing it to the standard-setting phablet. It's a comparison the Chinese have very well earned. Plus, although the Galaxy Note 4 is clearly being copied, it's definitely one of the more tasteful takes we've seen.
Plus, the Mi Note mostly lives up to the promises made by the spec sheet. The screen is very good and the devices responds blazing-fast thanks to the S801 chip.
Xiaomi wouldn't be themselves if they didn't throw some extras into an already solid package. The dual-SIM connectivity with LTE support is a great combo and not necessarily confined to developing markets. The 13MP Sony-made camera has been enhanced with optical image stabilization and a proper dual-tone flash. There is a 4MP UltraPixel selfie cam as well.
The MIUI v.6, now with new flat looks, has its quirks but is efficient enough and not a bad looker either. The new launcher is clean and powerful, with rich customization options and security settings. The pre-installed apps are consistently good-looking too.
There is something for the audiophiles as well - Hi-Fi sound, lossless audio playback, super loud audio of excellent quality.
Among the few things that may not look as good on Xiaomi Mi Note's resume are the lack of memory expansion and NFC. The non-removable battery is something to consider as well. But Xiaomi is offering a 64GB model in case you need more space - and are willing to spend extra.
Now, before we browse the competition, let's check out our key test findings.
The Xiaomi Mi Note has great build quality and credible design, but the handling is compromised: the big device will over easily slip out of hand and out of any flat surface.
The 5.7" IPS screen is bright and offers great contrast and color reproduction, but the sunlight legibility is only average.
We rated the dual-SIM battery endurance of 48h, while the single-SIM battery endurance is 56h. Solid call and stand-by battery numbers are spoiled by the inadequate web browsing and video playback times.
Great connectivity options including LTE and dual-SIM. NFC and FM radio are missing though.
The simplified MIUI interface is based on Android 4.4 KitKat, has new flat looks, and offers rich customization and security options. You may need to download Google's default apps separately though.
The Snapdragon 801 chipset still offers flagship-grade performance and is an excellent choice for the 1080p devices.
We rated the loudspeaker loudness and quality as excellent.
Video player has greatly varied video decoder support, as well as seamless 4K video playback. It only lacks subtitles support
Audio output quality is excellent, the Hi-Fi output is the loudest we've met
Camera performance is very good, with sharp and detailed images, great dynamic range and noise is kept in check. Built-in HDR mode does a very good job, too.
Videos recording quality has its highs and lows: great UHD videos, not-so-good 1080p videos. No 60fps option in any of the modes.
The front 4MP UltraPixel camera is great for selfies, but lacks auto-focus - that's not necessarily a bad thing as it allows for much shorter shot-to-shot time.
Let's explore the phablet competition. You bet the OnePlus One, now more easily obtainable, is the first gadget to come to mind. It offers a slightly smaller 5.5" 1080p display, the same Snapdragon 801 chipset and a 13MP camera sans OIS. The One runs on a special version of CyanogenMod, which is more popular than MIUI and with a bigger dev community.
The Meizu MX4 has less screen real estate but matches the 1080p resolution, the MT6595 chip offers similar performance, while the main camera has higher resolution. The Flyme OS is gaining popularity and is quite similar to MIUI actually.
The Oppo Find 7a will sure put up a fight as well, nearly a year since launch. The Find 7a comes with a 5.5" 1080p display, the same Snapdragon 801 chip and a very capable 13MP rear camera. It has lees RAM, but offers storage expansion, better video recording options, and the ColorOS will do a good job as well.
Samsung's Galaxy A7 has just hit the shelves and is already quite popular. It has 5.5" of 1080p Super AMOLED goodness, an octa-core processor, a 13MP ISOCELL rear camera and the elaborate TouchWiz UI. Metal build and premium finish, AMOLED as well as the reputation of a major brand inevitably add to a higher price tag.
A previous generation flagship on the other hand, the LG G3, is quite attractively priced. An excellent package (only marred by questionable battery life) of a 5.5" QuadHD display, Snapdragon 801 chip, a 13MP OIS camera with laser-assisted focus, premium design and Android Lollipop can be yours for about the same amount of money as a Xiaomi Mi Note.
The Xiaomi Mi Note has a Pro version, which looks the same but offers a higher-resolution QHD display and the latest-generation Snapdragon 810 chipset. The rest of the specs are the same, but in case you are after the best available hardware you should wait for the Xiaomi Mi Note Pro to launch this spring.
The Xiaomi Mi Note set out to be an affordable flagship. When such claims are coming from China, the flagship is usually the less credible part of the phrase. Xiaomi are by no means the first to put quality ahead of affordability. Take a look at a Oppo's latest N3 and R5. The Mi Note isn't cheap and that can potentially complicate things - users will inevitably weigh up things such as after-sales support, warranty and servicing. But there's a simple explanation as well: the Mi Note just isn't cheaply made.
Special thanks to HonorBuy for providing the review unit.