Hardware overview
So, is there value to be had in owning the entry-level Xiaomi Redmi 4a? The phone was released in Xiaomi's home market at the end of last year but a belated premiere outside China has put it back in the spotlight - particularly in the emerging Indian market where it seems to be in pretty high demand. For one, the Redmi 4a feels pretty sturdy and well built. Naturally, it is plastic all around but the finish gives a convincing impression of metal.
The unibody design is even complete with a pair of grooves that resemble antenna strips. They are purely cosmetic, but reinforce the overall illusion of a metal chassis. The rear is pretty clean and simple. There is a single speaker grille near the bottom and the 13MP sensor is placed behind a pretty compact f/2.2 lens. There is no fingerprint reader - a notable omission compared to the standard Redmi 4. It's one of the sacrifices Xiaomi had to make in the name of ultimate savings.
The mono speaker on the Redmi 4a seems to be identical to that on the regular Redmi 4 and the 4 Prime. That is to say, it is not particularly loud and only scored an Average score in our tests.
| | | | | |
| --- | --- | --- | --- | --- |
| Speakerphone test | Voice, dB | Pink noise/ Music, dB | Ringing phone, dB | Overall score |
| Xiaomi Mi 4 | 62.0 | 62.1 | 66.6 | Below Average |
| Samsung Galaxy J3 (2016) | 64.1 | 65.3 | 68.5 | Below Average |
| Sony Xperia XZ Premium | 62.9 | 65.2 | 71.6 | Below Average |
| Xiaomi Redmi 4 Prime | 63.1 | 67.3 | 71.3 | Average |
| Xiaomi Redmi 4a | 62.8 | 67.5 | 72.1 | Average |
| Asus Zenfone Selfie ZD551KL | 65.9 | 66.1 | 75.7 | Average |
| Samsung Galaxy S8 | 66.2 | 70.5 | 72.5 | Good |
| ZUK Z1 | 68.7 | 66.6 | 75.7 | Good |
| Huawei Honor 5c | 66.5 | 71.1 | 74.4 | Good |
| Meizu M5s | 65.4 | 69.1 | 84.2 | Good |
| Xiaomi Redmi Note 4 (S625) | 67.3 | 70.3 | 81.5 | Very Good |
| Xiaomi Mi 6 | 66.1 | 69.0 | 84.1 | Very Good |
| Meizu M5 Note | 65.1 | 70.7 | 86.8 | Very Good |
The front of the device follows the minimal, low-cost styling. The screen is a 720p unit, which seems the straightforward choice in this price bracket. The front is quite scratch-prone, even though Xiaomi claims it used some sort of reinforced glass other than the popular Gorilla Glass varieties. Our review unit managed to pick up a few marks from just lying around and the mostly indoor use during testing. A screen protector should be one of the first things on a new user's list.
The three capacitive keys below the display work perfectly fine, but the lack of backlighting is a bit of a disadvantage. Not a big deal but you'll have to rely on habit in the absence of visual aids. Xiaomi might have found those three particular LEDs a bit too pricey to include but, ironically, they left the IR blaster from the rest of the Redmi 4 line intact, at the top side of the device.
Perhaps it would have cost more to redesign the frame and remove the cutout than to just leave the emitter in. In any case, you can pick a Redmi 4a up as an overdesigned universal remote to use around the house. But seriously, the IR is nice to have. Speaking of LEDs, there is also a notification LED underneath the Home button. An unusual position for sure, but still a welcome touch on such a cheap device.
There is a 3.5mm audio jack and that's one thing the flagship Mi 6 can't match. It's at the top of the device, next to a secondary noise-canceling microphone. The bottom features the main microphone and a microUSB port. You'll be happy to learn it is OTG-enabled.
As for the sides, there is a very standard arrangement including a volume rocker and a power button on the right and only a card compartment opposite. It has a total of 2 slots: a micro and a nano SIM. The latter is a hybrid, so you can opt for a microSD storage card in it instead. Both SIM slots are 4G-enabled, but only one can be active at a time.
Besides LTE, the Redmi 4a also comes with VoLTE support out of the box. In case you are wondering, this includes Reliance Jio as well. It even supports Band 5, which is widely used in India.
And while we are at it, the Redmi 4a has the connectivity basics covered. There is Wi-Fi 802.11 b/g/n on board (single-band, nothing fancy), Bluetooth 4.1 with A2DP and LE and A-GPS, GLONASS, BDS, for navigation.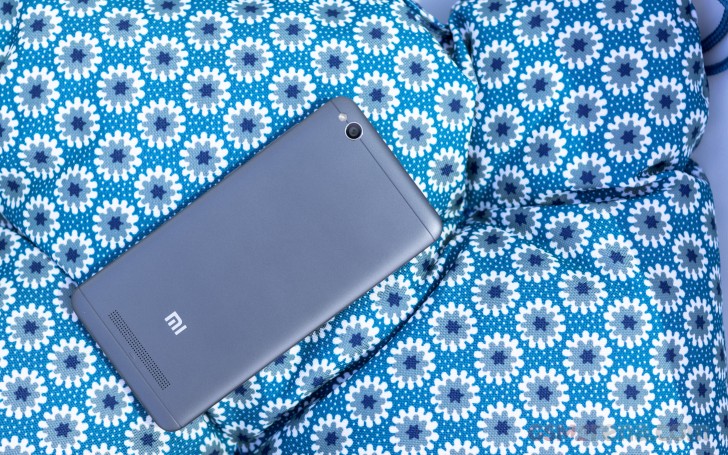 NFC is a notable omission. Then again, we hardly see that on Redmi devices to begin with. On the other hand, Xiaomi has thrown in an FM radio receiver, for some old-school offline audio entertainment.
For wired connectivity, the Redmi 4a has a traditional microUSB connector, with a USB 2.0 controller behind it. Since the storage in the handset isn't all that fast either, anything beyond that in terms of bandwidth would have been overkill anyway. One thing we really do wish made the cut is fast charging, though.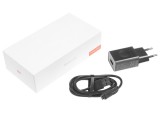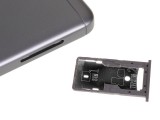 Redmi 4a retail package • Hybrid SIM tray
The Redmi 4a comes with a 1A basic charger in what's a pretty basic retail package, as you would expect. Besides the charger, there is also a USB cable, a SIM ejector and some leaflets.
Battery
The Xiaomi Redmi 4a is powered by a 3,120mAh battery. It is a sealed-in pack, and it's pretty slow to charge up.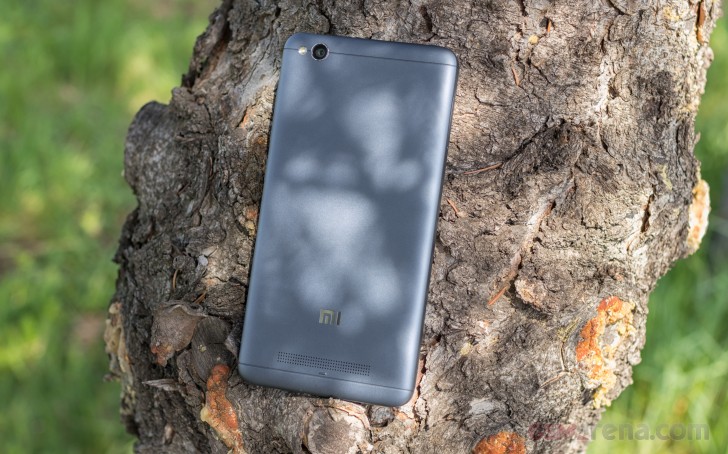 We can't help but feel that Xiaomi crippled its capacity in order to save on costs, rather than just for space, as is usually the case with today's smartphones. The regular Redmi 4, as well as the Redmi 4X both have 4,100mAh battery packs. With a size of 139.2 x 70 x 8.7mm and 139.9 x 70.4 x 8.5mm for the 4X and 4A, respectively, we definitely think cutting the capacity was a market decision more than anything else. And, as expected, the Redmi 4a definitely suffers for it.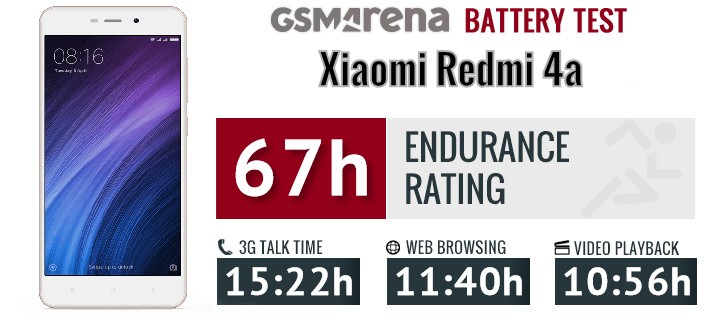 It managed to score a 67 hour endurance rating in our battery test - a far cry from the whopping 119 hours of the Xiaomi Redmi Note 4 or the 91 hours of the Redmi 4 Prime. Both handsets have 4,100mAh battery packs at their disposal, as well as the 14nm Snapdragon 625, which has proven its power efficiency time and time over. Even the MediaTek Helio X20 version of the Redmi Note 4 managed to squeeze an 83 hour rating out of its 4,100mAh battery.
A less efficient Snapdragon 425, working its four cores overtime to keep up with the load, plus a smaller 3,120mAh battery pack really turned out to be a recipe for an average battery life. It's another significant deduction from the already dwindling value score of the Redmi 4a.
Display
Much to our surprise, the 5-inch 720p panel on the Redmi 4a turned out to be pretty decent. It seems the LCD unit was mostly spared from the cost-cutting, but sadly the same can't be said about its protective layer. Xiaomi claims it is some sort of hardened glass but, as we said earlier, it really gives off a "plasticky" vibe - it doesn't provide smooth swipes and it's prone to scratches.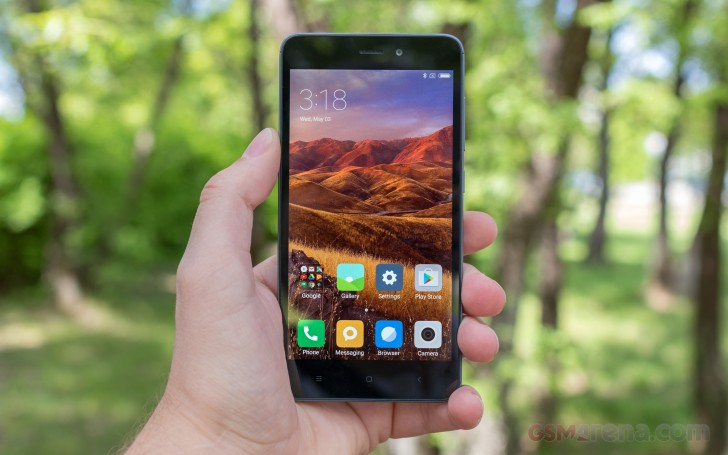 As for the actual screen however, we've definitely seen worse and on much more expensive devices. It is not the brightest unit available, peaking at 475 nits and the higher light bleed in the blacks makes for a rather low contrast of 925. Still, to put the results into perspective, the Meizu M5s - one of the few competing offers in the ultra-budget segment- gives a pretty much identical performance. But then again, the Redmi 4 Prime and Redmi Note 4 both do notably better in the display department.
Display test
100% brightness
Black, cd/m2
White, cd/m2
Contrast ratio
Xiaomi Redmi 4 Prime
0.475
528
1112
Xiaomi Redmi 4a
0.513
475
925
Xiaomi Redmi Note 4 (S625)
0.322
484
1503
Xiaomi Mi 4
0.73
679
929
Meizu M5
0.453
480
1060
Meizu M5 Note
0.614
463
754
Meizu M5s
0.426
407
955
ZUK Z1 by Lenovo
0.39
396
1021
Samsung Galaxy J3 (2016)
0.00
331
∞
Samsung Galaxy J3 (2016) outdoor mode
0.00
468
∞
Huawei Honor 7 Lite / Honor 5c
0.58
416
717
Asus Zenfone Selfie
0.36
333
928
The part we really found surprising was color accuracy on the Redmi 4a. Even the Standard color mode provides an average DeltaE of 4.5 out of the box and a maximum of 7.8. Whites are a little strong, which makes it slightly cold, but still, it's an overall quite accurate color-wise.
Tweaking some of the ample display settings yielded even more impressive results. Using the Warm color mode results in an average deltaE of just 2.8 and a max of 6, again mostly due to a variance in white and grays. Bringing the brightness down from the 475nit maximum to 200nits corrected the white pretty well and left us with a very impressive average deltaE of 2.4 and a maximum of 4.8.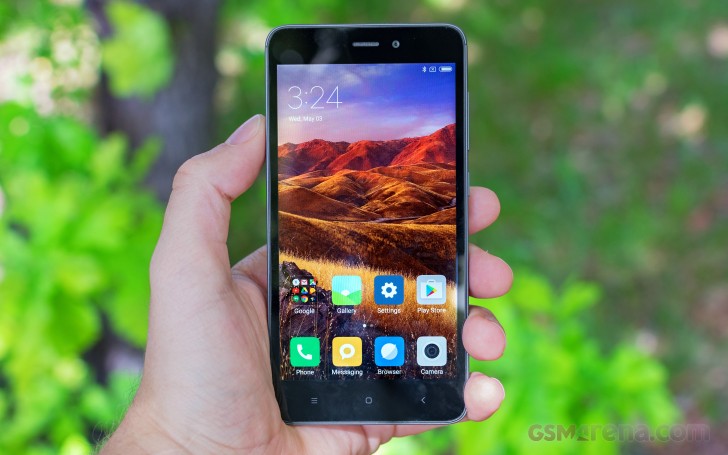 Sunlight legibility is on par with similar devices, like the regular Redmi 4 and Redmi 4 Prime. That is to say, it is not spectacular in any way, but still decent enough for outdoor use. The automatic contrast adjustment, baked into MIUI helps in this respect as well. Still, you should probably avoid direct sunlight.
Sunlight contrast ratio
Samsung Galaxy S8
4.768
Samsung Galaxy S8+
4.658
Samsung Galaxy S6 edge+
4.615
Samsung Galaxy S7 edge
4.439
OnePlus 3
4.424
Samsung Galaxy S7
4.376
HTC One A9
4.274
Samsung Galaxy Note7
4.247
Samsung Galaxy A3
4.241
OnePlus 3T
4.232
Google Pixel XL
4.164
ZTE Axon 7
4.154
Samsung Galaxy S6 edge
4.124
Samsung Galaxy A7 (2017)
4.124
Samsung Galaxy Note5
4.09
Huawei Nexus 6P
4.019
OnePlus X
3.983
Vivo Xplay5 Elite
3.983
Oppo R7s
3.964
Apple iPhone 7
3.964
Huawei P9 Plus
3.956
Meizu Pro 6 Plus
3.935
Lenovo Moto Z
3.931
Samsung Galaxy A7 (2016)
3.918
Samsung Galaxy C5
3.911
Samsung Galaxy C7
3.896
Samsung Galaxy A5
3.895
Samsung Galaxy J7 outdoor
3.879
Samsung Galaxy J2 outdoor
3.873
Samsung Galaxy A8
3.859
Sony Xperia XZs
3.818
Samsung Galaxy A9 (2016)
3.817
Motorola Moto X (2014)
3.816
Samsung Galaxy A5 (2017)
3.804
Samsung Galaxy J7 (2016) outdoor mode
3.802
Xiaomi Redmi Pro
3.798
LG V20 Max auto
3.798
Sony Xperia XZ
3.795
Samsung Galaxy A5 (2016)
3.789
Apple iPhone 6s
3.783
Meizu Pro 5
3.781
Microsoft Lumia 650
3.772
Xiaomi Mi 6
3.767
Samsung Galaxy J7 (2016)
3.756
Oppo F1 Plus
3.709
Vivo X5Pro
3.706
Samsung Galaxy A3 (2017)
3.688
Apple iPhone SE
3.681
Huawei Mate 9
3.68
Samsung Galaxy A7
3.679
Meizu PRO 6
3.659
BlackBerry Priv
3.645
Apple iPhone 7 Plus
3.588
LG G6
3.556
Apple iPhone 6s Plus
3.53
Motorola Moto Z Play
3.526
Samsung Galaxy J3 (2016)
3.523
Samsung Galaxy J3 (2016) outdoor mode
3.523
Acer Jade Primo
3.521
Microsoft Lumia 950
3.512
Oppo R7 Plus
3.499
nubia Z11
3.466
Huawei P10 Plus
3.456
HTC U Ultra
3.453
Samsung Galaxy J7
3.422
Meizu MX5
3.416
LG V20
3.402
Huawei P10
3.379
Oppo R9s
3.352
Honor 8 Pro
3.341
Oppo R7
3.32
Lenovo P2
3.316
Xiaomi Mi 5s
3.276
Nokia 6 (Chinese version)
3.244
Samsung Galaxy J2
3.235
Sony Xperia X Performance
3.234
Xiaomi Mi Note 2
3.228
Motorola Moto X Play
3.222
Oppo F3 Plus
3.218
Huawei Mate 9 Pro
3.206
Huawei P9
3.195
Lenovo Vibe Shot
3.113
Motorola Moto X Force
3.105
LG Nexus 5X
3.092
Huawei Mate S
3.073
Microsoft Lumia 640 XL
3.065
Sony Xperia XA1
3.012
Sony Xperia X
2.989
Huawei P10 Lite
2.974
Huawei Mate 8
2.949
Xiaomi Redmi 3S
2.913
Sony Xperia XA Ultra
2.906
LG G5
2.905
HTC One S
2.901
Xiaomi Redmi 3s Prime
2.893
Xiaomi Mi 5s Plus
2.884
Sony Xperia XZ Premium (sRGB)
2.877
Sony Xperia XZ Premium
2.877
Sony Xperia Z5
2.876
Microsoft Lumia 550
2.851
Lenovo Moto M
2.813
Xiaomi Redmi 3 Pro
2.803
Sony Xperia Z5 compact
2.784
Meizu MX6
2.751
LG V10
2.744
Xiaomi Redmi 3
2.735
Xiaomi Redmi Note 4 (S625)
2.714
Meizu M5
2.71
Sony Xperia M5
2.69
Huawei P9 Lite
2.679
Xiaomi Redmi 4 Prime
2.679
Vivo V3Max
2.659
Xiaomi Mi Mix
2.658
Xiaomi Mi 4i
2.641
Xiaomi Redmi 4a
2.635
Sony Xperia XA
2.609
Motorola Moto G4 Plus
2.582
Motorola Moto G4 Plus (max auto)
2.582
Meizu M5s
2.58
Xiaomi Mi 4c
2.574
LeEco Le Max 2
2.567
Microsoft Lumia 640
2.563
Asus Zenfone 3 ZE552KL
2.563
Lenovo Moto G4
2.544
Lenovo K6 Note
2.544
Oppo F1
2.528
Sony Xperia Z5 Premium
2.525
Huawei Honor 7 Lite / Honor 5c
2.506
Sony Xperia M4 Aqua
2.503
Oppo F1s
2.481
Motorola Moto G
2.477
Lenovo Vibe K5 Plus
2.473
Huawei G8
2.471
Huawei nova
2.467
Sony Xperia Z
2.462
Lenovo Vibe K5
2.459
Meizu m3 max
2.447
Xiaomi Mi 4
2.424
HTC 10 evo
2.407
Huawei Honor 7
2.406
Sony Xperia E5
2.386
ZUK Z1 by Lenovo
2.382
HTC 10
2.378
Samsung Galaxy J5 (2016)
2.378
Oppo F3
2.376
vivo V5 Plus
2.371
Meizu m1 note
2.362
Huawei nova plus
2.329
HTC One E9+
2.305
Alcatel One Touch Hero
2.272
Lenovo Vibe K4 Note
2.254
Sony Xperia C5 Ultra
2.253
Xiaomi Redmi Note 3 (MediaTek)
2.249
Sony Xperia C4 Dual
2.235
Xiaomi Mi Note
2.234
Motorola Moto G (2014)
2.233
Huawei P8
2.196
Meizu M5 Note
2.189
Huawei Honor 6
2.169
Xiaomi Redmi Note 2
2.166
OnePlus Two
2.165
HTC One X
2.158
LG Aka
2.145
Xiaomi Redmi Note 4 (X20)
2.145
Archos 50 Diamond
2.134
Xiaomi Redmi Note
2.119
Xiaomi Mi 4S
2.095
Acer Liquid X2
2.084
Huawei P8lite
2.078
vivo V5
2.059
Moto G 3rd gen max manual
2.026
Xiaomi Mi 3
2.001
Xiaomi Mi Max
1.996
Sony Xperia E4g
1.972
OnePlus One
1.961
Meizu m3 note
1.923
BlackBerry Leap
1.892
Meizu m2 note
1.892
ZTE Nubia Z9 mini
1.759
Sony Xperia U
1.758
Asus Zenfone Selfie
1.68
Motorola Moto E (2nd Gen)
1.675
ZTE Nubia Z9
1.659
Jolla Jolla
1.605
Motorola Moto E
1.545
Sony Xperia M
1.473
Sony Xperia L
1.351
HTC Desire C
1.3
Meizu MX
1.221
Sony Xperia E
1.215