Android phonebook
The phonebook is the stock Android app People, which hasn't been much changed since its major redesign last year with the introduction of Ice Cream Sandwich. It uses tabbed interface with Favorites, Contacts and Groups as separate tabs.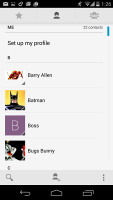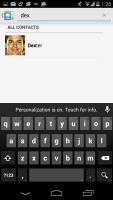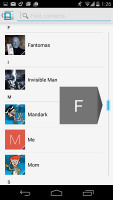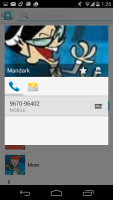 The People app
The contact list has a dedicated search filed plus it offers and an alphabetical scroll bar. Quick Contacts features is available too.
You can sync with multiple accounts, including Exchange and Facebook, and you can selectively show or hide contacts from some accounts (as well as filter specific groups in an account), or set the phonebook to display only contacts with phone numbers or only contacts that are online.
Telephony
The in-call quality with the YotaPhone 2 is decent, the earpiece is loud enough with the voice of the other party coming out loud and clear. Reception is good, too, with above average coverage in hallways and underground parkings as far as we tested non-scientifically.
Android 4.4 KitKat dialer app supports smart dial. Upon launch, it brings you to its default dialing tab where you get a search field, the most recent dialed contact and a list of contacts you've dialed most often. You can bring up or hide the dialer by its dedicated shortcut at the bottom. It supports smart dialing both by name and phone numbers.
As usual we've tested the loudspeaker performance of the YotaPhone 2. It scored an Average mark, which means you should be able to hear the phone in semi-noisy environments, but to ensure not to miss any calls, we advise you to turn vibration on.
| | | | | |
| --- | --- | --- | --- | --- |
| Speakerphone test | Voice, dB | Pink noise/ Music, dB | Ringing phone, dB | Overall score |
| LG Nexus 5 | 65.0 | 64.8 | 65.8 | Below Average |
| YotaPhone 2 | 66.7 | 65.5 | 69.7 | Average |
| Apple iPhone 6 | 66.6 | 65.7 | 72.8 | Average |
| Motorola Moto G (2014) | 66.5 | 66.2 | 75.1 | Average |
| Samsung Galaxy S5 | 66.9 | 66.6 | 75.7 | Good |
| Samsung Galaxy S5 mini | 73.5 | 67.7 | 78.7 | Very Good |
| OnePlus One | 74.8 | 73.5 | 80.2 | Excellent |
Messaging and text input
Text messages and MMS use standard thread layout. Adding multimedia (photos, videos, sounds, etc.) will convert the message automatically into an MMS. Google's hangouts is also on board, it supports SMS too.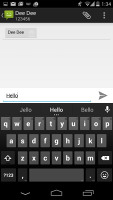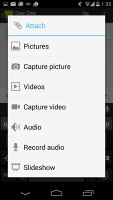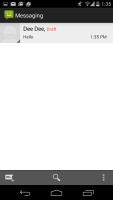 The messaging app • Adding multimedia turns it into an MMS
Naturally, the Gmail client and the default Email apps are onboard. Gmail can sync only with (multiple) Google accounts, while the generic Email app can handle POP and IMAP and offers a Combined inbox.
YotaPhone 2 relies on the default Google keyboard for text input. It supports Swype-like gesture input, personalized dictionary, auto-correction and lots of languages. You can use Google's voice input too.