Telephony
The Axon 7 offers very good sound quality during phone calls and the dual-mic setup works well, too. The SIM card manager in the settings is also decent enough to give you some control over the SIM cards in the phone.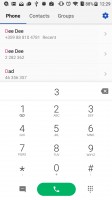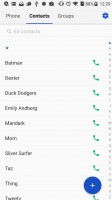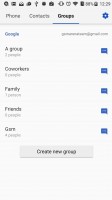 The Dialer app is untouched from vanilla Android
The Dialer itself is pretty basic and reminds us of the stock Android one. It includes the phone app and a shortcut to a list of contacts and groups.
As you know by now, the ZTE Axon 7 features dual front-facing speakers and it's impressively loud. So loud, in fact, that it secures its place among the top performers in recent times. These speakers are certainly one of the defining features of this phone.
Even the LG V20 isn't a match for the Axon 7's speaker prowess. The phone is also Dolby Atmos certified and a special option in the notification shade toggles the mode on. Having it on alters the sound to sound subjectively richer and more surround-like. We found it perfect for watching movies, but it's not ideal for listening to music, at least not all of the time.
| | | | | |
| --- | --- | --- | --- | --- |
| Speakerphone test | Voice, dB | Pink noise/ Music, dB | Ringing phone, dB | Overall score |
| Samsung Galaxy A7 (2016) | 66.2 | 64.8 | 66.8 | Below Average |
| Huawei Mate S | 66.0 | 65.8 | 66.6 | Below Average |
| Xiaomi Redmi Pro | 68.1 | 71.8 | 69.4 | Good |
| Samsung Galaxy S7 edge | 70.0 | 69.1 | 71.8 | Good |
| OnePlus 3 | 62.4 | 71.0 | 77.8 | Good |
| LG G5 | 68.7 | 70.9 | 73.5 | Good |
| LG V20 | 68.2 | 68.6 | 80.9 | Good |
| ZTE Axon 7 | 66.4 | 72.2 | 84.1 | Very Good |
Be warned, though, that those speakers are a double-edged sword, as notifications and ringtones are so loud that at a certain point they become nagging.
Messaging and text input
Messaging is handled by a rather plain messaging app, which doesn't have a lot of options. A notable one is the ability to back up your SMS messages. You can also customize the look of the text bubbles and font size.
The Google Keyboard is at the forefront of the typing experience and it's a good choice by ZTE. Google's Keyboard has matured well over the last six months and offers plenty of options for customization and Swype-like functionality.
Still, power users who type a lot on their smartphones will be better off with third-party alternatives like SwiftKey.
Other Apps
You get a neat folder full of Google's own Android goodies. This includes Chrome, Gmail, Maps, YouTube, Drive, Play Music, Hangouts, Photos and the Google app itself.
Beyond that, you also get a nifty compass, a recorder, a calculator, and a flashlight. There is also a ruler, a loudness meter, a protractor, and a plumb line. They're all packed in a Toolkit app.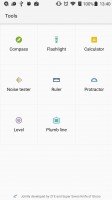 The Toolkit app offers rich options
ZTE ships its own Browser in addition to Google Chrome. It's very well made and offers a ton of features. You can capture a full page screenshot, download stuff using the download manager and scan QR codes for quick access to websites.