Even though OnePlus only announced the 7T last month, the next OnePlus flagship should already be under development. The latest leak comes from TrueTech in the form of diagrams obtained by an unnamed source, showing off the alleged design of the upcoming OnePlus 8 Pro.
Believe it or not, a set of renders that are over a month old at this point showed designs identical to these diagrams. The overall design of the phone resembles a slightly tweaked OnePlus 7 Pro with some key differences.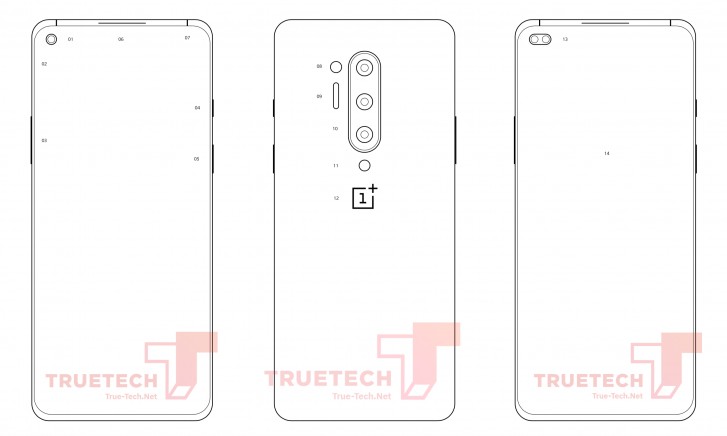 Starting with the backside, the triple camera is laid out in a similar fashion, but with a couple of extras. The circular cutout to the left of the top camera is a ToF sensor, used to improve depth sensing on portrait photos. Just below that is a slit which is said to contain hardware for laser AF.
As per these diagrams, there are two different versions of the front of the phone. One with a single front-camera cut out of the display and another with dual selfie cameras. The renders from last month showed a single camera but thing could change as OnePlus finalizes its design. Chances are the OnePlus 8 and 8 Pro (should there be two of them) could each have one or two selfie cameras, respectively. Atop the display is a long earpiece.
Power key, volume rocker, and alert slider placement all appears to be identical to that of the current-generation OnePlus 7/7T Pro.
We aren't expecting to see a new OnePlus for at least another half a year - the OnePlus 7 Pro launched back in May. Other rumors for the next OnePlus phone include a 120 Hz display and wireless charging.
M
Why so you need a waterproof cellphone? Can't you take a shower without the phone? I will never buy a phone without a full screen. I bought the 7t pro since it doesn't have any punchole/drop in the screen. I'd love to see a ZTE axon 7 remake...
ADVERTISEMENTS