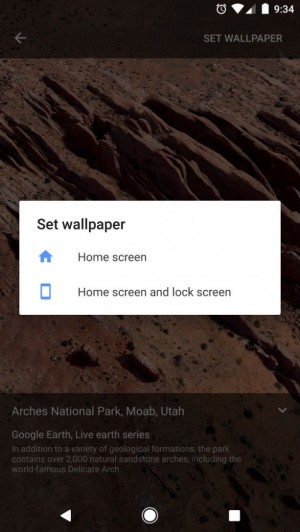 Android 7.1.2 beta has been available for a short while, and the incremental update brought a few new features to Pixel and late-generation Nexus devices. One feature that Droid-Life points out is the ability to decide where you want to set a live wallpaper.
A new option allows you to choose whether to set the live wallpaper on the home screen (only) or both the lock screen and home screen. Before that, you were stuck with a live wallpaper in both the lock screen and home screen.
This works with Google's integrated wallpapers in the Google Pixel devices. Which Google then released as a standalone app for anyone who wants to use Google's beautiful wallpapers.
?
I didn't get a phone with all that ram to put a static wallpaper ,I even had a gif as a wallpaper on my old feature phone
Nice to know they haven't forgotten about live wallpapers! When I first started using my Android 2.2 Froyo device, the first thing I liked about it was the nice collection of live wallpapers in it. And who can forget how S3 and Note 2 came up with...
T
Whoopee Do my life is now complete thank you Goggle, you are the best and know everything about us and what we need to full-fill our lives to the fullest potential. Keep the great idea's coming, as I eagerly await your next innovation.