Office Suite
Apple's iWorks suite including Pages, Numbers, and Keynote is available for free (note that you have to download it, those are not pre-installed). The latest versions of the apps have had the iOS 7 makeover.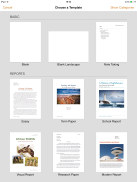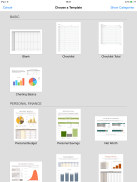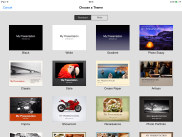 iWorks comes with tons of great templates
Pages allows you to import, create or edit documents (DOC and DOCX are supported). It isn't as powerful as some of its Android counterparts, but it covers all the basics and will do an excellent job for most users.
Numbers supports Excel files and also covers all major features you'll probably need - charts, formulas, tablet formatting, the lot. There are many themes that will help you quickly create complicated spreadsheets even if you don't know how to do a scatter chart (looking at how the templates work is a good way to learn).
Finally, Keynote opens and edits (PowerPoint) presentations. It has all the tools you'll need to create a decent presentation from scratch, including tons of beautifully designed themes. You get comprehensive editing options including adding multimedia, tablets, charts and customizable transitions.
You can easily import files via iTunes and use iCloud for backup and sync.
Full-featured organizer
The Calendar app has been revamped as well and has a very useful new feature. You can now drag and drop events if you want to move them to different days. Just tap and hold on an event, and you can move it to a different day and hour.
The calendar benefits greatly from Facebook integration. Birthdays and events from Facebook are immediately synced with your calendar. Other online calendars like Google can also be synced and you have the option to omit them from the Calendars tab.
You can view by list (iOS's agenda variant), day and month. There's also a toggle to get back to today if you've strayed too far away. Events are color-coded so you can recognize what's what upon a quick glance.
Events are entered the same way as before. You can choose which calendar you want the event to be synced with, add a location, additional notes and set up an alert.
In the Calendars tab, you can customize the iCloud personal and job-related event colors to your liking. You can also create additional calendar entries, for example if you have two jobs (or projects), etc.
The Reminders interface has been changed as well. It comes with a couple of default lists - Scheduled and Reminders, but you can create your own lists as well.
Setting up a reminder is easy. The available options are time, place, repeat, priority and notes.
The refreshed Note app has a split screen interface - tap on Notes to bring out a list of all notes in the current account, then tap Accounts to view all accounts. Once you select a note, the side panel automatically hides. You can share, copy and print notes.
The Clock app has got a new skin as well. It has world clock, alarms, stopwatch and a timer. You can set any of the songs in your music library as an alarm tone. You can also choose from your custom ringtones. The world clock shows the time in six locations at once (but you can scroll to reveal more slots) and you get a world map with all the cities, complete with a weather forecast.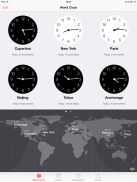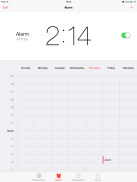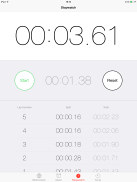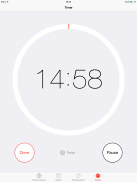 The clock app with alarms, world clock, stopwatch and timer
iBooks UI is still pre-iOS 7 with the old wooden bookcase design, which already looks out of place. The app offers various font and color settings, but on a screen this size, it's just not the best e-reading experience. You can read books in portrait mode or flip to landscape to see two pages at once.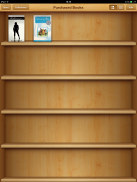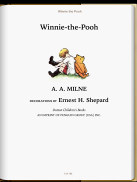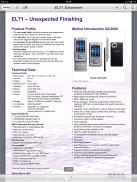 iBooks still has iOS 6 looks • it can open PDFs too
You can choose different fonts, reduce and increase the text size, change the background and play around with brightness.
The iBooks app is also a PDF viewer, which is one way to sideload books.