One for the road
Apple iPad mini review: One for the road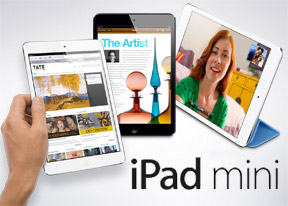 Connectivity
The iPad mini comes in either Wi-Fi only or Wi-Fi + Cellular options. Wi-Fi is dual-band meaning both 2.4 GHz and 5 GHz bands work fine. The mini also covers all Wi-Fi standards - a/b/g/n.
The cellular version of the iPad has two different flavors. There's a quad-band GSM/HSPA one with dual-band LTE and a CDMA version with quad-band GSM/HSPA and penta-band LTE. The cellular connectivity on the iPad mini is used for data only, so native calls are out of the question.
There's stereo Bluetooth 4.0, nano-SIM support (for the cellular units) and the lightning connector, which corresponds to USB 2.0.
Safari browser does a solid job
Although not Retina, the iPad mini screen does a good job at web browsing on the go. The device's form factor is another key bonus here, allowing you to browse without feeling like your hands are going to fall off.
For those concerned with the lower resolution, we have to say that pages mostly look good on the 7.9" iPad mini display. Text is usually readable even at the most zoomed out point and yes, there's no comparing the mini to the iPad 3 or iPad 4, but it doesn't do much worse than the Nexus 7, for example.
The multiple tabs support and the auto fill and password managers improve the usability of the Safari browser greatly. The pop-up menus appear as small windows on the screen itself rather than occupying the display things are even more desktop-like.
You can share pages directly from the share menu in Safari. Sharing options include Mail, iMessage, Twitter and Facebook. Reading list allows you to save pages for offline reading.
The Reader mode is a great way of reading longer articles in Safari. It strips the web content of fancy fonts and ads and presents you the essential stuff that's really easy on the eye. It works alright on most pages but you won't find it available as an option on all pages. For those cases there are always other options - like Evernote Clearly and the likes.
Users that are used to browsing on a full-grown iPad will immediately appreciate the comfort of the smaller, lighter iPad mini.
The iPad mini can browse the web for 9 hours and 5 minutes, which is very impressive. It was only outdid by the Motorola RAZR MAXX and the iPhone 5.
Web browsing
Apple iPhone 5
9:56
Motorola RAZR MAXX (ICS)
9:12
Apple iPad mini
9:05
Samsung Galaxy Note II N7100
8:48
Motorola DROID RAZR MAXX
7:23
HTC Radar
7:17
Motorola RAZR i
7:06
Apple iPhone 4S
6:56
HTC One V
6:49
Motorola Atrix HD
6:40
BlackBerry Curve 9380
6:40
Samsung I9300 Galaxy S III (JB)
6:27
Samsung i937 Focus S
6:15
Sony Xperia ion LTE
5:56
Samsung Rugby Smart I847
5:53
Pantech Burst
5:51
Samsung Galaxy S Blaze 4G
5:45
HTC Desire V
5:44
HTC Evo 4G LTE
5:41
Samsung Wave 3 S8600
5:34
Sony Xperia T
5:33
Samsung Captivate Glide
5:33
Samsung I8530 Galaxy Beam
5:28
Samsung Galaxy Note LTE
5:24
HTC Sensation XL
5:20
Meizu MX 4-core
5:19
Samsung I9300 Galaxy S III
5:17
Sony Xperia acro S
5:16
HTC Rezound
5:16
LG Optimus G
5:15
HTC Rhyme
5:08
Samsung I9103 Galaxy R
5:07
HTC One X (AT&T)
5:03
Sony Ericsson Xperia Pro
4:50
LG Optimus Vu
4:49
HTC Vivid
4:46
Samsung Galaxy Ace Duos
4:45
Meizu MX
4:35
Nokia N9
4:33
Samsung Galaxy S II
4:24
Sony Ericsson Xperia neo V
4:20
HTC One X
4:18
Nokia 808 PureView
4:14
LG Optimus 3D Max P720
4:10
Nokia Lumia 900 for AT&T
4:10
Nokia Lumia 800
4:07
HTC Titan II (LTE)
4:05
HTC One S
4:03
BlackBerry Bold 9790
4:02
LG Nitro HD
4:00
LG Optimus 4X HD
3:59
Sony Xperia P
3:59
Nokia Lumia 710
3:51
Samsung Galaxy Pocket
3:47
Samsung Galaxy Note
3:35
Huawei Ascend P1
3:23
Samsung Galaxy Nexus
3:01