Same clothes, new feel
Apple iPhone 3GS review: Same clothes, new feel

3 MP touch-focus camera with video
Apple iPhone 3GS camera has been upgraded to 3 megapixels only - probably to keep the waistline of the 3GS down. Yes, it sound kinda lame having only a 3 megapixel snapper on a high-end pricey device, but still Apple chose to go for only a diminutive megapixel upgrade here.
But most importantly beside the more megapixels, there's now touch AF and video recording.
The touch AF works very fast and accurate. It even tracks moving subjects after you tap on them with a finger.
The camera user interface is more than simple - the only controls are the camera/recorder key and a small thumbnail in the corner that shows the last taken photo.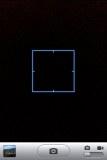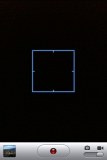 The camera UI is still very simple
The camera quality is ok actually. Colors seem balanced and the image is nicely sharpened with relatively good reproduction of details.
An easily visible drawback however is the high noise level - just look for the grainy effect found all over. That amount of noise is way too much even for a mobile phone camera. The only good thing about the noise is that the luminance noise is much more than the nasty chromatic noise, which usually takes the shape of variously colored dots across the photo and is much more nagging. Plus the noise on these photos has some nice pattern, which adds for subtle analogue film-like effect. But it's noise after all and it's there on all photos - even those made in bright daylight.
So in the end, we've seen better 3 megapixel cameras on phones, but the iPhone 3GS does alright. It's only that some users would have preferred a higher megapixel count. If LG can fit a 5 megapixel camera in the 12mm LG Arena and an 8 megapixel one in the 12.4mm LG Viewty Smart, then it shouldn't bother Apple fitting something more substantial despite the thin 12.3mm iPhone girth. So we guess, it's a marketing decision after all - you know, probably something along the lines of "keep the specs down so we can upgrade more easily in the future". Hardly a user-friendly approach, we know, but it seems to do the trick for Apple.
Here are several Apple iPhone 3GS camera samples:
When they announced all the "sizzling" camera features of the new iPhone 3GS the guys from Apple also threw in the magical "improved low light performance" line. If you know us, you'd do know that we live for lines like that. Disproving high-flown pitch phrases is the most fun part of our job. But again, the best times are when marketing has not lied but we indeed see improvement of any sort. So we organized an impromptu low-light shootout among several handsets, none of which is famous for its low light performance, just so we check whether the iPhone 3GS is any better than the 3G.
INDOORS: Low light samples without flash - full resolution:





iPhone 3G (2MP) • iPhone 3GS (3MP) • HTC Touch Diamond (3MP) • LG Arena (5MP)
Since objectively judging image quality based on full resolution samples produced by cameras of different calibers will be a daunting task to anyone, we decided to take them all and downsize them to a more appropriate 2 megapixel level. If you haven't noticed up so far, downsizing images actually hides excessive noise, so no one of our competitors should be in a disadvantageous position. Besides the Apple iPhone 3G of course.
It's funny we should say that, but quite subjectively the results by the iPhone 3G are our favorites. If anything else, at least it's easy to spot that the iPhone 3GS doesn't offer superior results to iPhone 3G. So, that's done, here's another high-pitched copy busted!
INDOORS: Low light samples without flash - downsized to 2 megapixels:






iPhone 3G (2MP) • iPhone 3GS (3MP) • HTC Touch Diamond (3MP) • LG Arena (5MP) • Crops
OUTDOORS: Low light samples without flash - full resolution:



iPhone 3G (2MP) • iPhone 3GS (3MP)
Finally it comes the time for our studio resolution chart. This is a standard ISO12233 chart used for evaluating the synthetic resolution of digital cameras. It is an excellent tool for measuring pure horizontal and vertical resolution and also offers a good reference point for comparison of resolution between cameras.
The long parallel lines serve as good measurement of resolved resolution. The point where the lines are no longer clearly separated is where the resolution resolved by the camera maxes out. There's a number scale alongside so you can even set a number corresponding to the camera's performance.
The several different line sets are taken from various places across the frame so you also have a nice representation how the image resolution changes as you go towards the edges of the frame (poor optics are far blurry towards the frame ends than in the frame center).
We also have some grey and color test charts stuck on there - those show how the noise suppressing algorithm affects the various colors (usually different) and how the algorithm affects the detail in the shadows. Usually with a poor camera you can't distinguish any difference in the shades of black, while in reality there is some.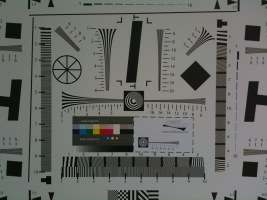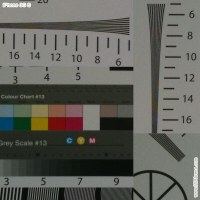 Apple iPhone 3GS resolution chart photo • 100% crops
iPhone 3GS records video in VGA resolution at 30 fps. The .MOV file format of the clip shouldn't surprise anybody we guess. The video quality, colors and contrast are relatively ok. The iPhone 3GS could benefit from some sort of digital image stabilization to keep handshake under control.
Apple iPhone 3GS sample video - VGA@30fps, MOV file format (approx. 7MB)
An interesting drawback to video recording we experience and successfully recreated on several occasions includes the audio recording unexpectedly cutting on us when shooting in loud environment (say, a night club). Yes, shooting video with the iPhone 3GS in really noisy environment such as a night club makes the camera stop recording sound at its whim - for no particular reason, whenever and for how long it decides it's appropriate.
Video clips are stored in the camera roll and are indicated with a play icon. They can be send via email, MMS or can be directly uploaded to YouTube.
YouTube video uploading is a snap and it even works in the background allowing you to shoot more videos while you upload the first one. There are some limitations to it. For instance, the maximum duration of uploads should be no longer than 10 minutes. Also YouTube resizes the video files to 480 x 360 pixels and at least for the time being the recompression outputs quite pixelated videos, perhaps YouTube will optimize their encoding for the iPhone uploaded videos to achieve better quality.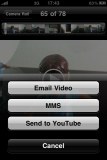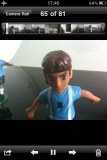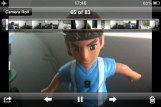 Playing and sharing video clips
The recorded clips can also be trimmed. When in editing mode, the video is shown in filmstrip line, surrounded by a yellow box. After positioning the beginning and end of the trimming zone, the clip is ready for precise editing. You simply have to hold your finger down on the yellow box to activate the precise editing mode. There is a play button for quick preview as well as a yellow Trim button for saving the result.
Unfortunately, at least until iPhone OS 3.1 doesn't make it to the scene, saving a clip after editing it WILL OVERWRITE the original video file. Quite a nuisance, we know!