Same clothes, new feel
Apple iPhone 3GS review: Same clothes, new feel

Safari remembers passwords, auto-fills data
We consider the password and auto fill managers the most important update of the Safari browser in the iPhone 3.0 OS.
The password manager can store various website credentials (username and password) eliminating the need for entering them each time you visit.
The pop-up menu of the manager appears only when users try to enter username and password in the provided fields. If more than one username was used for a site, the last one is displayed. Changing with other is as easy as it gets - just type the first letter of the alternative username and hit next ant the new name and pass will be entered.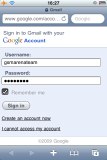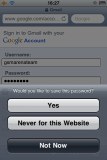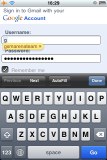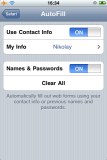 The password manager is very convenient
The AutoFill works both with either previously entered information in a contact entry, or with previously entered data in similar fields. It offers to fill in the details for you, when you are working on some online form. That's quite handy on a mobile phone.
There is also an anti-phishing tool built-in right there in the web browser with support for the latest standards for secure access and information sharing on the web. It includes built-in anti-phishing technology that detects fraudulent websites and support for EV (Extended Validation) Certificates.
Safari has also got new Copy Link and Open in New Page commands. Holding down a thumb over a hyperlink grants you these new options.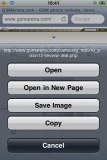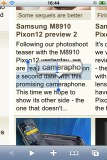 New commands are available • selecting and coping text is possible on most pages
There are some other improvements under the hood of the mobile browser. Thanks to the new SquirelFish Extreme engine rendering HTML and especially JavaScript with iPhone 3.0 OS should now be faster.
In order to see how fast it really gets, we ran an impromptu speed test on both the iPhone 2G (2.2.1 OS) and the 3G (3.0 OS). After that we tested the iPhone 3GS as well which supposedly has both the benefit of the new rendering engine and the faster hardware.
For this test we used a random synthetic JavaScript test that we found in the top results in Google. We executed it over the same Wi-Fi connection and we grabbed the results.
As it turned out the iPhone 3G is up to 2x faster than iPhone 2G running the previous 2.x OS. Since the processing power of both phones is the same, it can be concluded that the speed boost can be attributed solely to the new rendering engine. So the new software surely brings around some improved performance.
In the same time, the new iPhone 3GS is up to 3x times faster in JavaScript benchmarks over iPhone 3G - obviously thanks to the added oomph in the engine compartment. And you'd be interested to see that it even gets close to the results by the desktop Internet Explorer 7 web browser. To make things even more fun, we also threw Firefox 3.0 and IE 8.0 into the fray.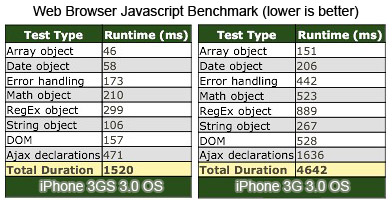 Unfortunately, we don't have the iPhone 2G (2.2.1) to publish here but you can take our word for it - the score there was around 10,000ms. And remember - lower numbers means less time of Javascript crunching so essentially lower is better.

A word of caution is due here - JavaScript benchmarks are not indicative of how fast the web browser is in real life scenarios. Some web pages may not even use JavaScript in their code, while others (such as some picture galleries) may rely heavily on it.
If you are wondering how much faster the iPhone 3GS really is in real-life web browsing, then you should jump back to the forth page of this review and check out the results below the video.
Maps have a new friend - the digital compass
T-Mobile G1 was among the first phones to start the digital compass trends in touch phones and many of the other manufacturers quickly followed.
Apple have also thrown in the obviously easy to integrate magnetometer and on iPhone 3GS it's fully integrated with the Google Maps application.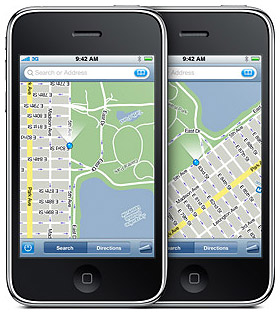 Another huge change is Apple have finally made possible third-party GPS navigation with offline maps and turn-by-turn 3D voice navigation.
The first fully-fledged sat-nav app released in the AppStore is Navigon's MobileNavigator. Though a little pricey, the application is a nice tool for turn-by-turn voice guided navigation.
It's got really nice graphics, it's got top notch POI database and the on-screen perspective and zoom level changes automatically according to the driving speed and the terrain.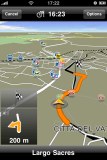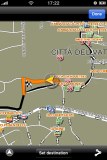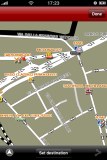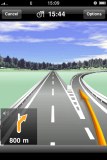 Changing the 3D and 2D modes • realistic display of interchanges and exits
The application of course has its drawbacks, but we are not up doing third-party application reviews now, we just wanted to show you the new and exciting options available to GPS-equipped iPhones.
Other leading GPS navigation developers have already declared their intent to release sat-nav applications for iPhone as well - TomTom and iGo, to name a few.
Connectivity boosted to the limits
One of the most important upgrades that come with the iPhone 3.0 OS is the ability for third-party developers to build apps that communicate with accessories or peripherals over the USB or Bluetooth connections.
In real life this means that iPhone will be able to connect with, display data for, and/or control items as cameras, barcode readers, game controllers, and even keyboards.
Peer-to-Peer connectivity is the other huge step ahead. This opens new doors to apps and devices to communicate and exchange data.
The Bluetooth v2.1 now has accommodated A2DP profile and can transfer music to compatible stereo Bluetooth headset or speakers. There's still no file transfers allowed, but you can establish peer-to-peer connections over Bluetooth when Wi-Fi is not available.
Wi-Fi is well known since the first iPhone, but now it features auto-login for public Wi-Fi hotspots (ones that have login redirects) and peer-to-peer functionality.
New to Network Settings is the Internet Tethering. It is operator depended as it requires on operator provided connection settings, but there are workarounds for that. Just Google around.
The internet tethering itself can be made either via USB or Bluetooth.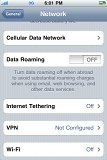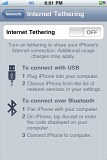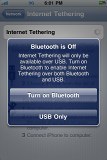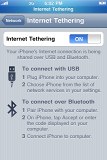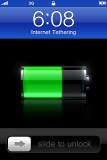 The internet tethering is a great feature, but works only on PC's with installed iTunes
Finally, the new iPhone 3GS boasts HSDPA 7.2 Mbps, which should be considerably faster than the iPhone 3G if your network supports such speeds.