iOS 4.0: at full throttle
The iOS 4 is can be installed on any iPhone 3GS and – technically – 3G. We see no point porting it on a 3G though – the whole thing gets dismally slow and some of the new features are not supported anyway. What matters now is how the OS performs on the iPhone 4. There's a quick video you may have already watched in our blog.
Thanks to its gorgeous new screen, better still camera and vastly improved camcorder, gyro sensor and video-call camera, the iPhone 4 is the device on which users can genuinely appreciate the potential of iOS 4. iPhone 3GS can run it almost without any compromises but you'll get the fastest and most seamless performance on the iPhone 4 and its 1GHz Apple A4 platform.
On an iPhone 3G you will get neither homescreen wallpapers nor multi-tasking. The rest of the stuff is there, but the performance drop is too much to bear.
But let's be positive here – we have an iPhone 4 and a 3GS to enjoy, which is more than enough. You might have already been through our iOS 4 review – you'll find it's got a lot of common with the follwoing part of the iPhone 4 review. You will find identical wording, don't you worry, we've made sure all the details are updated with iPhone 4 specifics.
Let's start with the changelog:
General UI changes
Homescreen wallpapers
Applications can be organized in folders
Multitasking – fast app switcher with app specific pause or backgrounding
You can do Google/Wikipedia searches straight from Spotlight
Minor icon facelifts
Video call support (only in iPhone 4 and only over Wi-Fi)
Settings menu gets you the last toggled setting screen
Text input and management
Keyboard layouts now cover QWERTY, QWERTZ, and AZERTY
Spell checker
Contacts
Simplified contact adding and editing
Messaging
SMS character counter
SMS search
Email threading
Unified Email inbox
Email archiving is now available as an option when you setup Gmail
Camera
5x digital zoom in still camera
Touch-focus in video capture
iPod player
iPod music player can now create, edit and delete playlists
Bluetooth
Bluetooth keyboard pairing support
iTunes store and AppStore
Free iBooks e-book and PDF reader
iMovie adds advanced video editing to the iPhone 4 (paid app)
iAd service allows for free, ad-supported apps
And the stuff iOS 4 failed to deliver
No Flash support in the web browser
No true multitasking for all applications
No quick switches for Wi-Fi, Bluetooth or 3G on the homescreen
No social networking integration in the contact list
No lockscreen or homescreen info widgets or plugins
No new ringtones or SMS tones
SMS,,email, and calendar tones are still not customizable
No proper file browser or access to the file system
No USB mass storage mode
Screen has no vibrating haptic feedback
No Bluetooth file transfers to other mobile phones
Contacts lack a swipe-to-delete or mass delete feature
No SMS/MMS delivery notifications
No smart dialing (but Spotlight is a somewhat of a substitute)
No DivX or XviD video support and no official third-party application to play that
The whole iPhone is too iTunes dependent and you're also limited to syncing particular types of content only with ONE computer..
General user interface and key features
The traditional flat interface should be all too well familiar by now. Tap an icon to open an application; press the hardware Home key to close the application and return to the Home screen. That's all there is to it. Only the Settings section goes several levels deep. Basically that's all you need to control your iPhone.
Folders
You can group up to twelve apps into a single folder. Check out the video below to see how it's done:
It's easy, isn't it? Folder names are automatically generated depending on the selection of items you're grouping together. But you can rename folders anytime. The folder icon is also created automatically – it simply displays the icons of the apps inside.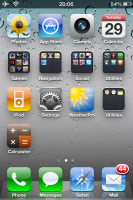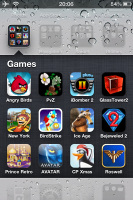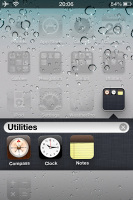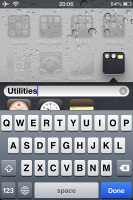 A homescreen folder • opening a folder • editing a folder
The folder animations on 4 and 3GS are fast and fluid, while on 3G you can notice a slight lag. Still we are happy Apple didn't cut them out of the iOS 4 for 3G users.
The new iPhone 4 does pack a serious punch under the hood. The previous iPhone 3GS is a responsive device by all means, but the capable hardware in the Number 4 makes quite a difference. The iPhone 4 is faster in all aspects - general interface response, programs, menu scrolling, web browser, app loading, etc.
Multitasking
Now it's time for multitasking. Just to be clear here, Apple gave due warning it wouldn't be the multitasking that hardcore users expect. It's more of a quick app switching than actual multitasking.
To start the task switcher you double click the hardware home button below screen (there goes our Favorite contacts shortcut). At the bottom of the screen, a side-scrollable row of icons will display, showing the running apps. You can kill apps by tapping and holding on an icon – you then hit the red corner switch.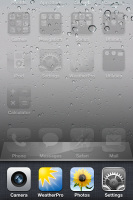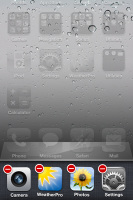 Multitasking interface • killing some apps
Apple's idea of multitasking is not to let apps run in the background, but instead pause them at their current state for later access. There are exceptions for certain apps – such as the iPod or Pandora – they can actually play in the background.
So the paused apps are not actually working in the background and that way you can have more than 30 different apps readily accessible in the task switcher.
The positive side is the ability to quickly resume any of these apps exactly where you left them even games – with no new loading times.
The only one drawback is you can't leave MOST regular apps do their thing in the background and return to them later. If they are not among the lucky few enabled to properly run in the background (such as Pandora), they would simply pause instead.
Here is a quick demo video of how managing apps works on the iOS 4.
Bear in mind that not all apps are multitasking enabled. If you minimize a game that's not yet compatible, later when you get to it again, it will start from the beginning instead of it resuming where you left.
As we said, the task switcher is a scrollable list of icons – but if you swipe to the right you'll get quick iPod controls and shortcuts, along with the accelerometer lock switch. The latter will enable or disable portrait orientation lock.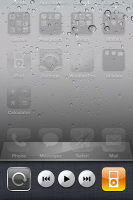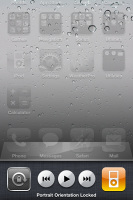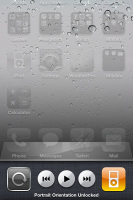 iPod controls in the task switcher • portrait orientation lock/unlock
Despite iPhone 4 and 3GS finally have multitasking support, the push background notifications service is also onboard. The service can inform you of new events in applications that support it (such as some IM client) by changing the app icon (via an icon badge), by invoking a pop-up reminder or via sound alerts. In the same time the applications can simulate that you are constantly online.