Homescreen wallpaper
Apple at last has the one thing that should have been there from the very beginning. Yes, we knew it would be there, we've seen it on jailbroken devices, but it's still kinda cool to finally have it official.
There are 27 pre-installed wallpapers which you can set on both the lockscreen and homescreen. At least half of them are really nice and colorful too.
The homescreen scrolling is fluid and the animation looks good, as it should. You can also set a custom picture – move and scale options are available too.
Enhanced Spotlight search
The system-wide search engine Spotlight has been updated too – it now has shortcuts for search in your default internet search engine (Google/Yahoo/Bing) or Wikipedia. You can type your search directly in Spotlight and tap on Wikipedia or Google. Safari will open automatically and will run that search.
Spell checker reports for duty
Another major addition is the spell checking service. It works in the relevant places such as Messages, Email, Safari, Notes, etc. Every unknown word gets underlined in red and a tap on it reveals the suggestions.
The automatic correction is still available and works as well as in the previous iOS versions.
All earlier features are there of course
Just as a quick reminder, cut, copy, paste, undo and redo are available since the previous OS version.
The Apple iPhone 4 has the two features that debuted on the iPhone 3GS: Voice control and the magnetic compass.
The Voice Control app supports lots of commands: call a phone name/number, play music by song/album/artist name, shuffle music and Genius support for playing more similar songs. The iPhone 4 comes with an expnded list of supported voide commands.
The Voice Control app can be launched with a longer press of the Home key. The interface is quite simple.
The compass works in both Google maps and third party maps, but also has its own application, which displays your exact GPS coordinates and lets you choose between true North and magnetic North.
The dedicated application seems quite inaccurate at times and quite often reported interference. In Google Maps however, the map compass orientation is quite accurate.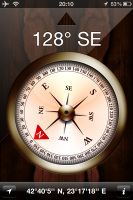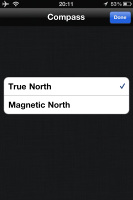 The compass application gets confused easily in our hands
New settings and security options
Let's see what's new in Settings. The guys over at Apple aren't the kind to let you meddle deep inside your phone but still there are a few new tweaks inside among the usual connectivity, display, sound, messaging and security options.
It seems the Cellular Data on/off switch is now available on every iPhone, regardless of your carrier or country. It's nothing new, but it now works properly.
There is a new security option for locking your phone too – you can now choose between a simple (4-digit) and a long alphanumeric lock code. We guess this makes some of you feel much safer.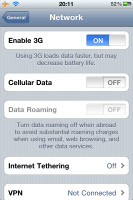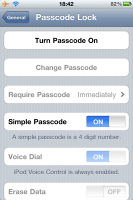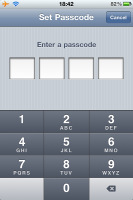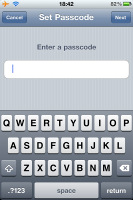 The Cellular Data option • new passcode settings
The iOS 4 now offers dedicated options for the location services. You can now enable or disable the access of apps to location-based services from one central location.
Changeable search engine
As we mentioned in the Spotlight chapter, you can set your preferred search engine in the Safari browser. The available options are Google, Yahoo and Bing.
Bluetooth keyboard support
The last piece of new stuff is in Keyboards. You can now choose your preferred keyboard layout: QWERTY or QWERTZ, for example. What's more, you can set the layout of the Bluetooth keyboard you're pairing.
There is also limited dictionary functionality. It becomes available when you choose a specific secondary keyboard – we've so far confirmed only Chinese Simplified. Then under the keyboard settings you'll get a new option for a custom dictionary – a place where you can enter custom words that are off the standard punctuation.
Other than all that, iOS4 looks just like the previous releases except for a few updated icons here and there. By the way, the new Calculator icon – it's a complete WinMo 6.5 rip-off.