Say "Hi" to Siri
As you've undoubtedly heard (and seen) Siri, the personal digital assistant that lives in the iPhone 4S, is really amazing. It listens to your spoken questions and answers back in its own voice.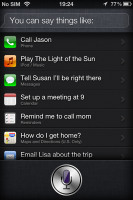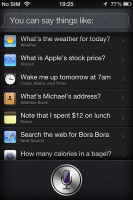 The things you can do with Siri
It's impressively versatile: you can request information (weather, stock, points of interest, you name it) or ask it to perform tasks for you - set an alarm, add a calendar entry, compose a message.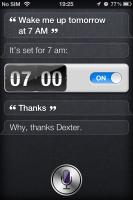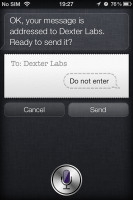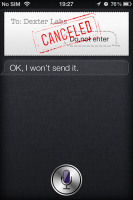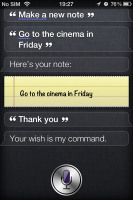 Settings an alarm, sending a message or saving a note with Siri
Apple even gave it a bit of an attitude, so when you ask something silly (as you surely will), Siri comes back with a witty reply and a grin on its face. The practical value of such jokes is zero, but it really gives the user a sense that they are speaking to something intelligent rather than something that knows some answers by rote. And Apple are adding new jokes on the Siri servers, because we discovered a few new ones since the iPhone 4S launch.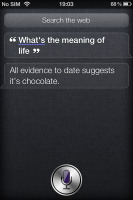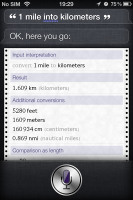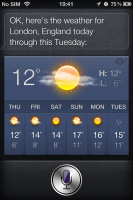 The meaning of life • asking to convert a mile • requesting the weather
Well, we are sure Apple is adding more helpful answers too, but we are sure most of the users are currently using Siri mostly for fun.
You should keep in mind that Siri loses a good deal of its usability outside the US as it can't search for nearby points of interests and businesses. It also supports a limited number of languages and if you think your TOEFL English will cut it, you may be wrong as Siri is very bad with accents. The UK English and French versions use a male voice, instead of female.
Siri can be helpful in many ways, and it's usually the important stuff it does well: reading out messages, scheduling appointments, reminders, and such, taking down notes, launching apps and carrying out searches, calling or sending messages to your contacts, etc. But voice recognition doesn't end there. Dictation support is another important part of the functionality. In any app involving text entry you can dictate instead of type. Press the Mic button on the keyboard and start dictating, whether it's a message body text, a search query, a calendar entry, a note.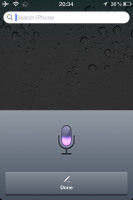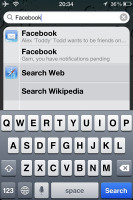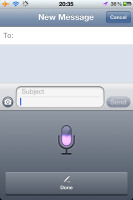 Dictating into the Spotlight search and a text message
Here's the bad news for iPhone 4 owners - Siri is not for you, just for the new iPhone 4S. Now, Apple says the service is in beta, so there's a chance that Siri will come to the iPhone 4 with an update somewhere down the line.
iCloud
Now, let's pay due attention to the iCloud. What is it, how you set it up and what you get?
iCloud is Apple's cloud-based content management - the service, which comes free with iOS 5 will further reduce the need of a PC/Mac and iTunes. Effortless syncing and backup/restore - along with pushing content to all devices associated with your Apple ID.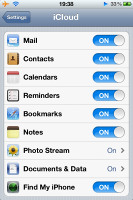 You iCloud account and settings - you choose what to sync
Apps and iCloud
Until now you synced all your apps on a single computer and its iTunes. If you had more than one iDevice you've done two (or more) separate sync processes. Well, this is no more.
You've probably noticed the new Purchased list already in the App Store's Update tab. Now Apple know exactly what apps you've purchased, what you have installed on an iDevice and what you have for some reason uninstalled. And they know this for each one of your iDevices.
So if you chose to sync with iCloud, Apple will sync only the app's personal data, not the entire IPA file (as iTunes did). Here is an example:
You have Angry Birds installed on your iPhone. It has a save data of 1.5MB. Apple will only sync the save data in question. If you delete the game and install it again later (for free, from the Purchased list), your iPhone will download the original IPA off the App Store, complete with the save data - a lot more natural way to sync an app rather than keeping the whole image. Unfortunately, if you use an app as USB storage (a dedicated video player perhaps), the sync will try to back up the stored content as well (your video clips). That will quickly eat up your free iCloud allowance of 5GB.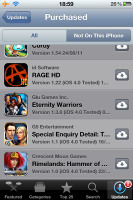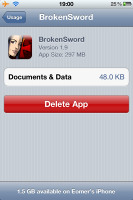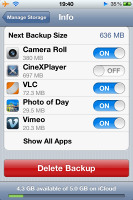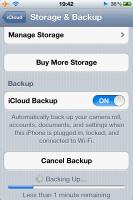 The Purchased list in the App Store • The app data • The actual app data iCloud will sync • iCloud syncing
There is one more thing about the iCloud app sync - when you buy a new app, it will be pushed to all of your iDevices automatically (if available and if you have enabled this feature from the AppStore settings).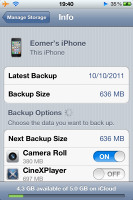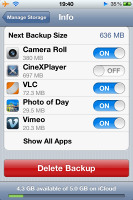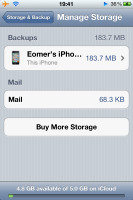 Managing what to sync in the iCloud settings
iCloud syncs everything
The iCloud is capable of syncing all your contacts, calendar events, books, photos and documents. The content will become available on all your iDevices automagically. The iCloud stores new photos automatically for 30 days, enough time to sync your other iGadgets too.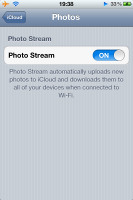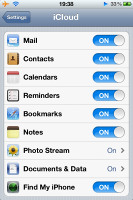 Activating Photo Stream will backup your latest photos • you choose what to backup
iCloud offers free email at @me.com
iCloud offers free me.com email that will also sync automatically across all your iDevices. You will be offered this when you activate the iCloud for the first time and the setup process is done in one easy step.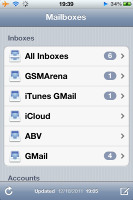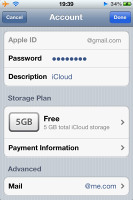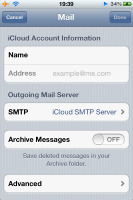 iCloud Mail • iCloud Mail settings
iTunes Match
Music syncing is probably the trickiest part of the iCloud sync. Along with the tracks purchased from the iTunes store you surely have a collection of your own that you sync with your iOS device via iTunes. Well, Apple is now offering a service to sync both collections in one place.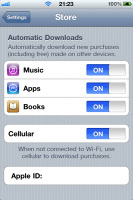 Activating the iTunes music sync
The music you've purchased at the iTunes Store will be easy to sync automatically across all your iGadgets. But you will need to use the iTunes Match service for the rest of your music collection if you want it synced too.
iTunes Match will scan your collection and check for matches with songs in the Apple's iTunes Store (currently 18+ million songs and growing). If there is a match, the iTunes song will be synced, if not - well, Apple will upload this song on their servers and then sync. Pretty cool, isn't it?
So the iTunes scans yours songs and push them to all your other devices if they match. If some of your tracks are of lower bitrate than 256Kbps, the iTunes Store will replace them with with higher quality (256Kbps) for you. The iMatch service costs $25 a year and will be first available in the US.