Twitter integration
Social network integration has been a long-requested feature on iOS devices, but why limit it to Twitter only? Well, it's the Apple way or the highway. Now about that Twitter integration.
There is a separate Twitter tab in Settings. You can sync your Twitter contacts with the phonebook or you can search your existing contacts for matching Twitter ID's. Another addition is a Tweet option in the Share menus across the UI (Maps, YouTube, Safari, etc.) next to Email, Print, MMS, etc.
Are we the only ones that find this popup way too big already? Just kidding.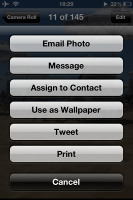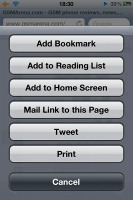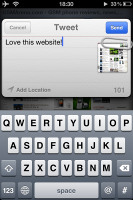 Twitter integration in the gallery and Safari • Tweeting a website
You can manage multiple Twitter accounts as well.
Find My Friends app
The Find My Friends app, that was announced a week ago at the Let's Talk iPhone event, has also become available into the Apple App Store. It is free and compatible with both the iPhone/iPod and iPad.
The app lets you always share your current location with friends or temporarily with less trusted contacts. It works both ways - you can see your friends' location too.
The app offers a few options - locate a friend on the map and get directions to them (redirecting you to the Maps app though). The Find My Friends app interface also shows you the distance between you and your friends.
There is an option to hide your location when needed.
Reminders
Apple has included a brand new app with the new iOS 5 - Reminders. It's as simple as it name suggests.
The Reminders app has a pretty simple interface doing really some basic but important stuff. There are two viewing options - by date or a list. Both of them open on a Completed list first.
In the List view you have the option to add different lists - the default one is the events on your phone. But you can add lists for iCloud or Gmail reminders for example. All lists appear as different panes.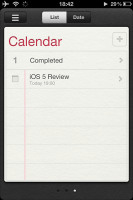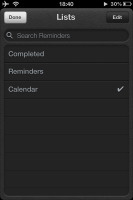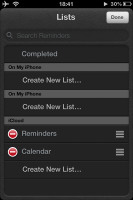 The List View • managing lists
If you have chosen the List view, you have only 2 panes to work with - the Completed list and one pane for all of your reminders.
Viewing by date gives you lots of panes - you start with Completed and then you have a pane for each day. You also get a Calendar shortcut, to easily select the day you want.
When you create a new reminder, you must first type its name directly on the pane and click Done. After that you are able to edit (just tap on it) - you can choose the Type of reminder - by date or location, Due option, Priority and to which list it will belong (iPhone, iCloud, Gmail etc.).
If you want to be reminded on the day of the event, you just choose date and time.
A novel feature is the location-aware reminder. You can choose a location in your phonebook or your current location (why not Gmaps, it beats us!) and then you choose whether you like the reminder to activate on on arrival or departure.
When a reminder sets off, you see it as a standard notification - on your lockscreen, the Notification Center and the homescreen (as a banner or a pop-up).
Organizer
The few default apps aren't enough to make the iPhone the ultimate organizer, but with every iOS they tend to get better and will do well to get you started – the AppStore will take care of the rest.
The iOS calendar looks much like its average competitors – you can create and sync different calendars (Google and Outlook for example). Then you can add various events with alerts.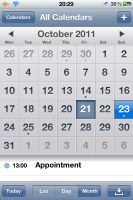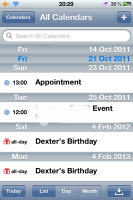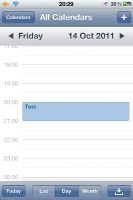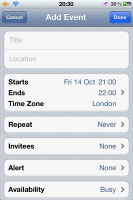 The Calendar has only three different views • creating an event
And finally, the calendar has got a brand new weekly view, you just have to turn your iPhone in landscape.
The typical Notes, Calculator, Voice Recorder, Stock and Weather apps are onboard too.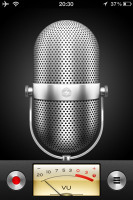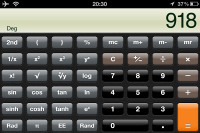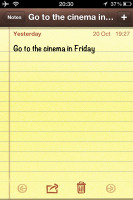 Voice recorder • Calculator • Notes
The Weather app got hourly forecast, just tap on the weather pane and it will reveal itself.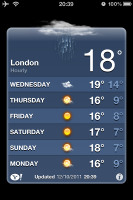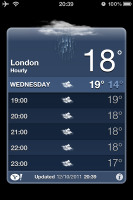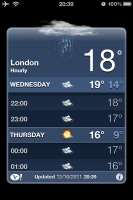 The Weather app gets hourly forecast
In the Clock app you also get a World Clock, Alarm, Stopwatch and Timer.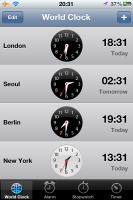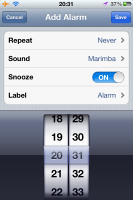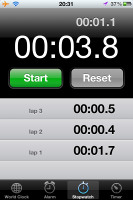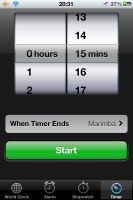 World Clock, Alarms, Stopwatch and Timer
The Apple's iBooks app is not pre-installed, but you can get it for free from the AppStore. This e-reading app comes with one complimentary book – Winnie The Pooh.
iBooks offers various font and color settings, but on a screen this size, it's just not the best e-reading experience. Pages are side-scrollable only and on a mobile phone that doesn't quite make sense.
The iBooks app is also a PDF viewer.
Finally there is the mobile YouTube app to make up for the missing Flash video support.