240fps slow-mo, but no 4K
The latest flagship installment by Apple brings forth an improved video camera. In addition to capturing FullHD 1080p videos at 30fps the iPhone 6 can also capture fast-motion 1080p videos at 60fps. Slow motion videos have also seen an improvement - alongside the year-old 720p@120fps videos Apple has added even higher-framerate (twice as high, in fact) 720p@240fps videos. That's an impressive feat considering there isn't any loss to resolution.
What we would've liked to see the iPhone 6 and 6 Plus do is 4K video capture but we guess Apple is saving that for the "s" version. Many Android phones have excellent UHD video capture that's 4x bigger in resolution and detail than FullHD. Yet, the fact remains that the 8MP 4:3 sensor doesn't have enough horizontal resolution for UHD video capture.
Once you enter slow-mo capture mode in the camera app you have an indicator of the frames per second - you can tap to change between 120fps and 240fps. Oddly the video mode in the camera app captures 1080p@30fps by default and you need to go into Settings-General-Photos and Camera and enable 60fps video capture at 1080p. But then the video app captures only in 60fps without giving you the option to choose between fps modes.
Apple has upgraded the already spectacular digital video stabilization we've seen on the iPhone 5s and calls the new one Cinematic Stabilization, promising cancel out even more of the shakiness during video capture. Indeed, our tests showed a noticeable decrease of shakiness and much smoother videos.
Moving on to the videos themselves. The Apple iPhone 6 offers stellar video quality for the 1080p league - detail levels are superb and things come out sharp and well exposed. The 30fps videos are stutter-free as well. Focusing was spot on during video capture, which is quite impressive given the challenging scene we shot at - the moving cars could easily confuse the autofocus.
The iPhone 6 doesn't have optical image stabilization, so we have even higher expectations for the iPhone 6 Plus, though we have reasons to believe that it doesn't use it while recording video and only when shooting low light images.
Statistics are unimpressive, though. 1080p@30fps videos carry a bitrate of around 18Mbps but audio is subpar. For starters it has a low bitrate of 63Kbps and despite having multiple microphones the iPhone 6, stubbornly, captures a single audio channel.
FullHD videos at 60fps are even better than the 30fps ones. At twice as many frames things look as fluid as you'd like with motion being buttery smooth. The detail level is left almost untouched and retains the great qualities of the 30fps videos.
The bitrate here, as is to be expected, is much higher - 25Mbps. Still compared to the usual 40-50Mbps of 4K videos things don't sound or look as impressive.
Moving on to slow motion videos - they are by far the most demanding of files coming from the iPhone 6 camcorder. At around 40Mbps bitrate for the 240fps videos and 27Mbps for the 120fps, these surely take up a lot of space. 20s of slow-motion capture will run you 90MB for a 120fps clip and around 115MB for a 240fps one.
The detail is actually pretty good and the quality of motion reduction is impressive. The videos are fun to watch at the regular 120fps setting and get even better (twice as better) when you go up to 240fps. There isn't a dip in quality when you move from slow to super slow. We made a video showing you just how slow you can get.
The high-framerate videos themselves came out with the framerate they are captured at and you need to use your iPhone 6 to apply the slo-mo effect. Otherwise you will just get 120 or 240fps videos playing at normal speed on your computer.
However you should keep in mind that looking at 720p clips on a high-res monitor is no great pleasure, even if they are slow motion. Yet, on the 750p display of the iPhone 6 these videos are really fun to watch and edit. The software allows you to select which parts of the clip you want fast and which one part slow.
Here are untouched samples of the 1080p@30fps (0:15s, 31.3MB), 1080p@60fps (0:14s, 44.5MB) files.
And here's our video quality comparison tool. You can choose whichever phone we've tested from our ample database.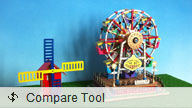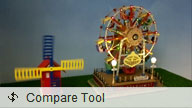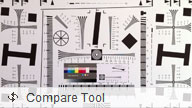 Apple iPhone 6 in our video compare tool
Compared to Apple iPhone 5s
Lastly we have a comparison of the video quality between the Apple iPhone 6 and iPhone 5s. Below you'll see a 100% view of the pure detail you'd get from the normal and fast-motion videos of the newer iPhone and the 30fps FullHD sample taken with an iPhone 5s.
The detail on the iPhone 6 is more than on the 5s'. Apple iPhone 6 videos captured at 30fps are a little sharper than the 60fps ones, which have about the same per-pixel quality as the Apple iPhone 5s videos.
There's also a little less noise to be seen from the iPhone 6. Overall though, outside of the undoubtedly cool higher framerate, there's not all that much separating the two phones.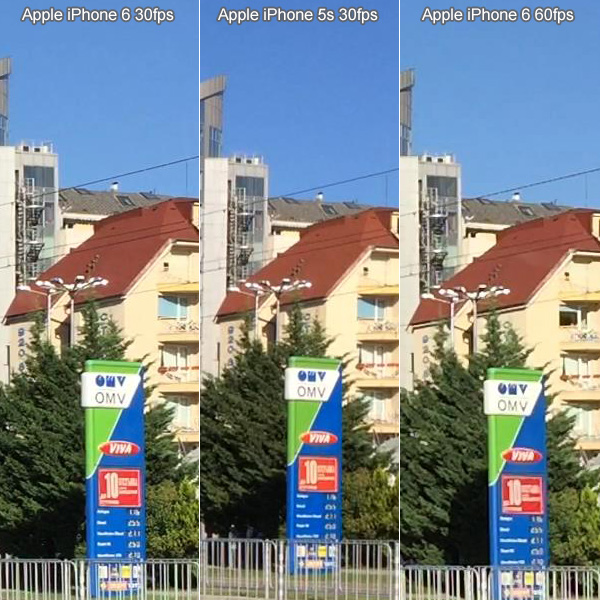 One last thing worth noting is that the Cinematic Stabilization is a lot better at handling vibrations during video capture on the iPhone 6 and panning is much smoother.