According to Bloomberg sources, Apple is working on a new MagSafe accessory for the iPhone 12. A magnetically attached battery pack would let iPhone users easily piggyback a battery pack to juice up the battery. The advantage with MagSafe is that magnets would easily align the charger pack to the back of the phone.
With the iPhone 12, Apple brought back the MagSafe name sake to use on a new ecosystem of iPhone accessories from wireless charging pads, to cases and wallets that are held to an iPhone by magnets. All four iPhone 12 variants support MagSafe.
According to the source, prototypes of the battery: "prototypes of the battery pack have a white rubber exterior." In any case, Apple has not made this accessory public yet. We wonder if it will be the same material Apple used on the official Apple charging cases. There's no word on how to recharge the battery pack, but a pack that could be thrown onto a MagSafe charger that simultaneously juices up the phone sounds like a cute idea.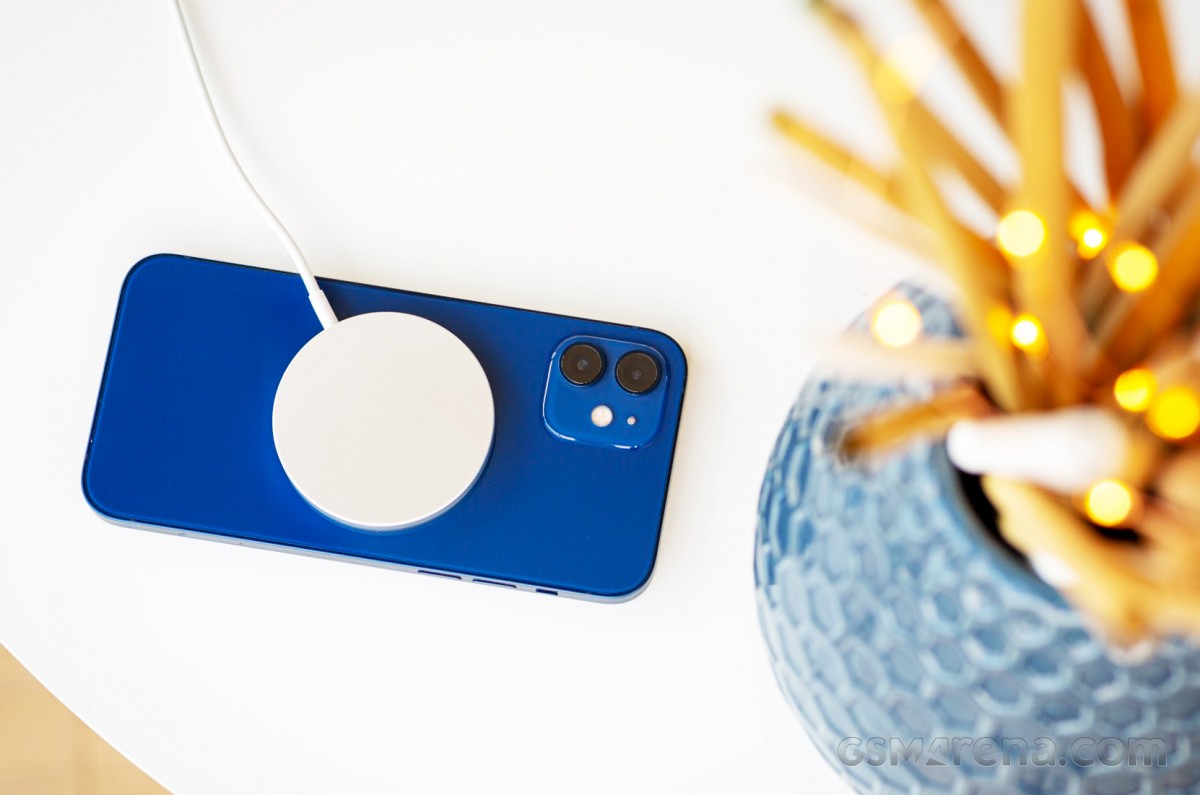 iPhone 12 with MagSafe charger
Reportedly, the charging pack's testing revealed some issues during internal testing. Although the magnets were strong enough to hold its own weight on the iPhone, software issues related to the charger are what may cause delays or even the ultimate scrapping of the idea entirely. The source indicated that the iPhone was improperly triggering a warning that the pack was overheating. One other issue had to do with using the pack to charge an iPhone interchangeably, with or without a case.
Apple has faced challenges with the 2017-announced AirPower Charging Mat that never made it to market. It eventually cancelled the product due to overheating of charging coils, since there needed to be large and small sized coils so that an Apple Watch could be charged.
We don't doubt that Apple could make this product a possibility. The concern lies herein with how well the pack will be able to manage to deliver a fast enough charge without overheating in common scenarios like charging in a pocket.
F
Here's a bad news for you for the android side. From August 2021. Google will finally migrate to 64 bit. This will be the android 12. All 32 bit smartphones will NOT be able to use GOOGLE SERVICES anymore. ALL 32 BIT APPS on the PLAYSTORE will b...
F
Maintenance Free OS? Then here's a good question. Coming from a Samsung Note user. How come when there's no apps running. 50% of the RAM is being used? When deleting files or folders using File Explorer. How come it deletes less ...
F
Android is a maintenance free OS. I got tired of the bugs on iOS which needed constant fixing every time a new version was launched. Why would you want unnecessary updates when everything is working fine? The whole 5 year update system is overrate...
ADVERTISEMENTS