Apple releases three new ads to convince you to switch to an iPhone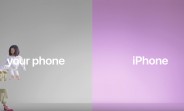 Exactly one week ago Apple launched a revamped 'Switch' page on its website. That's the portal that's meant for people looking to switch to an iPhone, as the name implies. And with the new page came a new ad campaign as well, which debuted on the same day. A few different ads were released then, and three more have been outed today.
These are all short, 15-second clips. Two of them (titled "smooth" and "security", respectively) focus on features that Apple thinks its smartphones have that the competition doesn't offer on the same level.
"Your iPhone just works", Apple says with regard to 'smoothness', because it's the one designing both the hardware and the software.
iPhones are more secure than their competitors because they get access to the latest updates for much longer - that's the idea pushed by the ad above.
The third ad is called "contacts" and wants to assure people looking to switch that it's not going to be a hassle to take their address book with them when they come from Android. Apple's Move to iOS app can be found in the Google Play Store and its purpose is exactly to help people make the transition without any issues.
D
I see the point you are making and well said, the ambiguity in the ads do make for an understandable reaction. My only qualm against the previous commenter was that they would mark the ad as "slander", because sure it is misleading and vague but is i...
?
In reality Apple does not have to release ads to prove that using the IOS is better than android. But the very reason why I am using an S8 rather than the iphone is expandability . I cannot insert an sd card to expand my memory for my pictures . I sh...
P
ios's and android's fans always have their arguments.