File manager does the job
The built-in file manager of the P750 is the standard Windows Mobile variety. It does a good job finding the files you are looking for. The file manager can create new folders, copy and move files, set tracks as ringtones or simply send files to other devices.
Picture gallery is appalling
The Picture gallery of Windows Mobile is an application called Pictures&Videos and, as the name implies, you use it for browsing the multimedia files in question. It is integrated in the OS and doesn't offer anything different from phone to phone. In order to have a look at a series of photos you have to open photos one by one, as there is no Open next image button or shortcut. That makes this piece of software probably the most unuser-friendly one in quite a while. Even feature phones have better image galleries.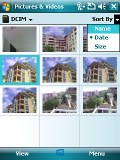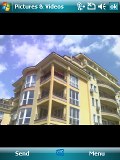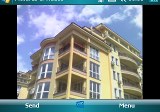 Browsing images in Images & Video
As far as pictures are concerned, you can zoom in and out. The files are shown as either thumbnails or as a plain list. There's a shortcut that allows you to turn the camera on directly from this application. You can even apply some basic editing on the images.
Windows Media player
The primary multimedia player of all Windows Mobile devices is the preinstalled Windows Media Player. Besides music, it allows watching video and streaming TV. You can sort tracks by artist, album or genre and you can create custom playlists.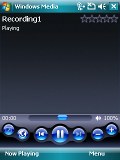 Windows Media player interface
Asus have also preinstalled the Streaming player, which quite obviously is a piece of software for watching streaming content.

Asus Streaming player is nothing special in terms of interface
Generally the PocketPCs have never been recognized for having good audio quality. Unluckily the Asus P750 is no exception to this rule producing below average quality of the audio output. The frequency response graph has some tactile deviations in the higher frequencies. The intermodulation distortion level is also way too high in comparison to most other phones we have put to the test.
On the positive side the Asus P750 produces better results than some other Windows mobile devices as for example LG KS20. However it still falls seriously short of being a serious audio playing device.
Here are the results so you can see for yourselves. You can find more info about the test itself here.
| | | | | | | |
| --- | --- | --- | --- | --- | --- | --- |
| Test | Frequency response | Noise level | Dynamic range | THD | IMD + Noise | Stereo crosstalk |
| Asus P750 | +0.55, -3.34 | -86.3 | 86.2 | 0.0081 | 0.926 | -76.2 |
| LG KS20 | +0.80, -3.60 | -85.6 | 88.7 | 0.063 | 1.310 | -86.7 |
| LG KU990 Viewty | +0.29, -2.07 | -86.8 | 83.8 | 0.020 | 0.0124 | -86.6 |
| Nokia N82 | +1.10, -1.53 | -81.6 | 80.8 | 0.0046 | 0.137 | -69.3 |
| Nokia N81 | +0.39, -1.13 | -86.6 | 95.8 | 0.041 | 0.040 | -69.9 |
| Samsung U600 | +0.41, -1.12 | -89.2 | 86.5 | 0.0040 | 0.019 | -86.9 |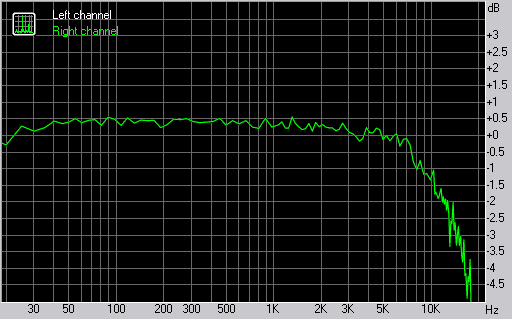 Asus P750 frequency response graph
XviD video
We installed a TCPMP player and the needed codecs to play DivX and XviD video files. Playing movies at near-VGA resolution with the P750 is flawless even with the default settings.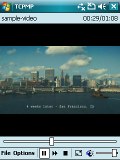 Playing an XviD video with the TCPMP player (installed additionally)
Our test video, which put the HTC Touch Cruise and TyTN II to their knees, ran smoothly with absolutely no dropped frames. Zooming in on clips up to 30% doesn't seem to worsen things at all. With its powerful CPU, the Asus P750 does a real nice job as a portable multimedia player.
Camera makes us scratch our heads
Camera performance is hardly a priority with PocketPCs. The Asus P750 is equipped with a 3 megapixel autofocus shooter. At least on paper, it sounds intriguing enough. We'll see about that, but don't get your hopes high just yet.
The camera offers a nice and intuitive menu. It's laid out as a toolbar with icons at the bottom of the display. The menu has landscape orientation.
The camera features include scene modes (auto, night, sports), self timer, burst mode (4 or 9 images), several color effects (normal, black & white, negative and sepia) and, finally, geo-tagging. Yes, geotagging is an exciting feature but we've always been turned down by the fact that it drains batteries rather quickly. Plus, you have to wait for a satellite lock before you start shooting.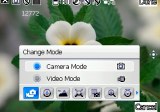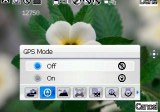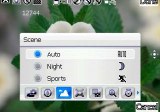 Camera toolbar settings: camera mode • GPS image geotagging • preset shooting scenes
There are also additional camera settings, which are identical to what other Windows Mobile devices offer. You can tweak the metering mode, white balance, brightness, contrast and saturation.
Now in terms of image quality, the Asus P750 really let us down. It fails to reproduce the fine details, yet it oversharpens the whole scene. Plus the camera creates some distinct violet hue in the upper left corner of each image - it's visible even on thumbnails.
But probably the most serious issue, which makes images almost unusable, is the low-quality lens that was used. Low quality lenses tend to make images softer at either the left or right edges, or even both. But the Asus P750 lens softens almost half of each image and you can see that clearly in every sample shot. There's no way that this camera can be deemed acceptable. The results are so bad that we can't help but think it's a unit-specific issue.
Here are some sample photos to judge for yourself:
The video menu interface is identical to the camera interface. Video clips are recorded in 176x144 pixel resolution in 3GP or MPEG4 format at 15fps. Quality is barely passable. We'll not be publishing samples of those, that's that.
Connectivity is top job
Now, back to what PocketPCs are really about - connectivity, both wired and wireless. The Asus P750 is well geared in that department. USB connectivity allows seamless synchronization with MS Outlook. However, you can also use Bluetooth 2.0 for that purpose. Other than synchronizing, A2DP support allows listening to music on a stereo Bluetooth headset.
Speaking of wireless communication, we should mention there is no Infrared port, but you have Wi-Fi at your disposal. There are also GPRS, EDGE and HSDPA (3.6 Mbps) so you always have data connectivity options available.
Internet Explorer Mobile is all you get
Softwarewise, Asus P750 is equipped with the Internet Explorer Mobile web browser. We were a bit let down by the fact that Asus haven't preinstalled an alternative browser - Opera would have been welcome. Internet Explorer Mobile is not among our favorite web browsers.
However, Asus have preinstalled several other connectivity applications. The NewsStation app is an RSS reader for staying abreast of the latest news at your favorite web places.
The Remote presenter allows you to control a computer remotely via Bluetooth during presentations. For the feature to work, you need to install the software (supplied on CD) on the pairing computer too.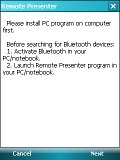 Asus Remote Presenter application
And finally, the Remote Desktop Mobile app allows you to connect remotely to any Windows-based computer. It's a really handy feature that - if you ask us - should come preinstalled on all Windows Mobile PocketPCs.