User interface
Asus PadFone X boots Android 4.4.2 KitKat out of the box. The Android build is covered by the Taiwanese manufacturer's own Zen user interface. Here's a quick look of the device in action.
The lockscreen contains shortcuts to the camera, the messaging menu, the web browser, as well as Google Now. It displays a large clock, current weather info, as well as the status of any alarms you might have.
Beyond the lockscreen sits the Android homescreen. It consists of five docked shortcuts on the bottom, including one for accessing the application drawer. It can also display up to four shortcuts above the ones on the bottom.
As usual, you can pinch to zoom out and manage homescreen panes - add, delete or just reorder them. You can have 7 panes at most, which are enough to fit plenty of content even if you use widgets that cover an entire pane.
The application drawer lists the apps in four columns with four rows each. It contains buttons for showing all apps, only downloaded apps (the ones that did not come preinstalled), as well as the most commonly used applications. To top things off, there is a search button for applications, as well as shortcut to the widgets' gallery and the Google Play store.
Long pressing the homescreen reveals a customization menu. It includes options to change wallpaper, add apps and widgets, as well as edit the page layout.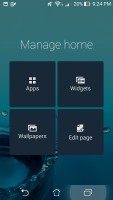 A look at the homescreen customization menu
The available widgets out of the box include stock Google ones, as well as custom solutions from Asus. Naturally, the list will grow as you download more apps on the device.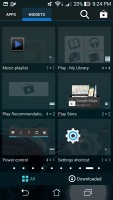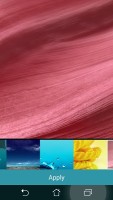 Some of the available widgets • changing a wallpaper
The notification area contains shortcuts to the settings menu and to a list of quick toggles for tweaking the various connectivity settings of the device. The layout is with a flat design and easy to ready and operate.
Once you get several apps running, you can use the task switcher to go back and forth between them. It's a vertical list with name and preview for each app. A sideways swipe removes the app from the list.
Once you switch the PadFone X into tablet mode, you are greeted by the same user interface as the one of the handset, but with more screen real estate to work with. The overall layout is familiar and easy to get around.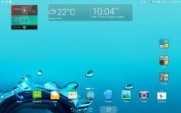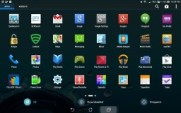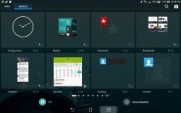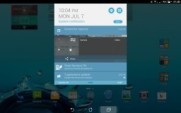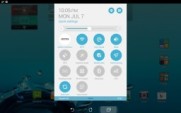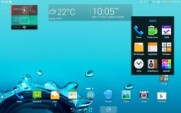 A look at the user interface in tablet mode
Overall, the Asus Zen UI is a departure from the company's previous efforts, which stuck almost completely to a stock Android layout. All changes made by the manufacturer however, are beneficial to the overall experience.