When the news broke that Apple was the first company to break a $1 trillion valuation, we saw an influx (on various social media) of people making fun of how often its Lightning cables were snapping, leaving customers with no choice but to go out and buy a new one with photos of badly damaged Lightning cables (LOL).
A new report from Ceros charted the most popular Apple products sold at Best Buy on a per-quarter basis over the last couple of years. The results over time are quite interesting. All of 2016, the most popular item was a 3.3 foot Lightning cable, which folks often lose or break.
Later, in Q2 of 2017, a new item became the most popular at Best Buy: the Lightning-to-3.5mm headphone adapter. When Apple announced the iPhone 7 in 2016 with no headphone jack, people were upset, but the lack of a jack was not enough to alienate loyal Apple customers. Since then, the majority of OEMs have fallen like dominos and opted to delete the classic 3.5mm headphone jack on its flagships except for Samsung and LG.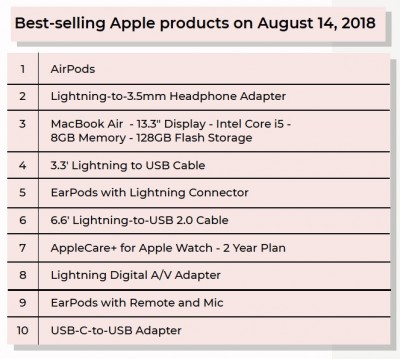 Source: Ceros
Apple was able to make bank on a new accessory that was easily lost or broken – this little $10 dongle. This remained the most popular Apple product sold at Best Buy up until these past two quarters. As of August 14, the most popular Apple product was: you guessed it (well, you actually read it in the title) – the Apple AirPods.
Apple cunningly and "courageously" created a pain point for customers by deleting the headphone jack. Customers have found that the best way to solve this pain point was to not have to deal with wires anymore and just buy the $160 accessory to be done with the dongle once and for all.
Check out the Source link for the full report and the rest of the list of most popular Apple products at Best Buy.
V
Typical Apple for you, it will tell you what to buy and what to do. And people follow like loyal sheep's :) So if you upset about 3.5mm don't buy some stupid adapters but buy Decent new phone with it, but no, you follow what Apple tells you :)
a
I wish to know how Apple care for apple watch is on the list but not the apple watch itself hahaha
K
most ridiculously looking headphones ever. whenever i see someone with Airpods i know who i'm dealing with.