Black Shark 3S will features USB-based screen mirroring, motion controls and more
The full reveal of the Black Shark 3S is not for a couple of days, but a sneak peek at some of the new features shows how the team behind the handset plans to make it the ultimate gaming phone.
The phone will run the latest JOYUI 12, which has gained support for screen mirroring over USB 3.0 (with the standard USB Video Class protocol that webcams use, for example). Basically, you hook up the phone to a computer, run the Black Shark app and you see the phone's screen mirrored on the computer rendered at 60 fps (the phone's own AMOLED screen goes up to 120 Hz).
The app takes you keyboard and mouse input and forwards them to the phone (you can customize the controls, of course). This is demonstrated below for playing games, but it will work for any kind of app.
If you want to play using just the phone, it supports motion controls to supplement the touch screen. The gyroscope tracks the phone's movements, so you can perform one of six gestures just by flicking the phone in a certain direction. This frees up your fingers by letting you assign, say, switching weapons or crawling to one of these gestures.
If you want even more controls, there's a clip-on that adds shoulder keys. These are actually compatible with other phones too, not just the Black Shark 3S.
Another new JOYUI 12 feature is the so-called "Game Barrage". This shows notifications from SMS, WeChat, QQ and others overlayed on the game screen. Unlike chat heads, these actually show the full message. You can control the text color and the opacity of the messages, but there better be some filtering to prevent this from getting too spammy.
The software also accepts voice commands so you can take a screenshot, start recording the screen, answer calls and more without taking your fingers off the controls.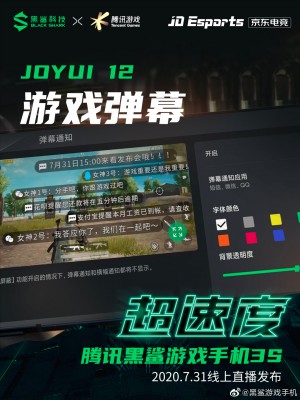 The Game Barrage features overlays incoming messages on the game screen
Speaking of JOYUI 12, here's a teaser for the latest version of Black Shark's custom software. Note that there will be a Tencent edition of the phone too.
S
Well, I have said "until it becomes MAINSTREAM", available out of the box, on the majority of smartphones, using a common standard.
?
No, it's still 2.0, that's why it mirroring not display port output. Strange they implement something wired instead of USB-C 3.x.
N
Does It support Nintendo 3DS emulation smoothly?
ADVERTISEMENT