Connectivity: This time they got everything right
The original Storm had a prominent omission on its connectivity list but the Storm2 has it all covered.
The quad-band GSM/GPRS/EDGE support secures global roaming and the 3G with 7.2 Mbps HSDPA gives you the extra speed. Wi-Fi is also at hand with a nice and easily customizable Wi-Fi manager taking care of all the connections.
Bluetooth with A2DP support rounds off the list of wireless connectivity options.
The BlackBerry Bold 9700 is also equipped with a standard microUSB port that is enabled for both data connections and charging. You can even use the handset as a tethered modem.
Finally, you have the option to use your microSD memory card slot for file transfers.
Clickable touchscreen boosts the web browser
The web browser of BlackBerry Storm2 is good enough with the extraordinary touchscreen certainly earning some extra points in favor. You will never again hit a link by mistake with this one when scrolling as these are two very different actions. Now, if only they'd added Flash support all would've been just great.
Panning is done by sweep gestures, and zoom is controlled by tapping on the screen. You can also zoom using the shortcut keys appearing on the screen in non-fullscreen mode or via the relevant menu.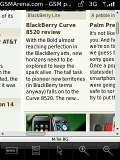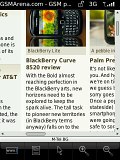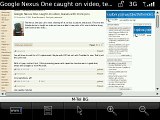 Browsing GSMArena.com on the Storm2
When you zoom in by tapping on a desired column the text does automatically center onscreen.
Page rendering is quite good, making all the pages look as if browsed on a desktop computer. The resolution allows a good amount of content to fit on the screen but it is no match for the WVGA screens, which are getting more and more popular recently.
Unfortunately, the web browser has no Flash support, meaning Flash video websites like YouTube are a no-go for the Storm owners. Text reflow is also absent but that is not as much of an issue.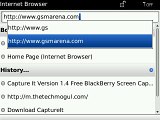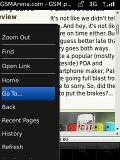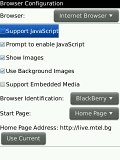 Entering an address • Some of the available settings
So, generally speaking, the Storm web browser is quite comfortable to work with, even though a few more gestures implemented might have improved it even more. It's not quite as good as, say, the Android browser software-wise but the hardware seems better suited for the task.
Time-management skills
The organizer is one of the best parts of the Storm2, just as on most other BlackBerry devices. It has a good set of applications and although some of them are not quite the lookers we would have liked, their usability is on a very decent level.
The calendar has monthly, weekly and daily view modes and allows easily customized events to be set up. A few event presets would have been nice too but it's not really a deal-breaker.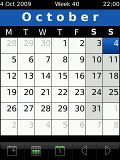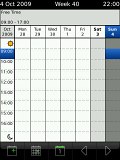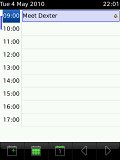 The organizer centerpiece - the calendar
Mobile office is also very well stocked, with preinstalled applications able to open and edit Word, Excel and PowerPoint files. Furthermore, document editing is also supported unlike most competing phones. Unfortunately, there is no PDF viewer preinstalled so potential users will have to get one themselves.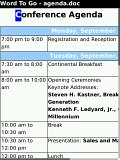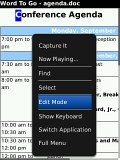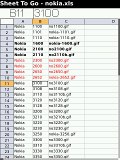 Editing documents is supported out of the box
The organizer package includes a calculator with a built-in unit-converter as well as voice recorder and a Notes application. A handy To-do manager allows you to set-up and organize your upcoming tasks.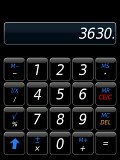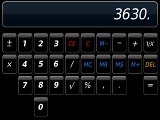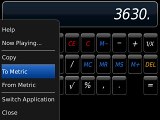 The calculator works in both portrait and landscape modes and has a built-in unit converter
The alarm application will only allow you to set one alarm which doesn't get standing ovation. It's quick to turn on but most of its settings can only be adjusted from the settings menu. There you can change the tone, snooze interval and the volume as well as the vibration intensity.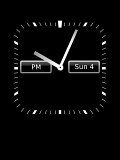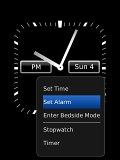 Unfortunately there is only a single alarm slot
The clock also offers a bedside mode that turns off the status LED (unless you set it otherwise) and displays a large clock on the screen. The display then automatically lights up when you lift the phone thanks to the built-in accelerometer.