Controls
Now let's explore the BlackBerry Z30 controls. Above the screen, we find the earpiece flanked by the traditional status LED and the front facing camera. The latter has a 2MP sensor capable of 720p video recording. The hidden proximity and ambient light sensors are also around.


A peek above the Z30's display
As usual there is nothing below the display, not even a Home key. The Power key being dead center at the top would've involved quite a bit of a stretch of the finger, but luckily you don't need it to turn the screen on. A swipe up from the bottom of the screen will unlock the phone instead - and it will do it straight from sleep - no need to wake up forts and then unlock.
The right side of the BlackBerry Z30 has the volume keys, separated by the voice command button. The volume keys can be configured to double as music controls.
There're two pinholes below the volume keys, which may as well be for the extra couple of microphones the Blackberry Z30 is said to have. They just can't be the main mics to use in calls, though honestly we couldn't spot those anywhere.
The microUSB and microHDMI connectivity ports are on the left. There is no adapter in the retail package, you'll need to buy one if you want to use the TV-out functionality of the Z30. BB 10.2 has introduced USB host support though.



The left side of the BlackBerry Z30 has the connectivity ports
The top side of the Blackberry Z30 features the 3.5mm audio jack and the Power key. As we already said, you don't need the Power button to wake the phone up.



The top has the audio jack and the Power key
The bottom of the BlackBerry Z30 has no controls: you'll only spot a slit to place a fingernail and pull the battery cover open.



There is nothing on the bottom of the Z30
Flipping the device over, you'll spot the 8MP camera lens and single LED flash in the top left corner. The pair of stereo speakers, two grilles each, are placed at the top and bottom of the Z30's back.




A look at the BlackBerry Z30's back
The rear cover of the Z30 is removable, but unfortunately the battery is not user accessible, so DIY replacement is a no go. You can find the microSD and microSIM slots on the right and the memory card is hot-swappable. Popping a SIM card in will prompt a reboot of the device.



A peek underneath the rear cover • the microSD and microSIM slots on the left
The BlackBerry Z30 managed an Endurance rating of 52 hours meaning it'll easily cope two days of 1 hour of web browsing, video watching and 3G talking each.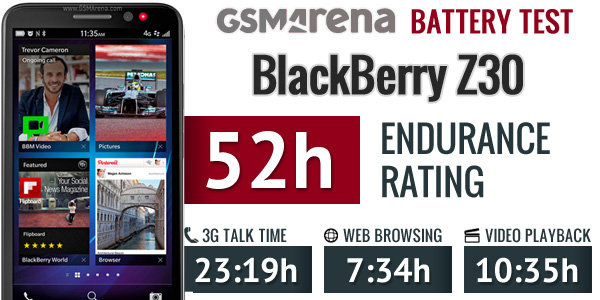 BlackBerry Z30 battery life test scorecard
Learn more about our battery testing procedures here.
Display
The Z30 boasts a 5.0" Super AMOLED screen of 720p resolution (720 x 1280 pixels). It's only the second AMOLED unit on a Blackberry phone, after the Q10 messenger. The pixel density clocks in at 294 ppi, which is way below what this season's flagships offer - but, admittedly, crisp enough for comfortable reading and viewing.


The 5" Super AMOLED 720p display on the BlackBerry Z30
Colors are punchy, blacks are the usual AMOLED deep and the screen is viewed comfortably at even wide angles.
Display test
50% brightness
100% brightness
Black, cd/m2
White, cd/m2
Contrast ratio
Black, cd/m2
White, cd/m2
Contrast ratio
BlackBerry Z30
0
152
∞
0
301
∞
BlackBerry Q10
-
-
-
0
352
∞
BlackBerry Z10
-
-
-
0.38
575
1532
Meizu MX3
0.11
104
995
0.53
526
991
HTC One Max
0.14
224
1591
0.40
629
1572
Samsung Galaxy Note 3
0
149
∞
0
379
∞
Sony Xperia Z1
-
-
-
0.38
580
1513
Sony Xperia Z Ultra
-
-
-
0.47
467
1001
Samsung I9505 Galaxy S4
0
201
∞
0
404
∞
HTC Butterfly S
0.15
165
1117
0.43
451
1044
HTC One
0.13
205
1580
0.42
647
1541
Samsung I9300 Galaxy S III
0
174
∞
0
330
∞
Apple iPhone 5
0.13
200
1490
0.48
640
1320
Sunlight legibility is quite good too, as testified by the BlackBerry Z30's performance in our dedicated test.
Sunlight contrast ratio
Nokia 808 PureView
4.698
Apple iPhone 5
3.997
Samsung Galaxy Note 3
3.997
Samsung I9300 Galaxy S III
3.419
Nokia Lumia 925
3.402
Samsung I9505 Galaxy S4
3.352
Samsung Omnia W
3.301
Samsung Galaxy S
3.155
Samsung Galaxy S4 mini
3.127
Samsung Galaxy S4 zoom
3.118
Nokia N9
3.069
Samsung Galaxy Note
2.970
Sony Xperia Z1
2.950
HTC One S
2.901
BlackBerry Q10
2.856
Samsung Galaxy S II
2.832
Samsung Galaxy S II Plus
2.801
BlackBerry Z30
2.790
Huawei Ascend P1
2.655
Sony Xperia ZR
2.672
Nokia Lumia 900
2.562
HTC One Max
2.537
Nokia Lumia 720
2.512
HTC One
2.504
Sony Xperia Z
2.462
Samsung Galaxy S III mini
2.422
Motorola RAZR i
2.366
Samsung Galaxy Note II
2.307
Apple iPhone 4S
2.269
HTC Desire 600 dual sim
2.262
HTC One X
2.158
Nokia N8
2.144
Oppo Find 5
2.088
BlackBerry Z10
2.051
Apple iPhone 4
2.016
HTC One mini
2.003
LG G2
1.976
Sony Ericsson Xperia ray
1.955
Samsung Galaxy Camera
1.938
HTC Butterfly
1.873
Huawei Ascend P6
1.865
Sony Xperia V
1.792
Sony Xperia U
1.758
Meizu MX3
1.754
LG Optimus 4X HD
1.691
HTC One V
1.685
BlackBerry Q5
1.682
LG Optimus Vu
1.680
LG Optimus GJ
1.666
HTC Desire V
1.646
Sony Xperia Z Ultra
1.578
Samsung Galaxy Core
1.563
LG Optimus G Pro
1.552
LG Optimus 3D
1.542
Nokia Asha 302
1.537
Sony Xperia M
1.473
Nokia Lumia 610
1.432
Gigabyte GSmart G1355
1.361
HTC Desire C
1.300
Nokia Asha 501
1.270
LG Optimus L7
1.269
LG Optimus L9
1.227
Meizu MX
1.221
Sony Xperia E dual
1.203
Samsung Galaxy Pocket
1.180
Sony Xperia tipo
1.166
Samsung Galaxy mini 2
1.114
The Super AMOLED display on the BlackBerry Z30 relies on a standard RGB matrix with the same pixel arrangement as the one Samsung used for the Galaxy Note II display. The pixels of the Z30 have one tall Blue sub-pixel on the left and smaller Green and Red pixels stacked one on top of the other. It's an odd arrangement, but it has three subpixels per pixel. The reason for the different Blue pixel size is that Blue AMOLEDs typically have a shorter life and making them bigger balances things out. Being bigger, the Blue pixel doesn't need to emit as much light to match the other two, which helps it last longer without affecting color balance.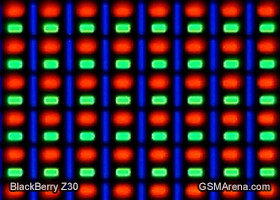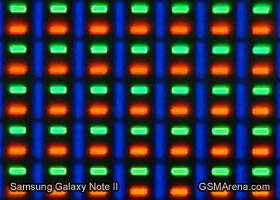 BlackBerry Z30 vs Samsung Galaxy Note II screens under a microscope