Design, build quality and controls
There is no escaping the fact that the E8 is a big phone. With a 6-inch screen, the E8 looks disproportionately large even in a man's hands and it is quite a handful to hold and operate.
Single-handed use isn't comfortable and portability will also be an issue, unless you have big pockets or a bag to put it away in.
With that out of the way, the E8 is actually quite well built, as most Gionee phones are. The phone is not entirely made out of metal, and the removable back panel (which provides access to the SIM and memory card slots) is plastic, but the phone still has a premium feel to it and is unmistakably high-end.
The design is not quite as attractive as the S-series phones, such as the S7, and the phone looks quite plain, especially from the back.
All the buttons on the phone are on the right side and within easy access. There is also a camera shutter button, which is a rare sight these days. It has two-step operation to allow you to focus before shooting and pressing and holding it starts the camera.
On the back is the new fingerprint sensor. The sensor works well and is quick to set up as well as to unlock the device. The accuracy seemed to be good in our limited testing and it recognized our finger every time, and it can also wake up the phone and unlock it by touching without pressing the power button first.
In the lower back is the loudspeaker. The audio quality isn't particularly great but it gets loud enough to be heard clearly.
On the front you will find the massive 6.0-inch display. The display is surrounded by the bezel and a thin metal frame. Below the display are the three capacitive buttons for back, home and multitasking. Unlike the S7, the E8 has physical buttons below the display.
We couldn't find any option to switch to on-screen buttons on this device. Worst of all, the buttons aren't backlit, and can be hard to find even when you're in a lit environment.
Display
The E8 has a 6.0-inch QHD AMOLED display. The display looks wonderful, with bright, vibrant colors that aren't too saturated unlike most AMOLED screens. Viewing angles were also good, although we couldn't test sunlight legibility.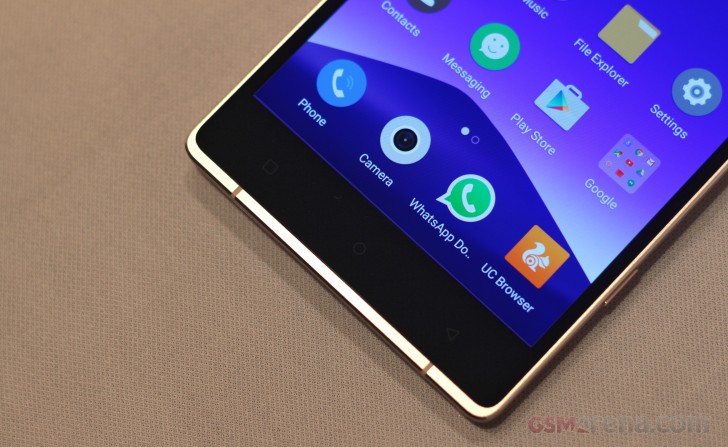 The display comes with an option to adjust the color temperature to your liking, letting you opt for a cooler or warmer color tones, but other than that there weren't any other calibration options. The default option, though, looks fine.