Unboxing the Gionee Elife S5.5
The Gionee Elife S5.5 comes in a lofty cardboard box packing a bigger than usual set of accessories. Our unit came wrapped in a gold flip case that doubles as a stand. The downside is the flip case gets attached using a strip of double-sided adhesive so it's not something that you would be putting on and off your phone that frequently. Also, the case will make your Gionee Elife S5.5 thicker.
The retail box contains a pretty much mandatory charger and a USB cable. You will also find an in-ear headset, a SIM ejection tool, a microUSB to USB adapter enabling USB OTG and USB Host, and four screen protectors - two for each glass-covered side of the Elife S5.5. The protectors even come with microfiber cloths.
Some research revealed the Gionee Elife S5.5's set of accessories varies across markets. There is a different, even bigger retail box, which omits the flip cover, but contains a transparent rubber bumper and extra charger plugs instead.
Gionee Elife S5.5 360-degree view
The Elife S5.5 stands at 145.1 x 70.2 x 5.5mm and weighs just 129g - incredibly light and thin for a 5" flagship, but seemingly taller for this screen size. The phone is built around a magnesium alloy frame with Gorilla Glass on both the front and rear.
Design and build quality
The Gionee Elife S5.5 is one of the best looking phones we've handled in quite a while. The dual-glass design was pioneered by the iconic iPhone 4 and the Xperia Z lineup is another prime example. The Elife S5.5 is by no mean worse at that, even next to such dignitaries.
Sheets of Corning Gorilla Glass 3 cover the entire front and rear of the Gionee Elife S5.5. They are pressure-resistant but can eventually get scratched with prolonged use. That's why Gionee is supplying protectors in the retail box.
The Elife S5.5's frame is molded out of magnesium alloy, light and strong. The strong metallic frame and the thin Super AMOLED panel have helped Gionee claim the world's slimmest smartphone title for their Elife 5.5.



The iPhone 5s laid on the Elife S5.5 • the chamfered edges
The bold angular shape and the flat sides are the perfect match for a body this slim. Good thing the Gionee Elife S5.5 didn't try too hard to mirror the iPhone with its rounded corners. We feared a glass-covered device - and super slim at that - would be nearly impossible to hold securely. Of course, there are phones offering a better grip but the Elife is no worse than an Xperia Z.
The unibody has ruled out a removable battery, but it was probably their only choice aiming for a profile this slim. With a 5.0" screen, the Gionee Elife S5.5 is by no means a small device but the ultra-slim unibody feels refined and solid, yet surprisingly light. All bits fit perfectly together in a nearly seamless design and there are no cheap-looking accents whatsoever.
The Gionee Elife S5.5 feels amazing in the hand, especially considering its size. The white glass-clad back is nice but slippery - the extra slim body helps single-handed use in portrait but, regardless of the ample space above and below the screen, the landscape hold isn't as secure and comfortable. You risk covering the single rear loudspeaker too. Overall though, we think the handling issues are easy to live with in a phone which looks that good.
Display
The Gionee Elife S5.5 has a 5" Super AMOLED screen of 1080p resolution and 441ppi. It uses the same panel as the Galaxy S4 - at least in terms of visual qualities. It's bright, with even backlighting, low reflectivity and great contrast.


The 5" 1080p SuperAMOLED display
Another underlying similarity is the PenTile matrix with a diamond arrangement. The diamond layout will make sure there are no visible artifacts and, with pixel density north of 400ppi, you can't take away points for sharpness either.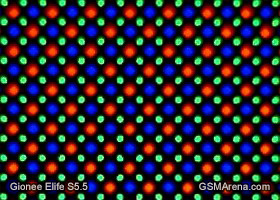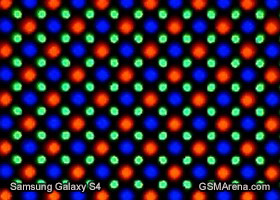 Gionee Elife S5.5 and Samsung Galaxy S4 screens up close
The color rendering is great with punchy colors typical of AMOLED screens. There are no dedicated color saturation modes though as on the Galaxy flagships.
Display test
50% brightness
100% brightness
Black, cd/m2
White, cd/m2
Contrast ratio
Black, cd/m2
White, cd/m2
Contrast ratio
Gionee Elife S5.5
0
178
∞
0
330
∞
Samsung Galaxy S4
0
201
∞
0
404
∞
Samsung Galaxy S5
0
274
∞
0
529
∞
HTC One (M8)
0.20
245
1219
0.46
577
1256
LG G2
0.10
149
1522
0.45
667
1495
LG G3
0.14
109
763
0.72
570
789
Sony Xperia Z2
-
-
-
0.41
488
1195
Sony Xperia Z1
-
-
-
0.38
580
1513
Oppo Find 7a
0.33
280
842
0.68
580
852
Apple iPhone 5
0.13
200
1490
0.48
640
1320
Since it's a Super AMOLED display, the stellar contrast should hardly surprise. The sunlight legibility is great too helped by the non-reflective screen.
Sunlight contrast ratio
Nokia 808 PureView
4.698
Apple iPhone 5
3.997
Samsung Galaxy Note 3
3.997
Samsung Galaxy S5
3.549
Samsung I9300 Galaxy S III
3.419
Nokia Lumia 925
3.402
Gionee Elife S5.5
3.386
Samsung I9505 Galaxy S4
3.352
Samsung Omnia W
3.301
Samsung Galaxy S
3.155
Samsung Galaxy S4 mini
3.127
Samsung Galaxy S4 zoom
3.118
Nokia N9
3.069
Samsung Galaxy Note
2.970
Sony Xperia Z1
2.950
HTC One S
2.901
BlackBerry Q10
2.856
Samsung Galaxy S II
2.832
Samsung Galaxy S II Plus
2.801
BlackBerry Z30
2.790
Huawei Ascend P1
2.655
Sony Xperia ZR
2.672
Nokia Lumia 900
2.562
HTC One Max
2.537
Nokia Lumia 720
2.512
HTC One
2.504
Motorola Moto G
2.477
Sony Xperia Z
2.462
Samsung Galaxy S III mini
2.422
HTC One (M8)
2.371
Motorola RAZR i
2.366
Samsung Galaxy Note II
2.307
Oppo Find 7a
2.279
Apple iPhone 4S
2.269
HTC Desire 600 dual sim
2.262
LG Nexus 5
2.228
HTC One X
2.158
Nokia N8
2.144
Oppo Find 5
2.088
BlackBerry Z10
2.051
Apple iPhone 4
2.016
HTC One mini
2.003
LG G2
1.976
Sony Ericsson Xperia ray
1.955
Sony Xperia Z2
1.944
Samsung Galaxy Camera
1.938
LG G Pro 2
1.922
HTC Butterfly
1.873
Huawei Ascend P6
1.865
LG G3
1.820
Sony Xperia V
1.792
Sony Xperia U
1.758
Meizu MX3
1.754
Sony Xperia T2 Ultra
1.740
LG Optimus 4X HD
1.691
HTC One V
1.685
BlackBerry Q5
1.682
LG Optimus Vu
1.680
LG Optimus GJ
1.666
HTC Desire V
1.646
Samsung Galaxy Ace 3
1.622
Sony Xperia Z Ultra
1.578
Samsung Galaxy Core
1.563
LG Optimus G Pro
1.552
Motorola Moto E
1.545
LG Optimus 3D
1.542
Samsung Galaxy Core LTE
1.542
Nokia Asha 302
1.537
Sony Xperia M
1.473
Nokia Lumia 610
1.432
Samsung Galaxy Grand Neo
1.393
Gigabyte GSmart G1355
1.361
Samsung Galaxy Grand
1.321
HTC Desire C
1.300
Nokia Asha 501
1.270
LG Optimus L7
1.269
LG Optimus L9
1.227
Meizu MX
1.221
Sony Xperia E dual
1.203
Samsung Galaxy Pocket
1.180
Sony Xperia tipo
1.166
Samsung Galaxy mini 2
1.114