User Interface powered by Amigo OS 2.0
Gionee Elife S5.5 runs on the proprietary Amigo OS 2.0, which is another name for Gionee's own heavily skinned version of Android 4.2.2 Jelly Bean. The Gionee's launcher customizations run very deep, they keep all Google apps and services, and even bring quite a few of its own - themes support, new lockscreen, homescreen, and settings menu among others. The result is a very simple interface with no app drawer (think iOS style).
Here's a quick Amigo OS 2.0 rundown on video to get you started:
The default lockscreen has two non-customizable panes - the first one shows the time an upward swipe unlocks the screen. The second pane has a widget with four shortcuts - camera, voice recorder, torch and fake call. The widget has a viewfinder you can use for quick snaps. If you tap on the REC shortcut your Elife S5.5 starts recording immediately, the Torch icon turns on/off the LED flash, while the Fake Call will initiate a fake call in 15s.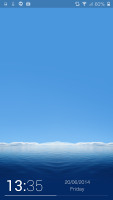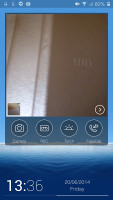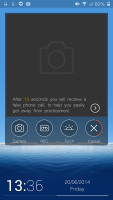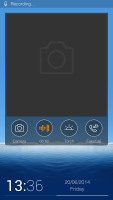 The default lockscreen and the second widget-enabled pane
Beyond the lockscreen we find a fairly standard Android homescreen with four customizable shortcuts (expandable to five), which are docked at the bottom and are visible on all homescreens. Each homescreen pane has an always visible weather widget at the top plus it can have up to 12 app shortcuts in 3x4 grid. Other widgets aren't supported, nor is there an app drawer.
You can have up to nine homescreen panes at most. In the absence of an app drawer, anything you install pops up on the homescreen, just as it would on an iPhone. While this means that you don't have to bother creating shortcuts to your apps on the homescreens, it also means that you cannot effectively hide any of your installed apps either. You can, however, group them into folders.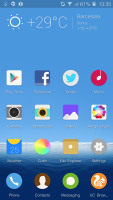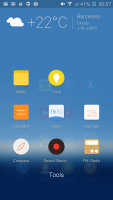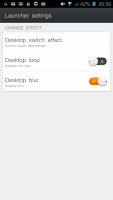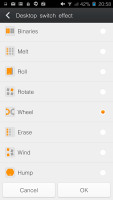 The homescreen • opening a folder • homescreen settings
Themes are available as well. A theme will change your homescreen wallpaper and system icons. You can also adjust things like homescreen transition effects, and even change your wallpapers at specific time intervals.
The notification area has two tabs - the first one holds all notifications, while the second is a 4x4 grid of toggles. You can add, remove and rearrange toggles. A two-finger swipe will take you straight to the Settings page.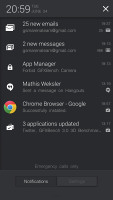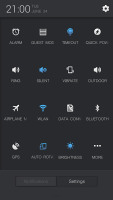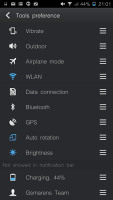 The notification area with toggles
The Gionee Elife S5.5 features a task switcher that lets you swipe away unwanted app. You can bring it up any time with a double tap on the Home button or with an upward swipe from the Home key. The UI is iOS-like with only three app cards visible at a time. The docked shortcuts and the weather widget are visible in the task switcher too.
There is a dedicated app called Phone Accelerate. You can find all of your background apps there and kill them. You can also potentially shorten your boot times by disabling some unnecessary apps which start with the phone. Finally, you can clean the system cache for each app via the dedicated menu.
You can also get full control of your apps via the App Manager app. You can uninstall apps from here, move them to and from the system partition, control their permissions or change the default apps for important actions (SMS, emails, office docs).
Gionee has also provided an excellent power management app. You can fully customize the behavior of the Power Saving Mode and Night Power Saving Mode and its activation condition. You can track you battery usage as well.
In case you don't like the dedicated capacitive keys below the screen (like us who frown at their invisibility when not backlit), you can enable the so-called Suspend Button. It is a movable dot that transforms into a placeholder for the Lock, Menu, Home and Back keys.
Finally, Gionee Elife S5.5 offers Guest mode, which can be enabled/disabled either from its dedicated toggle in the Quick Settings page or the Security settings. It hides you call log, messages, photos and disables the homescreen editing options. Unfortunately it isn't password protected.