A custom gallery app
The Gionee Elife S5.5 comes with a custom Gallery app. It defaults to a pre-defined folder view of Albums, Wallpapers, Screenshots, Videos and Others. You can't change this view, nor can you customize the default folders.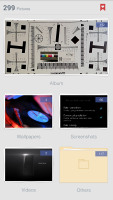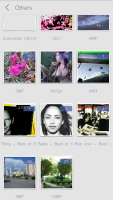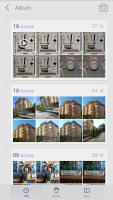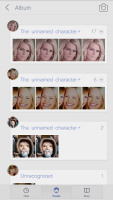 Gallery • Others • Albums • People
The available features when viewing a single image are pretty standard - set image as wallpaper/contact image, share it, delete it or get a menu with more functions.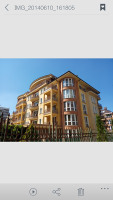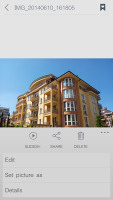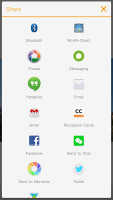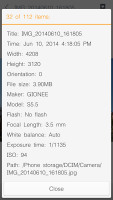 Viewing a single image • sharing options • details
The image editor offers various effects, frames, tools (crop, mirror, straighten, rotate) plus light adjustments that let you bring out the shadows or the highlights or even create a tiny "planet photo".
Oppo-like music player
The Gionee Elife S5.5's player is very similar to the Oppo's latest music app. It has a simplistic interface and is very easy to use and navigate. It also supports customizable DTS audio customizations.
The DTS audio enhancements apply on all music-related apps and games no matter if you are using headphones or the loudspeaker. There are a few DTS presets you can use, but you can also customize one preset by yourself. Loudspeaker booster is also available.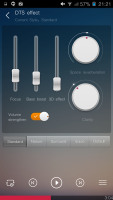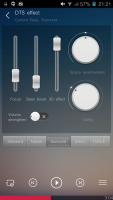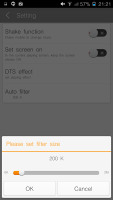 DTS settings • Audio filter size
The music player UI is pretty straightforward - your music library is organized into a local list of all music, favorites, artists, albums and folders. There isn't an option to add a playlist.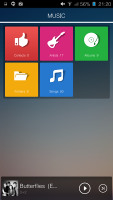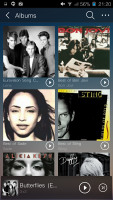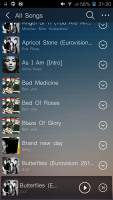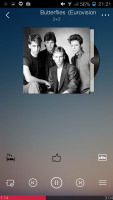 Music player • Now playing screen
The Now playing is pretty much a standard affair. One interesting feature you get is the Sleep Timer. There is also a DTS on/off switch for easy control over the equalizer.
While the player is on, the notification area lets you control the playback via an expandable notification. There are music controls on the lockscreen, too.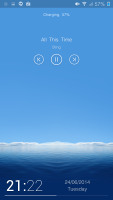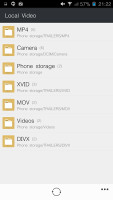 The music controls in the notification area and on the lockscreen
FM radio with recording
The Gionee Elife S5.5 also features an FM Radio aboard, but there is no RDS support or at least our unit didn't come with such. The app offers stereo FM recording in the odd ogg format and the recorded files can be accessed via the Sound Recorder app.
Video player
Besides the Gallery, there is a separate Video app that lists all of your videos. The video player does play 1080p files but only as long as those are XviD or DivX AVI files or MP4 and MKV's. However DTS and AC3 audio tracks are not supported, which makes the MKV compatibility rather questionable.
There are no advanced options and no subtitle support.
Audio quality
The Gionee Elife S5.5 faced some issues with our audio quality test which prevented us from completing its evaluation. It does appear that it's a problem limited to our unit or at least its very early batch, but even so we can't do our traditional audio quality chapter here.