To serve as successors for the Pixel and Pixel XL from 2016, Google has been rumored to be working on not two but three devices this year. Last month we got to find out what their codenames are, as well as the fact that they should all unsurprisingly be powered by Qualcomm's Snapdragon 835 SoC.
Today one of those three upcoming Pixels, the one codenamed Taimen, has been caught in the online database of Geekbench. This means someone in possession of a prototype has tested it in the benchmark. Normally such a run would reveal (or confirm) the chipset of the device, thanks to the "Motherboard" field in Geekbench's info page, but this time around that's listed only as "taimen". So it's no use for figuring out the specific SoC, but we do know it's made by Qualcomm and has an octa-core CPU. So what could it be? Obviously, unless the Taimen will be mid-range, it's going to be the Snapdragon 835.
And it turns out it will be paired with 4GB of RAM, the same amount seen in the Pixels from last year. While that's still the standard amount to see in a flagship (at least in Western markets), perhaps some extra future-proofing would have been nice here (in the form of 6GB).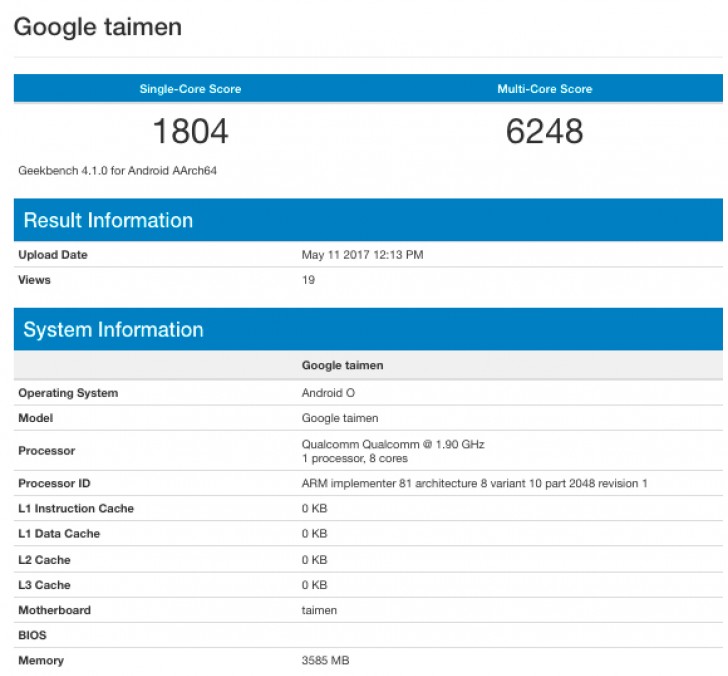 Anyway, the prototype Taimen runs the yet-unnamed Android O, of course. This version of the OS has already been announced, and the first developer preview has been out for a while. That said, the final version is only expected in late summer or early fall, emulating the release schedule of Android N in 2016.
Past rumors have claimed that Taimen will be bigger than both Muskie and Walleye, the other two Pixels currently in development. Those two should serve as the direct successors to the original Pixel and Pixel XL, respectively, while the Taimen... could be a tablet, or the first true successor to the Nexus 6. This is all pretty much just speculation at this point, so don't take it for granted. Still, seeing as how the leaks have started (at least regarding Taimen), we expect to hear more about it in the near future.
A final note regarding its results in Geekbench: please take into account that its benchmark run was done using Geekbench 4.1, the latest version of the suite, which came out a few weeks ago. Unfortunately, the results from 4.1 are not directly comparable to those obtained by other phones in Geekbench 4.0 (which is what we use in our reviews, for example).
Via (in Dutch)
D
thats one example, you said plenty. X compact with mid range processor, slower then the z5 compact without "official" waterproofing. Poor excuse for a compact device. for a huge price. Also not a fan of the onscreen buttons.
D
I hope the new Google pixel, or the largest pixel will have tango and daydream VR on board.
D
Unlike iPhones which single task and then half the current task as you switch to another task. Android actually keeps tasks running in the background, and it has split screen multitasking as well. For crying out loud iPhone developers have yet to ...