Introduction
Here's the quick version of what the Haylou Solar is - the Xiaomi Mi Band functionality with even better battery life, traditional watch styling and a big round display for around €20. Sounds intriguing? Read on then to see how well it all works.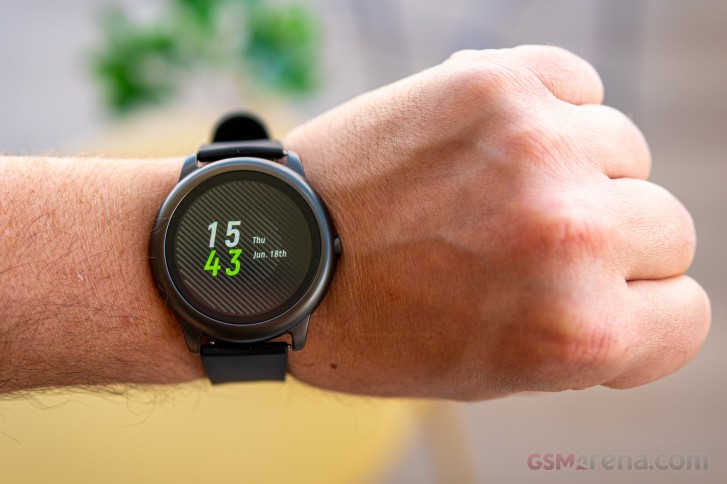 The Haylou Solar uses an LCD rather than an OLED panel so an always-on display feature is out of the question, so even in that you have feature parity with the Mi Band. Also, despite what the name may lead you to believe there's no Solar charging of any sort here.
Haylou Solar (Haylou LS05) specs
Body: 45.3 x 11.4, 54g, 22mm. standard strap; IP68; Metal frame, metal button, plastic back
Display: 1.28" LCD, 240 x 240 pixels (no AOD watchface)
OS: Proprietary; Support for Android 4.4 and above, iOS 8.0 and above
Battery: 340mAh (30 days typical use, around 15 days with heart rate monitoring)
Connectivity: Bluetooth 5.0 + BLE
Misc: Ultra-low dynamic optical heart rate sensor, accelerometer
We realize that Haylou is hardly a household name, so we looked into it. The Haylou brand, which, just like it sounds is derived from the homonym of the English word "hello", is owned by Dongguan Liesheng Electronics Co., Ltd. The latter provides ODM solutions and also RnD, production and marketing capabilities for Bluetooth headsets and smart wearables.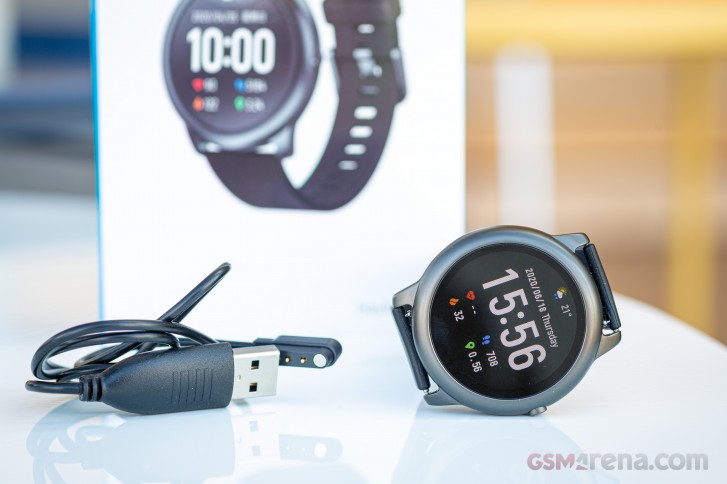 As a startup, the company secured funding by Xiaomi and membership in the Xiaomi ecosystem. Currently, it is a bit hard to define the exact relationship between Xiaomi and Dongguan Liesheng Electronics, but it is known that the former is a major client of the latter. Hence, the similarities in features and UI between the Haylou Solar and Amazfit devices, like the GTR and T-Rex start to make sense, as well. Amazfit products come courtesy of the Huami subsidary - the guys behind the popular Xiaomi Mi Band family, but connections clearly run deep.
The good news is the traditional strong point of Amazfit products - battery life - has been carried over here to the Haylou Solar.
Design, materials and comfort
The Haylou Solar is hardly the best looking smartwatch, but as we established it's more of a rival to the smartbands and among those the classic "watch" aesthetic are still the minority. At its price point the Haylou Solar's metal body and overall feel really stand out. The metal case also adds a certain heft to the device that some might appreciate.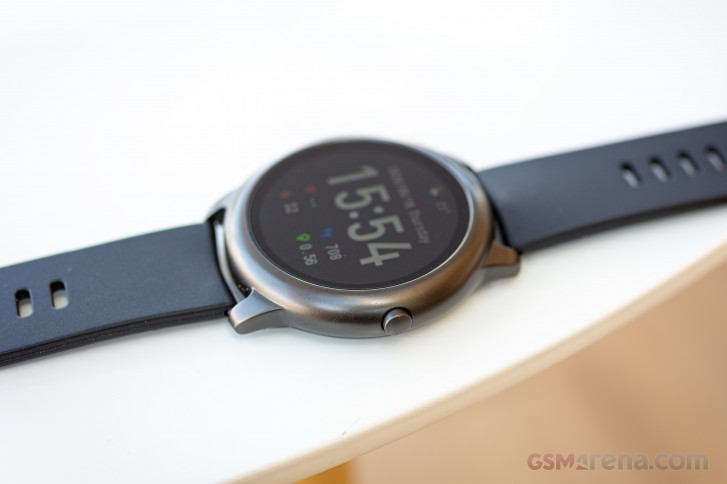 The decision to make the front glass flush with the metal bezel causes some anxiety. The official Haylou specs page does not mention any specific protective layer for the glass, which means scratches are likely to take away from its looks down the road.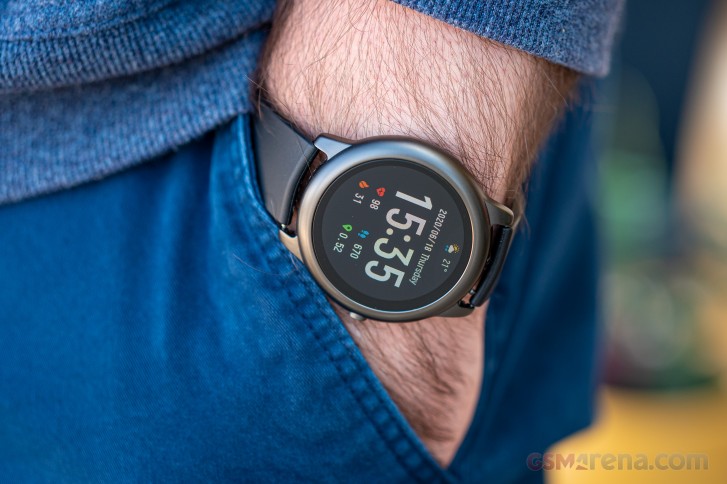 The 1.28-inch LCD on the Haylou Solar looks perfectly fine indoors. Colors are vibrant and both text and UI elements are sharp, thanks to its 240 x 240-pixel resolution. Outdoor use sees it struggle to push the brightness high enough and you might have trouble reading it if you are sitting in the sun.
The top glass layer introduces some reflections and so does the small, but still present air gap between it and the actual panel. A fully-laminated solution would have helped things a bit, but that's hardly feasible at this price point.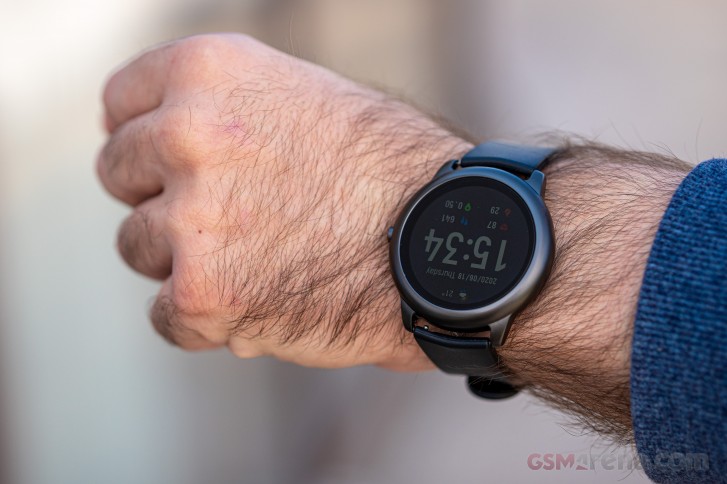 There are four brightness levels that you have to toggle manually as there is no luminance sensor for auto brightness. You either have to learn to live with a dimmer outdoor experience, unpleasantly bright UI during the night or develop the habit to adjust the brightness, as needed.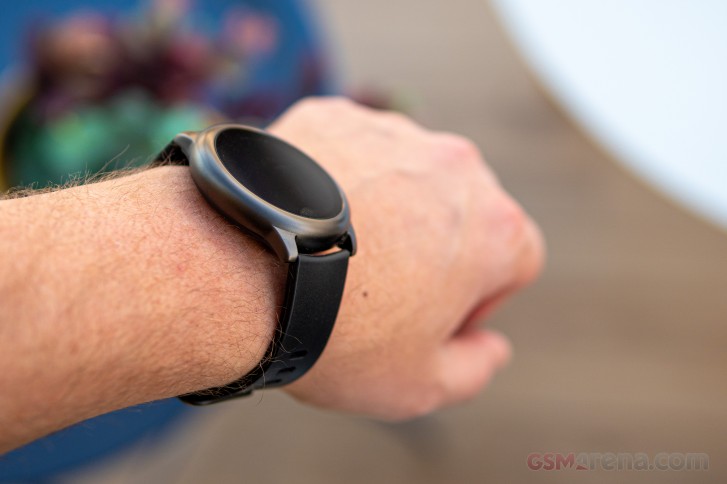 Haylou Solar also punches above its category in terms of comfort. A slim profile makes for a snug fit against the wrist, limiting the risk of accidental bumps and snags. The Solar's plastic back side is relatively flat and remains comfortable even with a tighter strap position.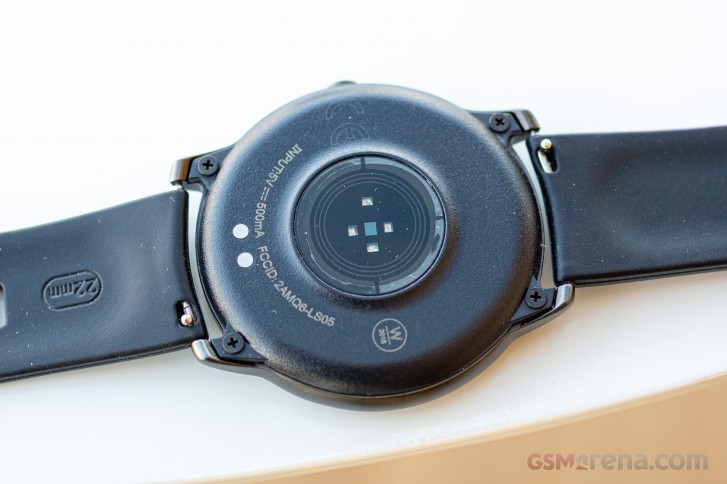 Speaking of the strap, it is a standard 22mm one that uses slightly bent, but otherwise sturdy studs. Replacing it with third-party options is a breeze and you have no shortage of options.
The factory silicon strap deserves praise beyond its standard attachment mechanism. While we aren't exactly sure what the advertised "nano lightweight technology" means, in practice the band strikes a great balance between soft feel and sturdy structure. We expect it to last a long time seeing how it doesn't show the slightest signs of wear in several weeks of constant use.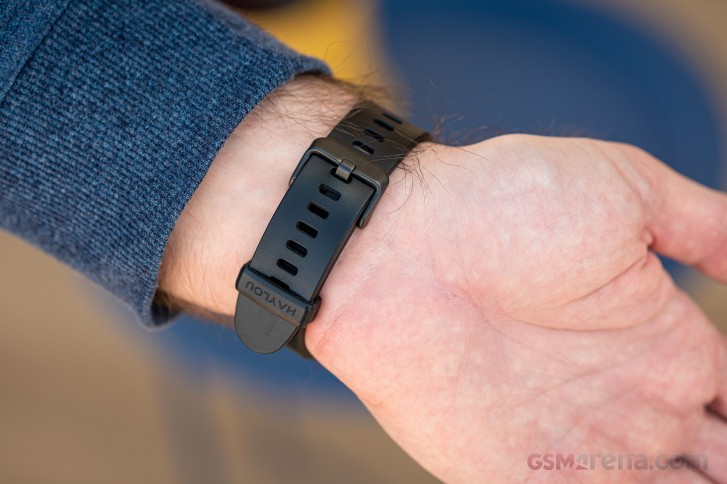 The Haylou Solar isn't afraid of getting sweaty, dirty or wet, thanks to its IP68 rating. The official specs page feels confident in advertising it as a gadget you can comfortably leave on your wrist for all your activities, which clearly includes sweat and the occasional splash of water.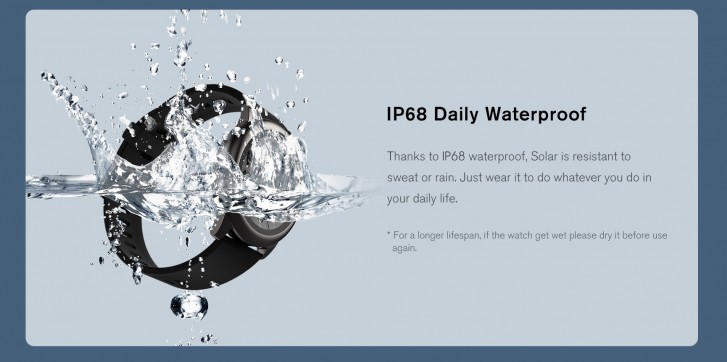 Features
Smart wearables come in many shapes and feature sets. The Solar isn't a proper smartwatch, like the Apple Watch of the Samsung Watch with no support for third-party apps nor an accompanying ecosystem of software. As we said it's more of a smart activity/sports tracker with functionality that can't be expanded unless the maker does so with a firmware update.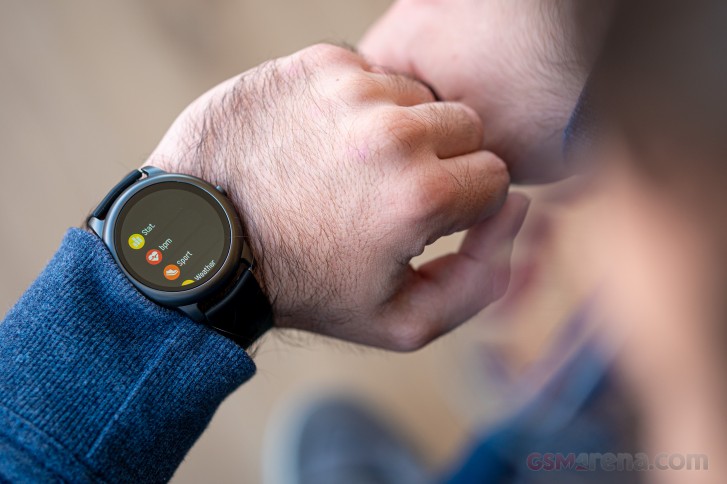 Both approaches have their advantages because full on operating systems may be more versatily but is also more expensive to maintain and way more taxing on the battery. So if you manage to find a smart wearable that meets all of your needs you can get a far better deal.
A centerpiece in the Haylou Solar's feature arsenal is tracking. The PPG sensor on its back can handle pulse, both on demand and regularly throughout the day, depending on your preference. In our tests, we found it to be about as accurate and reliable as the Xiaomi Mi Band 4, Amazfit GTR and Samsung Galaxy Watch.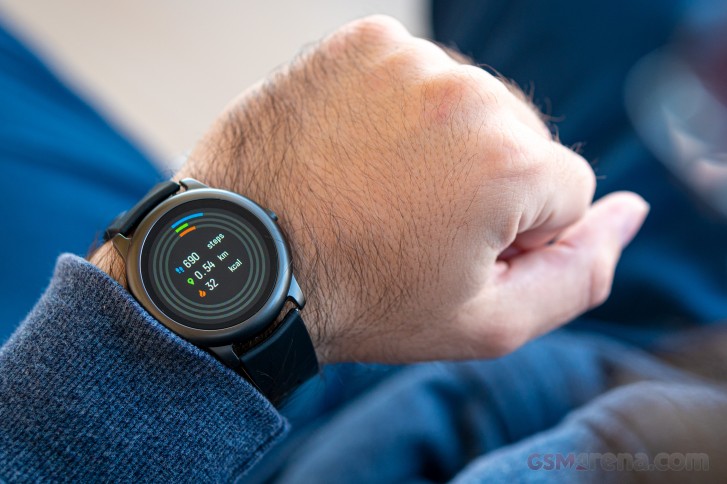 Step counting is also about as reliable as one can expect from your average wearable. Cross-referencing its counter with an Amazfit GTR and the Samsung Health counter on a recent Samsung flagship phone typically gives variances of a couple of hundred steps or less.
The distance and calorie numbers, provided alongside heart rate and step count are clearly calculated rather than measured as is the norm with simpler activity trackers. We appreciate the Apple-inspired visualization of these statistics with colored progress rings.
Armed with just a basic array of sensors and in the absence of GPS, the Haylou Solar can only do so much on its own, when it comes to actual Sports tracking. The watch does let you manually trigger one of 12 sports modes listed below.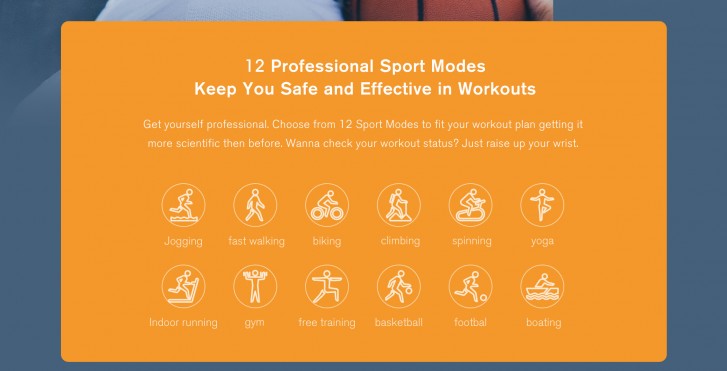 The tracking itself includes duration, calories and a live heartrate monitor. There is no advanced logic here, like repetition or lap count. Probably a good thing too, since any such data would have to be estimated on the Haylou Solar and would be so inaccurate it will be virtually useless.
So starting a particular kind of workout, serves as a tagging mechanism for later data review. You can, actually track a few types of more sophisticated sport tracking with the Haylou companion app on the phone, using its GPS, but we'll get to that in a bit.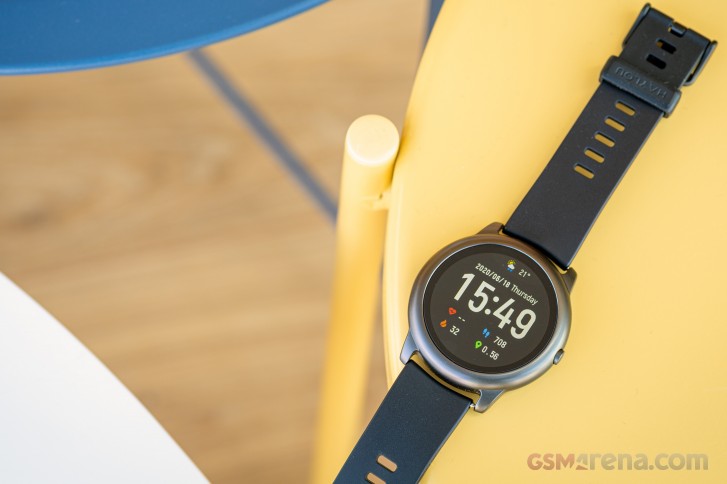 Notification forwarding is the other big feature for most smart wearables. Generally speaking, it's currently in a bit of a "Wild west" state, since Android lacks a standardized way of hooking and accessing notifications. Every manufacturer handles this differently on a software level and the resulting experience can be vastly different.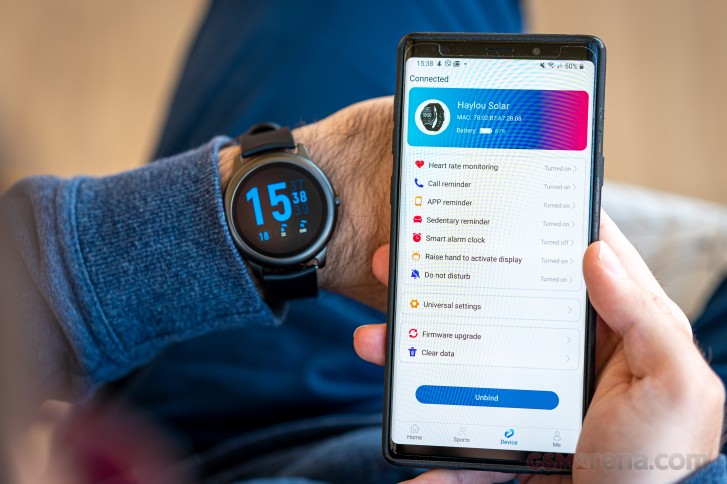 Starting with the companion app, the settings menu is straightforward and easy to understand. It includes shortcuts to enable accessibility and notification permissions. Below that - a list of common apps, which suggests that the Haylou app has some custom handling code in place for some popular apps. You can also manually add any other app.
In practical terms, notification experience on the Haylou Solar is above average, but still a bit inconsistent. Notifications come through reliablyand quickly. Most common symbols are supported, including most emojis and Cyrillic text. Beyond that, the quality of the experience really varies from app to app. The name of the app almost always comes through. Its icon sometimes get lost and certain apps, like Viber simply have "null" as their notification body. These are just some idiosyncrasies from the particular way Haylou is capturing and passing on notifications.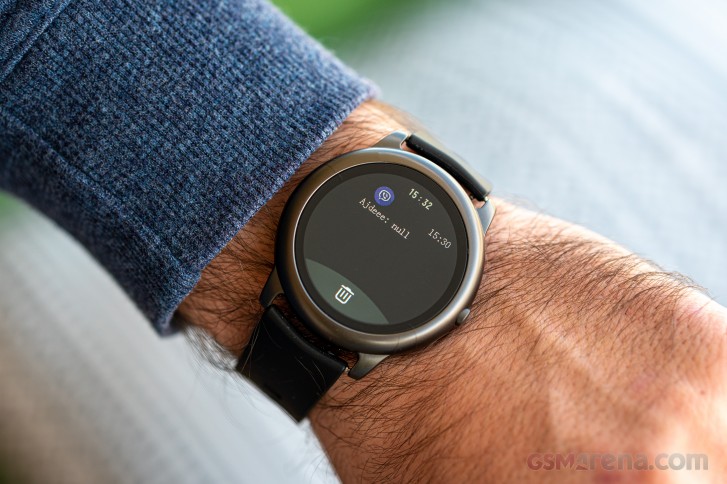 Other noteworthy issues include the passing of progress notifications. The way Android apps create progress bars in a notification is to constantly create a new notification with the same ID as the existing one, to display a higher complete percentage. The Haylou app does not recognize this behavior on occasion and passes every single state of these progress notifications as an independent notification to the watch. The end result is constant vibration and flashing until the progress bar goes away. This can be mitigated by disabling certain notification channels on some apps, but is still annoying enough to be worth noting.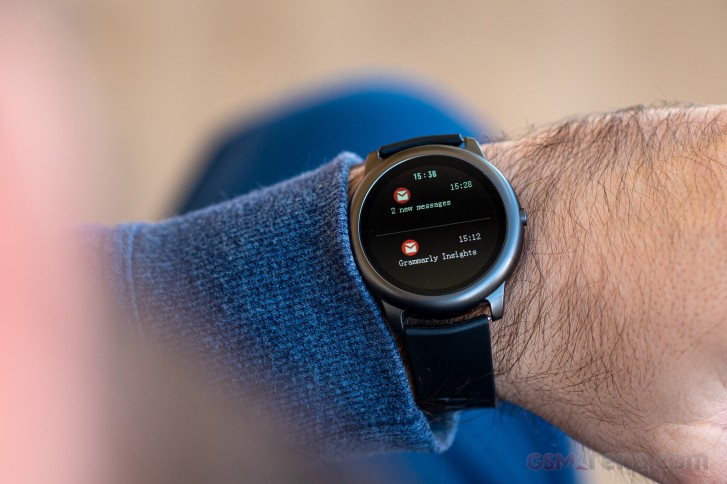 Of course, Haylou could address these issues in software, as well. Perhaps an added feature to not only subscribe to notifications on a per-app basis, but also on a notification-channel basis within each app. While at it, a setting to regulate the vibration of the watch would be appreciated. It is rather intense out of the box. We wouldn't really count on too many companion app updates, though, given the relative obscurity of Haylou products.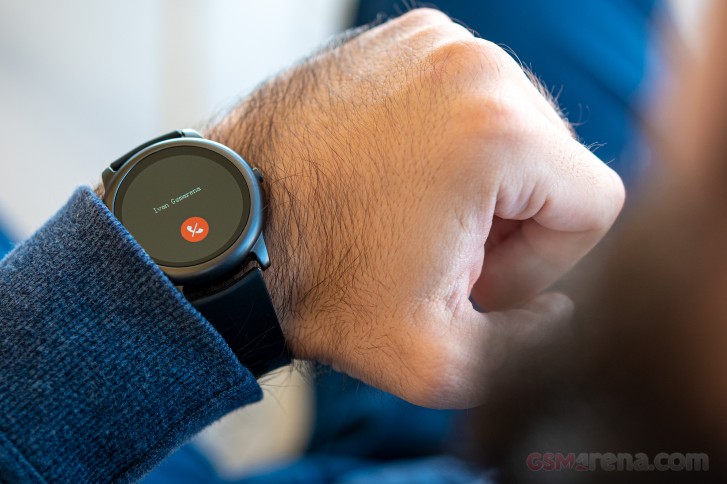 Incoming calls get their own UI. It is on the simpler side on only includes a contact name or phone number, along with a hand-up button. Since the wearable lacks both a speaker and a microphone, taking a call from it is impossible. Still, a button to ignore the call and stop the vibration would have been a nice addition.
The Haylou Solar also offers sleep tracking. It is rather basic and only tracks your light sleep, deep sleep and total sleep time. Even so, it seems fairly accurate in recognizing when you go to bed and wake up. A bit surprising, since the sedentary reminder feature is rather inconsistent and sometimes fires a warning as you walk around.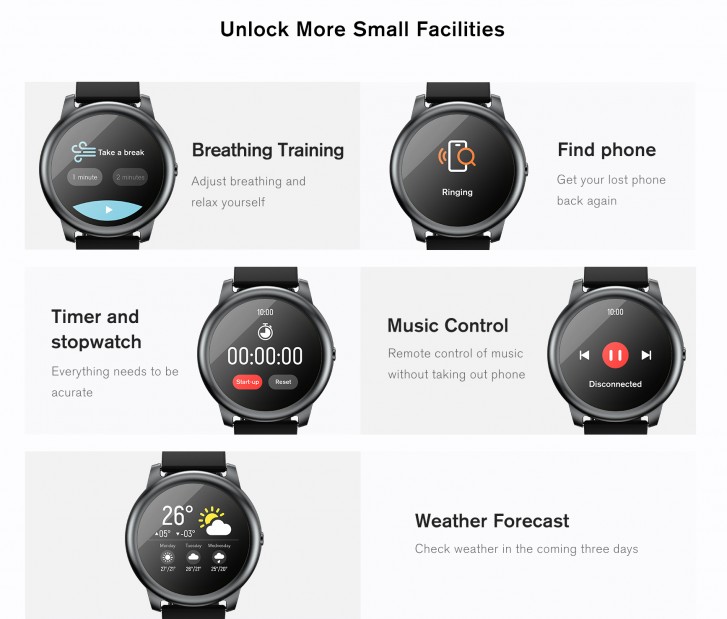 Finishing-off the list of features, the Haylou Solar can also do remote music control. Just the basics - play, pause, next and previous song. You do get the name of the song and artist, which worked consistently with all of the music player apps we tried.
Weather forecast both looks and works great. The data is streamed-in from the connected phone. Graphics on the UI are beautiful and slick. Same goes for Breathing Training - a quick guided relaxation, of sorts. We can't imagine many are going to actually use it. Stopwatch, Countdown and Find phone exhaust the list of small little extras.
We have also prepared a short UI tour video, for a better sense of the layout, animations speed and responsiveness. This includes the quick toggles bar, initiated by a swipe down, which we didn't mention thus far.
Overall, we have few major gripes with the feature-set of the Haylou Solar and the way it is implemented in practice. There is the occasional rough edge, but all of the basics are well covered and you get a surprising amount of value for your money.
Battery life and charging
The Haylou Solar packs a 340mAh battery. That's small in absolute terms, but still on the bigger end for a smart wearable. However, with such a small amount of juice hardware efficiency and clever software are crucial. We've already praised Huami's highly-efficient custom hardware in the past. The Haylou Solar seems to be rocking something similar, if not identical, given the company's relationship with Huami and Xiaomi, we already mentioned.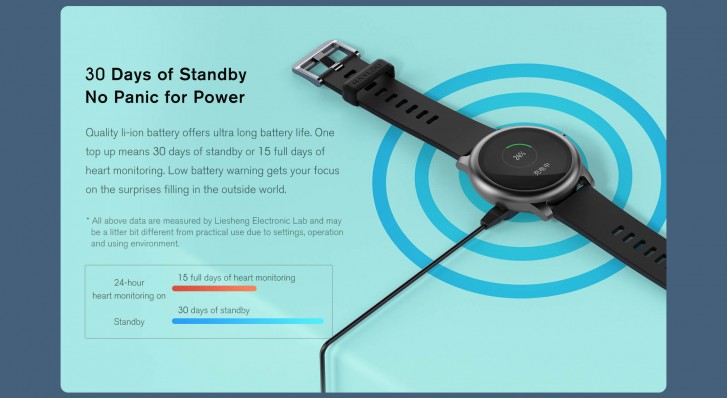 The officially advertised endurance figure of 30 days on a single charge is easily attainable in real-world use. This is a rare sight, even among activity trackers and puts the Haylou Solar in a special endurance league alongside very few other devices, like the Amazfit Bip and the Amazfit GTR. Of course, in the absence of an efficient OLED panel, the Haylou Solar had to give up AOD, among other things, to get over a month away from the wall, but it's still impressive.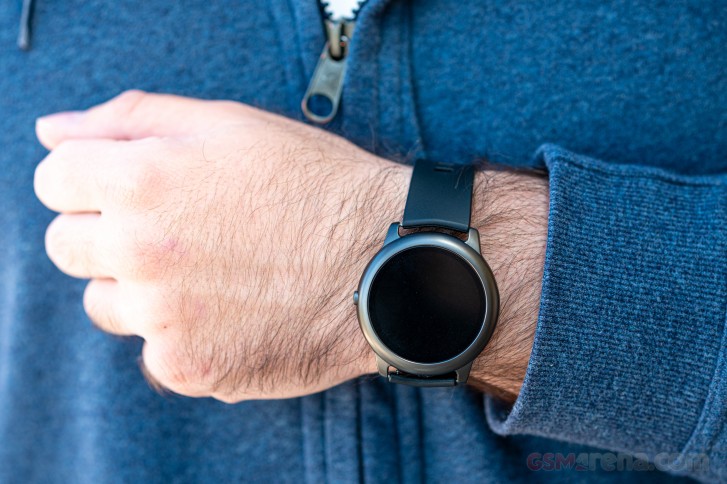 Using the heartrate sensor for 24-hour tracking does slash real-world endurance. However, in our tests, the dent was far less than 50%. We still managed to get around 20 days on a single charge, with the feature on. Of course, this number will also depend on the number of workouts and the amount of notifications you receive.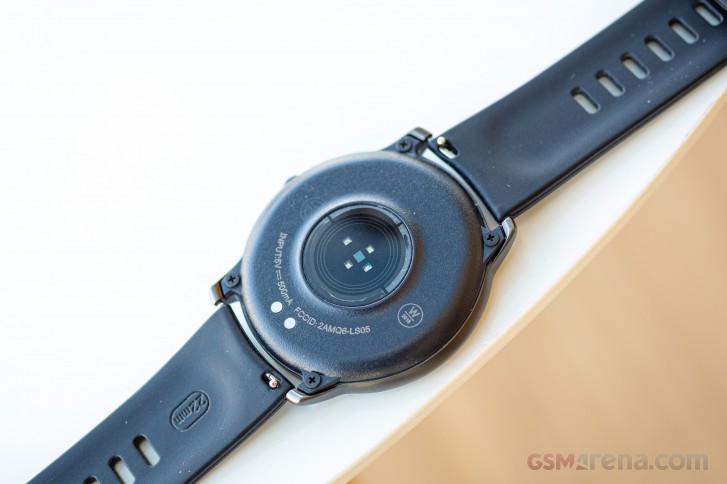 The Haylou Solar is charged through a proprietary magnetic attachment that snaps to the pair of pogo pins on the back of the watch. The bond is solid enough to not come loose on its own. Attaching the thing is also easy thanks to the magnets.
The charger takes a small current of just 500mAh at 5V, which means that you can plug it into pretty much any USB port. Charging start off rapidly. You can get from zero to 50% battery in about an hour and a half. After that, the charger slows down, presumably to protect the small battery. A full charge takes around three hours in total.
Smartphone companion app
The smart wearable companion app can often make or break a certain device, since it plays a major and often overlooked part in the overall experience. Surprisingly, despite its relative obscurity and sketchy initial appearance, the Haylou app is actually one of the better ones around.
The "sketchy" bit we are referring to mostly boils down to developer names and various texts in Chinese in the Play Store description of both Haylou apps. Out of the pair, you need to download Haylou Fit, as opposer to Haylou Sport. Thankfully, once you are past this initial hurdle and open the Haylou Fit app, it is all smooth sailing. First, you are greeted by a nifty, guided initial setup wizard for your personal profile and syncing the Haylou Solar.
The setup process also includes detailed instructions on how to prevent your particular Android flavor from killing the app's background activity. We found these explanations much clearer than those on Amazfit devices. And speaking of background services, it should be noted that unlike some companion app installs, like those for Samsung or Huawei smart wearables, the Haylou one is very light and only includes a single service and a single app. In contrast, getting Huawei health on your phone also means installing a huge number of various services and entire frameworks.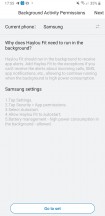 Background service instructions
The main UI of the app is very clean and well organized. You are greeted with a trio of quick statistic overviews for your steps, distance, calories, as well as heart rate and sleep history. In the top left corner - a small, weather widget that can open into a full, beautiful weather forecast UI. It's all very simple and non-intrusive. And you can even slim-down the UI further be toggling off the heart rate and sleep widgets.
You can drill into sleep and heart rate data with a single click and by using well-organized historical graphs and data selectors.
Moving on to the next tab in the app, you get quick access sports tracking and historical data. This is where the logs from the Haylou Solar tracking end up, categorized accordingly. You can also start an activity session from this interface instead of the watch itself, in which case you also get to leverage the phone's GPS module, when applicable, as well as some other advanced features, like a nifty voice assistant, played on connected headphones. You can also set targets for the current workout. A few basic activity types are added to the main UI by default and you can add-in or remove others from an additional menu.
It is all very simple, easy to understand and pleasant to use. The only complaint we have with this implementation is that there is no way to trigger a full-featured, GPS-enabled activity session from the watch, without taking out your phone. Other than that, Haylou has designed a UX that manages to stand-out among competitors in the wearable niche. Color us surprised!
The same level of UI simplicity is applied to the next tab in the Haylou Fit app, as well. It houses all of the menus and options related to the Haylou Solar, or any other wearable that you might have synced with the app.
Everything is simple, well organized and easy to understand. In no small part thanks to the great level of English translation, which is not something to take for granted with products like the Haylou Solar.
The final Me tab has everything related to your personal profile. Also - links to brand-specific guides to ensure the Haylou background service stays alive and a collection of actually helpful troubleshooting articles.
Conclusion
Despite its relative obscurity and slightly confusing name, the Haylou Solar is actually very easy to sum up. It is a well-designed and crafted smart wearable, with a classic look, strong metal frame and solid build. The IP68 rating means you can wear it all the time, while the amazing 30-day battery life and full color LCD display complete a stylish yet potent modern watch replacement.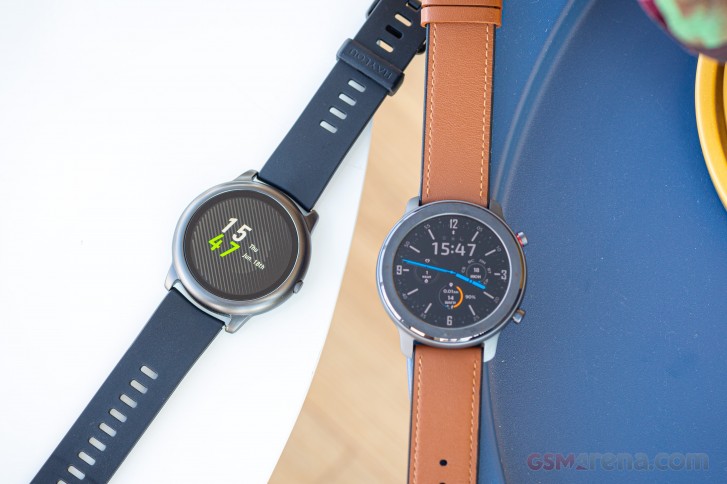 After spending some quality time with it, we can safely say that it's a brilliantly executed attempt at a low-cost smart tracker. Software is simple and reliable and at just around EUR 20 it's easily among the best deals around.
A
Great nifty smartwatch, a very good alternative for the pricey ones! Love the review very thorough keep it up man!
R
This is fake. Not a complete package. Everything record fake data. Like, you walk a 100 step, iT show 105 step.
A
Which one is better Haylou solar ls05 Or Imilab kw66
ADVERTISEMENT