Evolution complete
HTC Butterfly S review: Evolution complete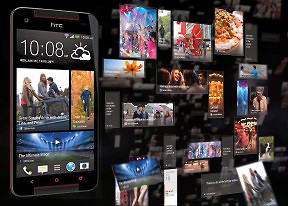 Final words
Looked at by itself, the HTC Butterfly is an extremely capable device. It gave the Galaxy S4 some serious competition in our benchmarks, and the very well-rounded Android 4.2.2 build with Sense 5 has some great software features you won't find from other manufacturers.
The problem comes when you consider the Butterfly S next to what's currently on the table from HTC. With the ink barely dry on HTC One retail boxes, it feels like HTC are playing another trump card before the hand is even over. By releasing two flagships in such close succession, HTC could find itself with no response to a strong smartphone offering from a competitor come the holiday season.
But maybe the smartphone race, like many others, is really a game of inches where every little improvement counts. Maybe the extra 0.3" in screen estate, 200MHz in clock speed, 900 mAh in battery capacity, and expandable storage are what it takes to get ahead. But let's not forget that you're going to be paying a premium for those extras, and you'll be sacrificing superior build quality including a significantly more compact frame, as well as the optical image stabilization, which is the 4MP UltraPixel camera's saving grace.
If it's the 5-inch 1080p display what counts, then the Butterfly S's predecessor offers that, alongside a slimmer design and a gentler price tag. You won't be getting the same performance, and will forego extras like the IR-blaster, ultrapixel camera, and larger battery, but the quad-core 1.5GHz Krait CPU can still hold its own, and the Android 4.2.2 build with Sense 5 has also been released for the Butterfly. The original Butterfly is also available as the DROID DNA for Verizon in the US.
But if it's the crème de la crème we're talking about - and the Butterfly S certainly falls within that category - then it's impossible not to mention the Samsung Galaxy S4. While it falls short of the Butterfly S's huge battery capacity, the Galaxy S4 delivers the same 5-inch 1080p display with a lighter and thinner profile, and a more capable camera.
With HTC it seems like the problem is never with making quality devices, but with when (and how, and where) to release them. The Butterfly S is a puzzling flagship offering hard on the heels of the previous one, and not unlike some other HTC handsets, hard to find in many markets. But it's impossible to predict how these things play out, and with the right marketing, the HTC Butterfly could be a hit - for those that can find it in their countries that is.