Phonebook is sociable
The ChaCha has HTC's excellent phonebook that combines everything from messaging and email to social network updates and online photo albums. It looks slightly different than what you're used to, mostly where things needed to fit the landscape screen.
Selecting a contact displays the basic details: name and photo, numbers, emails and such. That's just the first tab – the other tabs hold further details and means of communication, including email and a call log.
The second tab holds the text messages received from the contact – it would have been a lot more useful if it used conversation style view, but for that you'd have to go to the full-featured Messaging app.
The third tab holds a list of emails you've exchanged with the contact.
The next two tabs are what make the ChaCha phonebook really great at social networking. The first holds Facebook contact updates, and the other called "Albums" pulls the albums that contacts have created on Flickr and Facebook.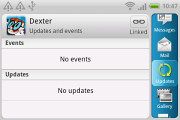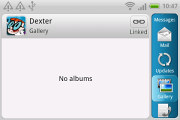 Facebook updates • Facebook and Flickr albums
The last tab shows the call history for the contact.
The entire People app (the phonebook) is tabbed too. You have all contacts, groups (including favorite contacts there), as well as a call log. A nice option is that you can filter contacts by where they came from - e.g. phone contacts or just the contacts from your Facebook account.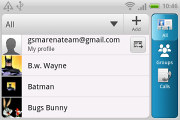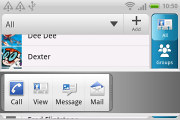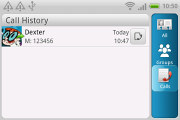 Phonebook • Quick contacts feature • groups
When editing a contact, you start off with just one of the essential fields but you can easily add more. Linking a contact to their social networking account is the fastest way to add a lot of details - contact photos, birthdays and so on will be added automatically so you don't have to enter them manually.
The Transfer Data app is a good way to pull out your contacts from your old phone if they haven't been synced with the cloud yet. It's a simple process of several steps (the app will tell you what to do). It's not a new trick (old Symbians did it ages ago) but it's still potentially very useful.
Telephony with smart dial
We had no issues with either signal strength or in-call quality on the ChaCha. It may not pack the strongest reception we have seen, but it's certainly good so nothing to worry about here.
The ChaCha features red and green receiver keys, which is quite rare on smartphones these days. Still, we guess that most people will use these keys to answer a call or hang up and the touchscreen for everything else.
The HTC ChaCha has both Voice dialing and Smart dialing - just start typing on the homescreen, either letters or numbers, and the dialer will find the contact for you.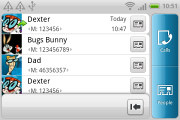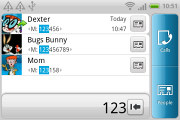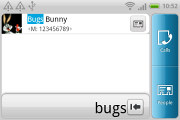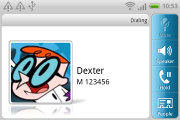 The dialer has smart dialing • calling Dexter
Here's how the HTC ChaCha fares in our traditional loudspeaker performance test. It scored a Below average mark, which won't impress anyone – and certainly not the competition.
| | | | | |
| --- | --- | --- | --- | --- |
| Speakerphone test | Voice, dB | Pink noise/ Music, dB | Ringing phone, dB | Overal score |
| HTC ChaCha | 63.3 | 61.2 | 72.7 | Below average |
| Sony Ericsson W8 | 66.5 | 62.2 | 69.7 | Below average |
| Sony Ericsson Xperia X8 | 66.6 | 66.6 | 69.1 | Average |
| Samsung Galaxy Ace S5830 | 71.0 | 66.7 | 66.5 | Average |
| Nokia E6 | 68.8 | 61.5 | 70.7 | Average |
| HTC Wildfire S | 73.5 | 66.1 | 69.6 | Good |
| Sony Ericsson Aspen | 71.0 | 66.6 | 75.7 | Good |
| HTC Gratia | 71.9 | 72.6 | 82.7 | Very Good |
| LG Optimus One P500 | 77.1 | 74.5 | 77.9 | Excellent |
Messaging has QWERTY on its side
Android and the HTC ChaCha are capable of handling all sorts of text messaging – SMS, MMS, email. Social networking is covered by several apps and widgets, and there's Gtalk, which can connect you to Google's chat network and compatible networks too (like Ovi Chat).
The notification area will display a line of an incoming SMS or just the number of messages if there's more than one. You can set the status LED to alert of unread messages too.
SMS and MMS are displayed in threads – you see a list of all conversations, each one is listed with the contact's photo, name and the subject of the last message, as well as a part of the actual message. Tapping on a conversation brings up the entire message history with that contact.
The whole thing looks almost the same as a chat client. When viewing a thread, the most recent message is placed at the bottom.
The compose text box is bigger and covers nearly half of the screen, though that's still not much. A tap-and-hold on the text box gives you access to functions such as cut, copy and paste. You are free to paste the copied text across applications like email, notes, chats, etc. and vice versa.
Gingerbread text selection is very user friendly. Upon a press and hold, a "magnifying glass" appears, enabling accurate cursor movements.
Converting SMS into MMS is as simple as adding some multimedia content to the message. You can just add a photo or an audio file to go with the text, or you can get creative with several slides and photos.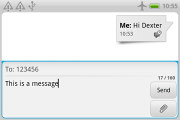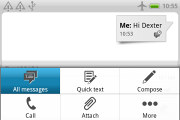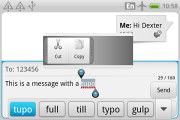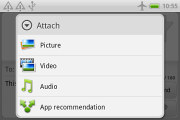 Composing a message • Copy, cut and paste are very iPhone-like • attaching things to MMS
Text input on the HTC ChaCha is of course handled by the hardware QWERTY keyboard but you can have some assistance. You can enable text prediction, which serves reasonably well as a spell checker but won't save you many keystrokes by predicting the word you're trying to enter.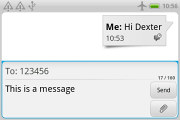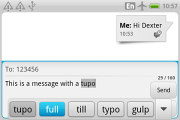 Typing without and with text prediction
Hassle-free emails
The HTC ChaCha comes with not one but two email apps – the traditional Gmail app and the generic HTC Mail app, which merges all your email accounts into a single inbox.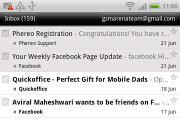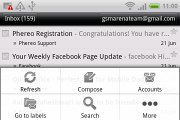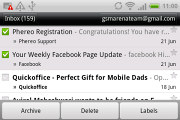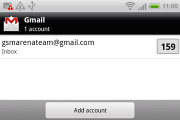 Batch operations lets you manage multiple conversations
The Gmail app features the trademark conversation style view and can manage multiple (Gmail) accounts. Batch operations are supported too, in case you need to handle email messages in bulk.
The standard HTC Mail app features several tabs that let you filter the inbox: you can opt to display conversations, emails with attachments only, unread mail only or conversations marked as favorite.
The conversation view tries to mimic the original Gmail client threaded view, which is otherwise missing in the generic inbox.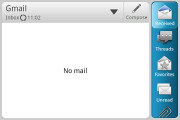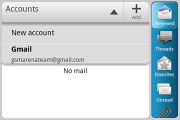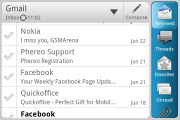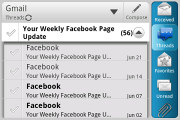 The standard HTC email app • Mail does threaded messaging too
The HTC email app can handle several accounts and not just from Gmail. When you add multiple accounts, you can view each inbox individually or go into the All accounts section.
Each account is color coded, so you can quickly associate each message with its relevant account.
Email sorting is possible (in either ascending or descending order) by date, subject, priority, sender and size.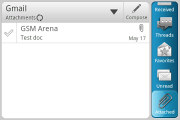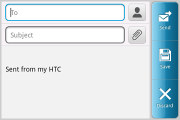 The standard mail with new looks and features • Viewing email
There's hardly anything the HTC ChaCha lacks in terms of email capabilities. The settings for popular email services are automatically configured. POP/IMAP accounts and Active Sync accounts are supported.