Facebook and Twitter on board
Facebook and Twitter fans will appreciate the preinstalled Facebook and Peep apps, which let you post on the world's largest social networks.
The latest Facebook app is available, which enables things like Facebook Chat (yet another way to talk to your friends) and Facebook Places (which lets you to check into the likes of Foursquare).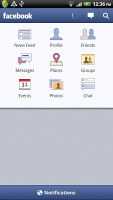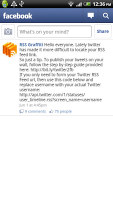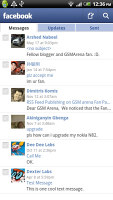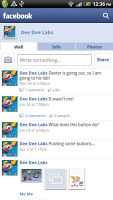 The Facebook apps let you update your Facebook profile
You'd do well to install Facebook Messenger, which is one of the best ways to chat with your friends, but doesn't come preinstalled on the EVO 3D.
The official Twitter app for Android does come preinstalled – some might prefer it over Peep (they both integrate with the phonebook so you don't have to actually start the app).
The official Twitter app is the latest version too – tweets can be geotagged, uploaded automatically to yfrog or TwitPic and you can snap a photo to include in the tweet straight in the app. There are handy buttons to reply to or retweet a message.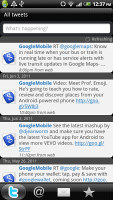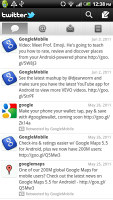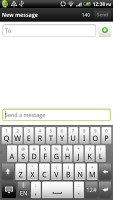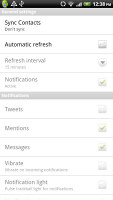 The Peep app • Official Twitter app
Android Market, HTC Hub and HTC Likes
The structure of the Android Market is quite simple – featured apps on top and above them, three sections (Applications, Games and Downloads). There is also a shortcut up there for initiating a search.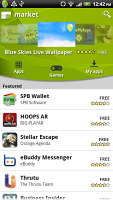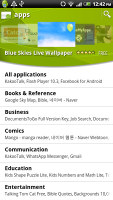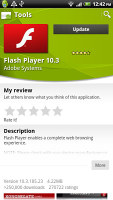 The Android Market will give you access to hundreds of thousands of applications
The Applications and Games sections are divided into subsections (e.g. Communication, Entertainment etc.), so you can filter the apps that are relevant to you. Of course, there is also an option to display all apps in bulk, but you'll probably need days to browse them all that way.
There are all kinds of apps in the Android market and the most important categories are well covered (file managers, navigation apps, document readers etc.). The EVO 3D has a powerful chipset and a high-res screen, so you shouldn't run into any compatibility problems.
HTC Likes is an alternative way to browse the Market, which might prove to be more convenient than the vanilla app. It has tabs for Featured and Popular apps, which are presented as 3D cards.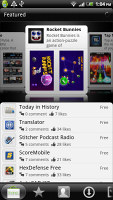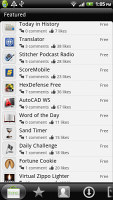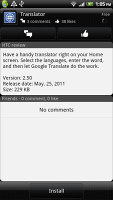 HTC Likes is an alternative to the Android Market
To make finding apps even easier, you can see what apps/games your friends have commented on, which is a great way to find recommended apps. Or you can use the HTCSense.com site to look for apps from the comfort of your computer and mark them. Later, you can find them in the Market items tab.
HTC Likes pulls apps from the Android Market. You can comment on apps, like and share them via texts or email, even over Twitter, Dropbox and Bluetooth (which just sends a text note with a link to the app).
Not quite an app store, but the HTC Hub is a good source of widgets, wallpapers, scenes and skins and also sound customizations – ringtones, alarms and notification sounds and entire sound sets (a set is a whole package that brings together the other three categories).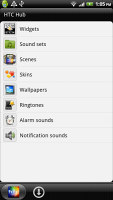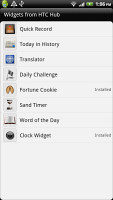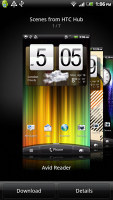 The HTC Hub is your source of customizations
HTCSense.com integration
HTCSense.com offers some premium features for free (a bit like HTC Locations). The Phone locator can be used to locate your phone if it's stolen and you can lock it or even erase all the data from it.
And don't worry – HTCSense.com will back up your EVO 3D contacts and messages (though contacts should already be safe and sound in the Google cloud).
Some other handy features include ring phone (helps locate it if you've misplaced it), toggles for call and message forwarding. The site also lets you view and edit contacts and view messages. You can compose text and multimedia messages too – so you can use the big computer keyboard and you don't even have to have the EVO 3D in front of you to send a couple of messages.
You can also view your and your friends' Footprints. Finally, the HTC Hub lets you browse apps and games on the computer and mark them, which makes them easier to find on the phone later (in HTC Likes). You can't initiate an app download from the site though.
The site is a bit heavy but if you're using an updated browser you should be fine. It used to have problems in IE9, but now everything works fine.
Two-way navigation: Google and HTC
The HTC EVO 3D has a built-in GPS receiver, which managed to get a lock in under a minute (from a cold start and A-GPS switched off). If all you need is a rough idea of where you are (within 150 meters) you can use the Cell-ID and Wi-Fi network lock, which is very fast.
Google Maps is a standard part of the Android package and we've covered it many times before. It offers voice-guided navigation in certain countries and falls back to a list of instructions elsewhere. You can plan routes, search for nearby POI and go into the always cool Street View.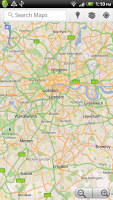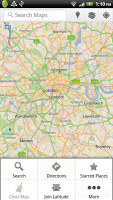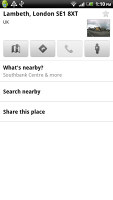 Google Maps is an inherent part of the Android platform
The latest version uses vector maps, which are very data efficient and easy to cache. The app will reroute you if you get off course, even without a data connection.
The HTC EVO 3D also comes with HTC Places, an app developed in cooperation with TomTom (provider of the software) and Route66 (providing the maps).
With HTC Locations you can download country maps for free, or just cache maps as you browse (the size of the cache is adjustable). Google Maps has caching enabled too, but the best part about Locations is that it can calculate new routes even when offline – and Gmaps can't (it can only reroute you, not calculate a new route).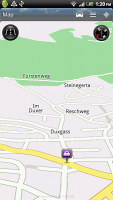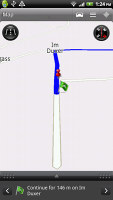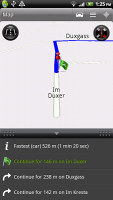 Plotting a route with HTC Locations
It doesn't do voice-guided navigation for free like Nokia Maps though – but still, you can use the list of instructions and tap the next and pervious arrows to see the next turn. Not ideal but it's a great addition, especially since it's free. You can always pay for a voice-guided navigation license too - it's cheaper than buying a dedicated GPS unit.
HTC Locations has a regular 2D view and a 3D view, which is convenient because it gives you a better idea of what's ahead. It's just as easy to work with as Google Maps and has POI too (including your Footprints) and also 3D buildings.
Pinch zoom works in both 2D and 3D modes and you can turn on compass mode – at first it seems choppy, but that's only to avoid wobbling (digital compasses are not the most accurate things in the world). You could use two fingers to rotate the camera manually too.