Good messaging capabilities
The messaging department of Windows Phone 7 uses threaded view to organize your messages. When you start the app, you'll see a list of conversations – each one consists of multiple messages displayed as speech bubbles, which are ordered by the time they were sent/received.
An empty speech bubble will hang at the bottom waiting for you to type a response. A message can have multiple recipients too by using the + button next to the recipient field. Just the first few letters of the contact's name are needed – the search feature will find it for you.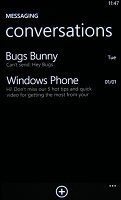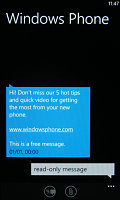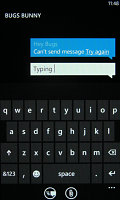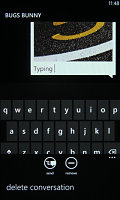 Threaded view style messaging • turning an SMS into an MMS
You can attach a photo to turn the message into an MMS – either an existing photo or you can snap one on the fly. You can add only one though and you can only attach photos (not videos).
The email app is pretty good. It easily retrieved the settings for our Gmail and Hotmail test accounts. Each inbox is separate and you can pin it to the homescreen, though there's no aggregated inbox view.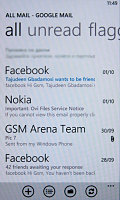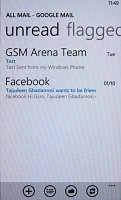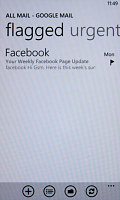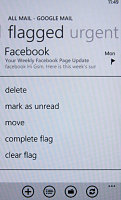 Email is well organized into categories
You can opt to display all, unread or flagged messages – by sweeps to the side and you can browse all folders for the email account and batch operations are easy – a tap on the left side of the screen selects the message, so you can move it, mark it as (un)read or flag it.
Each message can be flagged, which is a great way to sort only the emails that are important right now – just tap the "toggle flag" option from the context menu when you're done with them and they are off the list.
We tried emailing a photo from HD7's camera, but the email app downscaled it before sending – so, emailing full resolution shots is a no go.
Big screen means bigger virtual keys but the thin bezel around the screen makes it a bit uncomfortable to hit the leftmost and rightmost keys. It's no big deal though and with a little practice you'll start typing fast and error free.
The spell correction also helps a lot here. It turned out to be very accurate and the overall experience was so positive that even heavy texters should be satisfied.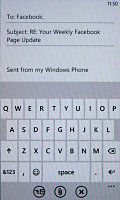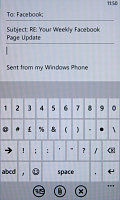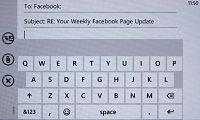 The on-screen QWERTY is pretty good • there's a landscape mode too
Gallery, kickstand but where's the slideshow?
The Pictures hub is the photo gallery of Windows Phone 7. When you start it, it shows the most recent photos (including those from the camera), What's new (which shows photos from online services) and a menu, which lets you view all photos, photos sorted by date and your favorite photos.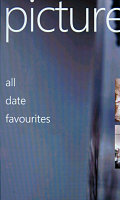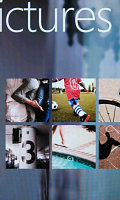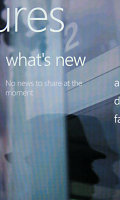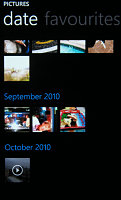 The Pictures hub • pictures can be organized by date
Viewing an individual photo supports pinch zooming and you can easily upload the photo to Facebook or share it on some other service. There's an option to automatically strip geo-tagging information before uploading it to online services – that way your offline album will still be geo-tagged, but you won't have to worry about privacy.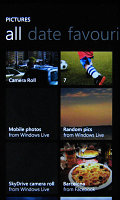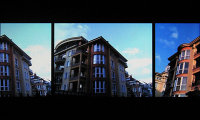 The Pictures hub can pull photos from the cloud • The filmstrip view
The Pictures hub will automatically pull photos from your SkyDrive, Windows Live and Facebook accounts.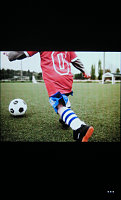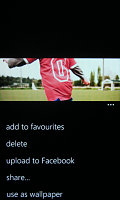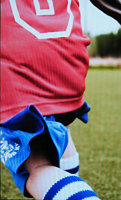 Viewing a single photo • zooming in with a pinch
We have some issues with the WP7 gallery. With a kickstand and a large 4.3" screen, the HTC HD7 would have made an excellent makeshift picture frame. The biggest issues is that there's no slideshow option – a basic option of galleries on all phones we're so used to seeing that we were confused when we couldn't find it.
The gallery also doesn't have a landscape mode for the thumbnail view – sure, you can zoom out from a photo into a film strip view but still, for a phone that will likely spend a lot of time in landscape mode this is an annoying omission.
An app can probably substitute the gallery and offer both landscape mode and slideshows, but it's really something that should be part of the native app.
Anyway, we've had no issues with speed – Microsoft's minimum spec requirement guarantees that even 5MP photos are handled without a snag.
Even so, Microsoft has decided to downscale photos when they are transferred from a computer to the phone using the Zune software (much like emailing a photo).
One of the HTC provided apps – Photo Enhancer – can be used to add a bit of flare to photos. It's a really basic app, you just open a photo and select an effect: Auto enhance, Cinnamon, High contrast, Sepia, Overexposed, Glimmer, Twilight, Vintage, Antique and a few more.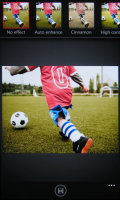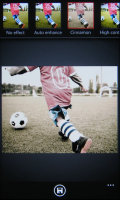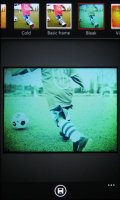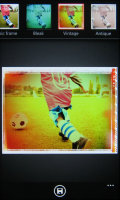 The Photo Enhancer app from HTC
Sure, you can apply a few of these effects in the camera itself, but with Photo Enhancer you get to keep both the untarnished original and the modified photo.