Bing search, voice commands and SkyDrive
Like the Bing website, there are new photos every day to serve as a background, but WP7 has one extra – three squares on the photo, which give you three interesting facts about what's in the picture. The copyright sign in the bottom right also reveals the location of the photo (e.g. "Waterfall on the Arroyo del Salto River").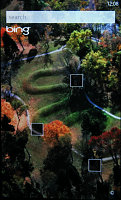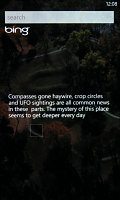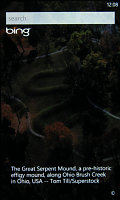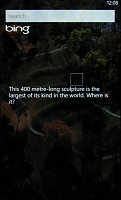 Bing Search offers beautiful backgrounds and intriguing trivia
It's not useful per se, but it's a nice "Did you know...?" type of feature for the curious-minded.
Much like any other Windows Phone 7, HTC HD7 has extensive voice recognition capabilities – you just press and hold the Windows key and say your command. You can do things like "Call Sarah at work", "Open calendar" and even "What can I say?" if you're not sure what commands you can give.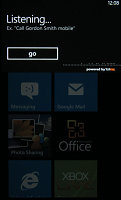 Windows Phone 7 supports voice commands
SkyDrive is Microsoft's cloud storage service and they offer 25GB of free storage (individual files must be 50MB max). You can integrate it with desktop Windows Explorer and it has some integration with Windows Phone 7.
Right now, you can upload photos including auto uploading of all pictures you snap with the camera.
HTC Hub and other HTC apps
There are several HTC apps preloaded on the HD7 and we've already covered some of them. Now it's time to look at the ones we haven't covered yet.
The HTC Hub for a brief moment looks like Sense UI – once that moment passes you see that the only thing borrowed from Sense is the clock with a weather forecast. A tap on the clock brings up a five day forecast. You can have multiple locations and the weather conditions are visualized in traditional Sense UI fashion.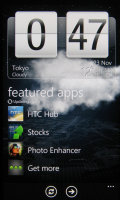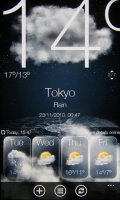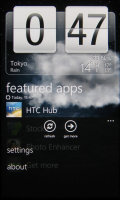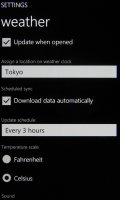 The HTC Hub looks like Sense UI only on the outside
It's those prolonged animations that may be the Hub's undoing. Each time you start the app, each time you tap the clock there's an (admittedly attractive) animation that's several seconds long. The novelty of it will quickly wear out and there's no option to disable it.
Anyway, below the clock is a list of featured HTC apps – the "Get more" button will take you to the HTC Apps section of the Windows Phone Marketplace.
The Converter has an easy to use, touch-optimized interface and can handle conversions in many areas.
The Connection Setup is a bit of an odd app – it lets you pick country and carrier for the GSM connection. It's odd because it pretty much doubles functionality Windows Phone 7 already has in the settings menu (the country selection is new though).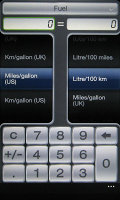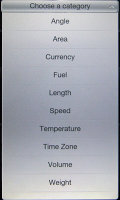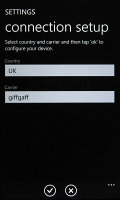 The handy converter • Connection Setup is useful when traveling abroad
The final preloaded app we haven't covered is Stocks. It does what its name suggests – you can track the stock exchange by adding companies and keeping an eye on the charts.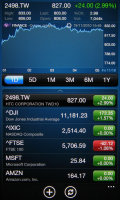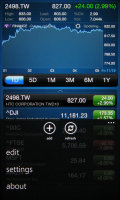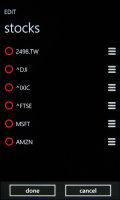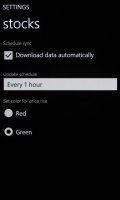 Stocks app will be appreciated by business types
Who needs a paper map when you have Bing Maps
The HTC HD7 comes with a GPS receiver built-in, which got an accurate GPS lock a little over two minutes. Cell tower and Wi-Fi positioning is available too – it gets a lock almost instantly but it's accurate to only 100-150 meters (good enough for location based services).
The native mapping app is Bing Maps – it has two modes (regular map mode and satellite photo mode) and you can get directions and information on nearby businesses too.
Interestingly, when you zoom in down to street level, Bing maps automatically switches to satellite imagery. However, the cool Bird's eye view from the desktop Bing Maps isn't available nor is Streetside view (Microsoft's Street View alternative).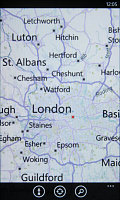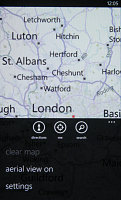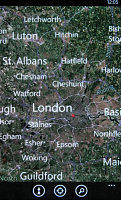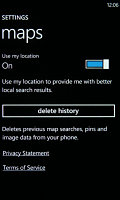 The new Bing Maps is very simple to use
The three softkeys available are for directions, my location and search. The extended menu has options to clear the map of any markers you've placed, toggling aerial view and accessing the settings.
Browsing the map is easy and relatively fast. Zooming is done by pinching, and for a bit of eye candy when new tiles are loaded they fade in smoothly instead of just popping up. Overall the effect is looks much smoother than on Google Maps for Mobile.
A press and hold places the marker on a specific location – tap the marker and you get About (a map screenshot and the address, which you can send over a message or email) and Nearby, which shows nearby POI with a rating and basic info (like a phone and a web site).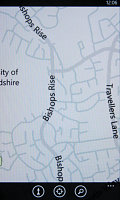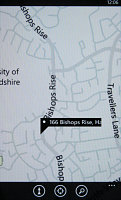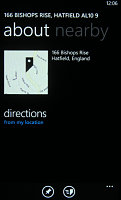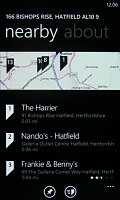 Browsing around London with Bing Maps • About • What's nearby?
You also get Directions from my location button, which will find step by step instructions to get you to your destination by either driving or walking.
Now for what's missing – there's no Navigate from here option, which can be quite useful. For example, you're going to the theater, but want to check how far away the restaurant you're going to afterwards is from the theater.
You can still do that, but you can't pick it from the map – you have to use the search to find that location. Another thing – you can't add more than one destination when planning the route (Google Maps can't do that either though).
Unfortunately, there was no trace of voice-guided navigation either, even though Windows Mobile 6.x can do it. It would have transformed the HD7 into a 4.3" SatNav unit (which can run up a few hundred dollars).
Voice-guided navigation is another thing that 2011 is expected to bring, though it hasn't been confirmed officially.