Contact manager is great, embraces Facebook
Windows Mobile is no longer targeting corporate users mainly but top notch contact management and synchronization features are still easily taken for granted. HTC however have turned the ugly duckling of an interface into a beautiful Sense UI swan, but also built on the features to make the contact app even better.
Contacts use a tabbed interface, similar to the homescreen and you can navigate it the same way - by dragging a finger over the shortcut bar or by onscreen sweeps.
You can search for a specific contact with the alphabet scroll or by gradual typing of the name. There are two ways to organize contacts – favorites (the ones from the People tab on the homescreen) and Groups. Favorites is like a special group and it gets its own tab in the Contacts app.
The next tab is Updates & Events, which displays updates from your contacts and has a shortcut to your unread messages. The last one is the Call History tab.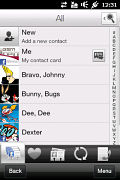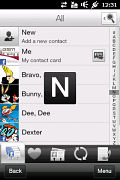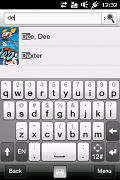 Phonebook with thumb scrolling • searching by typing or via the alphabet scroll • all events tab
The standard editing options are just great – sleek looking and quite extensive. If you need extra fields, the More button at the bottom is here to help – however it drops you back into Windows Mobile land.
The contact editing UI has been updated since the days of WinMo 6.1, but is still unsightly and not particularly user friendly. To make it worse, HTC use the Notes field to store metadata (Facebook profile, etc.) in XML format. This makes editing advanced fields quite an unpleasant trip outside the comfort of Sense.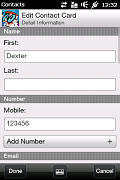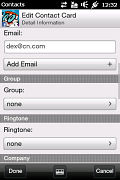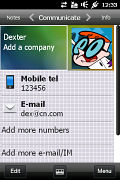 Editing a contact • Advanced editing
Viewing a contact is very stylish and visually attractive – it's among the most usable interfaces we've seen.
A contact's information is neatly divided into categories - name, actions and information. There are five icons on a taskbar at the bottom - details, messaging, all emails, events and call history. You can scroll between the different tabs the same way you do it with the tabbed homescreens - by dragging a finger over the shortcut bar or by onscreen sweeps.
You can compose a SMS/MMS directly in the message tab and messages are displayed in threaded view.
The Events tab is all about social networking. You can associate every contact with their Facebook profile. If you do that, the HD mini will automatically set birthday and download the contact's profile picture and use it for contact photo.
The events tab will show you the new Facebook updates of the person in question and their mood message will appear in the contact list just under their name.
The other extra you receive with the Facebook link is the additional Online Album key in the General Information tab - it gives you full access to Facebook albums.
The phonebook makes information quick and easy to find and sending an SMS or an email is as easy as it gets. We love what HTC have done with the place – both visually and functionally.
Excellent call management
Making calls is always a priority for any phone and PocketPCs such as the HD mini are no exception. And like most other recent HTC handsets, this one keeps to the high standard of in-call quality, crisp and loud sound and strong signal reception.
When you dial someone, the HD mini vibrates to let you know when the call is connected. The proximity sensor automatically locks the display when you put it at your ear to prevent accidental presses.
The Phone application offers Smart dialing, so you hardly ever need to go to the Contact list in order to dial a number.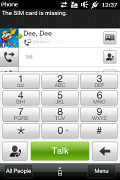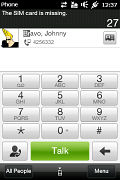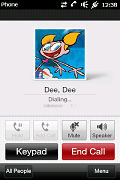 Smart Dialing • Dialing a contact
The built-in accelerometer gives the HTC HD mini a familiar cool feature: you can mute the ringer by simply turning the phone face down on the table.
If you turn the handset back up, the ringing won't resume by itself. Don't worry, it's unlikely your calls will get muted accidentally in your pocket - the feature is set up in such a way that it's more likely to not engage at all rather than engage for no particular reason.
One point of note though is that if the HD mini is already face down when a call comes in, you need to flip it face up and then face down for the feature to take effect.
The HD mini did quite well in our loudness test. It snatched a Very Good mark and here is how it stacks up against some other handsets we've tested.
| | | | | |
| --- | --- | --- | --- | --- |
| Speakerphone test | Voice, dB | Pink noise/ Music, dB | Ringing phone, dB | Overall score |
| Apple iPhone 3G | 66.1 | 62.1 | 71.7 | Below Average |
| Motorola MILESTONE | 69.7 | 78.0 | 66.2 | Good |
| Google Nexus One | 69.9 | 66.6 | 79.1 | Good |
| HTC Hero | 76.7 | 71.9 | 77.7 | Very Good |
| HTC HD2 | 75.7 | 72.8 | 78.0 | Very Good |
| HTC Legend | 78.0 | 74.3 | 79.7 | Excellent |
| HTC HD mini | 74.9 | 75.7 | 84.7 | Excellent |
More info on our test can be found here.
Great messaging
The HTC HD mini supports SMS, MMS and email. Both text and multimedia messages share an inbox and an editor – and thanks to Sense UI you can enjoy thumb scrolling in the inboxes and in longer messages.
The email inbox is also available as a homescreen tab with eye-catching styling. The email editor will hold no surprises for experienced WinMo users as it hasn't changed at all.
Setting up your email is easy as it is on most of the latest mid or high range phones. You type your email and password and all the other fiddly options are configured automatically.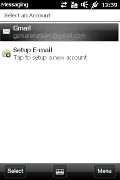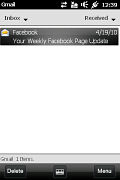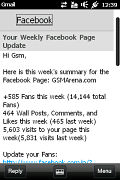 Browsing the email inbox • reading an email
Perhaps now is a good time to mention input options on the HD mini. The device relies on three virtual keyboards – a regular numpad, a half-QWERTY and a full QWERTY. These are available in portrait mode – in landscape you automatically get the full QWERTY keyboard.
The orientation switch is made automatically thanks to the accelerometer, but it also hides the keyboard, so there's an extra tap needed to continue typing. There is no handwriting recognition, but we don't think it is a huge loss.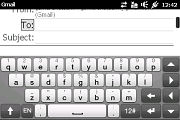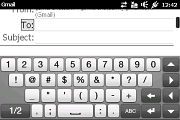 The touch-optimized keyboards on the HD mini
The half and full QWERTY keyboards are available in multiple languages with a convenient button to switch between the different layouts.