Web browser – IE wins over Opera, just barely
Traditionally, Opera is the browser of choice for HTC – it comes preinstalled on the HD mini. But the default browser is still the Internet Explorer Mobile 6.
The key advantage of IE Mobile over Opera is Flash – and the key disadvantage was lack of pinch zoom, which has been sorted. However, there are still problems with IE Mobile. Anyway, since both are preinstalled, you can choose the one that best suits you.
Internet Explorer Mobile 6 is nicely touch optimized, unlike its predecessors, and the on-screen controls are as unobtrusive as possible. Usually, there's just one button in the lower-right corner (it hides while you're panning), which brings up all the available options.
Putting the two browsers side to side, it's easy to see that IE Mobile has borrowed a lot from the UI design. And that's a good thing – Opera has a great interface.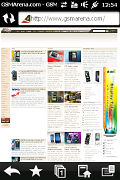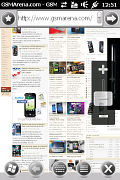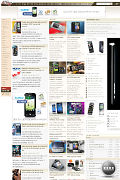 Opera and Internet Explorer interfaces
However Internet Explorer Mobile 6, as much as it has improved over time, still has a few faults that will keep people using Opera instead.
For one, load times on Opera are easily 30 percent lower. Also, IE Mobile can't handle multiple tabs, but Opera can handle three at a time. IE Mobile has minor rendering problems – it will sometimes cause problems, but not too often.
What is more, IE's Flash support is not all roses – YouTube videos worked, but Vimeo and DailyMotion videos didn't. We also had problems with Flash games (out of memory, old Flash Player, etc.). Since there's a dedicated app for YouTube (which has a more usable UI), Flash support is not a huge point in its favor after all.
Opera Mobile has a very compact interface too – and while it skimps on Flash, it has several features that can be very helpful. Saving the current page (IE can save pages too, but only from a link to that page, which is either inconvenient or impossible), searching on a page, a download manager and, of course, up to three pages open at a time.
Another thing Opera has over IE is text reflow. After you zoom in or out, lines of text are adjusted to fit exactly the width of the screen.
Both browsers support auto-rotation, and while both are reasonably fast, Opera Mobile needs noticeably less time to redraw – wherever you scroll, there's no sight of the placeholder pattern, that fills in the blanks until that part of the page is rendered. IE Mobile needs a noticeable second to fill in the blanks.
The organizer we like the most
Windows Mobile offers several time-management features and all of them are easily syncable with Outlook. On the HD mini, the standard interface is kept under wraps at all times. Even creating a new event (which in the HD2 was done via the non-modified UI) is nicely skinned.
The Calendar offers daily, weekly, monthly and even yearly views. All of them are available in the Sense UI, but the left context key allows you to switch only between the monthly and agenda views. For the others you will need to go to the menu.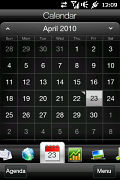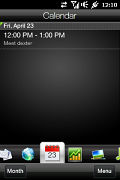 The Sense skinned Calendar views
Adding an appointment is easy and you can do it by the dedicated button. It has plenty of fields, reminders and notes. The time settings resemble the iPhone clock wheels, which LG already adopted in their S-Class UI.
When viewing tasks, you can also see weather information for that particular day if available. The Sense UI preloads the weather forecast for up to 5 days ahead of the last update.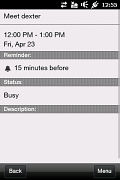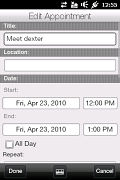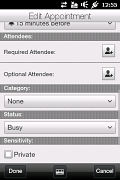 Viewing and editing a task from the Calendar app
The To-Do list allows you to add tasks and assign them priority; the Notes also come in handy (though both are untouched by Sense UI). The Voice recorder and Calculator need no explanation.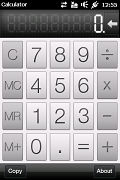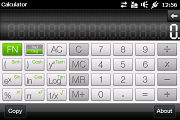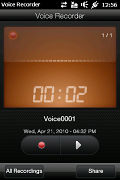 The Calculator • Voice recorder
The Alarm clock has three alarm slots. Each Alarm can have its own repeat pattern. Unfortunately, due to the limited customization options in the default Alarms application, we suggest you check out some of the free third-party alternatives.
A document editor is readily available
Among the other WM core applications is the Office Mobile package featuring support for viewing and editing Word, Excel, and PowerPoint files. With the latest version of Office Mobile, you also have the OneNote application.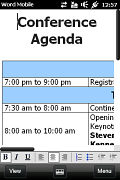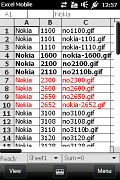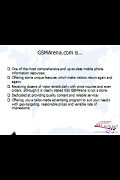 The Office Mobile allows viewing and editing Word, Excel, PowerPoint and OneNote files
Thanks to Adobe Reader LE, there is also support for viewing PDF documents. We are pleased with the performance of the HD mini in this area, as opening and handling PDF documents is usually rather slow on handhelds.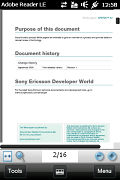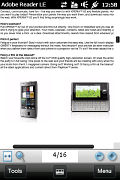 Opening PDF documents with Adobe Reader LE
The four viewers support pinch-zooming (yey!) but there's still no auto-rotation. So, you're stuck with portrait orientation – the 3.2" screen still fits a decent amount of text though. When you bring up the keyboard to enter text however, it's a different deal – you only have about 20% of the screen left to view the document. That's not sufficient for anything but minor edits.