Gallery looks good in Full HD
The Gallery in Android 4.2.2 Jelly Bean retains its ICS looks and functionality. The Default view of the gallery is Albums, the first of which is always the Camera album, which has a camera overlay icon too. Rather than the familiar stacks, the app uses a grid of photos, two on a line.
Besides, Album view, you also get Locations (photos are grouped based on where they were taken), Times (grouped by when they were taken), People (if the photos have tagged faces in them) and Tags (these are general tags you can add manually).
A handy option is the Make available offline feature - it lets you easily select multiple online albums and download them for offline viewing. The Gallery app supports online albums like Picasa (but not Facebook) and you can set it to sync photos only over Wi-Fi.
Getting inside an album displays all the photos in a rectangular grid, which is horizontally scrollable. When you try to scroll past the end, the photo thumbnails will tilt to remind you you're at the end.
Anyway, the single photo view is updated too - above the photo are several sharing shortcuts and a delete button, while the underlying line of small thumbnails of all other photos in the album isn't present any more.
The settings menu lets you do simple edits to a photo (rotate, crop) or go into a more capable editor with a lot more option. The editor can be accessed from a small icon from the bottom left hand-side corner and offers light adjustments (so you can bring out the shadows or the highlights), effects, color styles, red eye correction, straightening a photo, sharpening and face glow (which detects faces automatically). Most of these options have a slider that lets you fine-tune the strength of the effect.
Video player still needs a lot of work
The video player is still not getting the necessary attention from Google and there's still no dedicated videos app (you have to go through the Gallery). Despite the excellent track record of supported video codecs the HTC One has, the Google Play Edition could only muster mp4 videos, while avi, mov, DivX and XviD were out of the question. We'd suggest using a player with a codec pack, like MXPlayer and enjoy videos on the great 4.7" display.
When compatible, videos played up to FullHD resolution without hiccups.
At long last, Google has implemented wirelessly sharing videos with a Wi-Fi enabled TV. The feature relies on the good ol' DLNA technology to connect and the Miracast protocol for streaming. It's another feature most customs launchers had, but is only now making its way to the platform itself.
Google Play Music streams and stores your music
Google's own music player called Play Music is on board the HTC One Google Play Edition. It went through a major UI overhaul and is now snappier and more beautiful. It features the spanking New Listen Now feature which tries to determine what you like and the sequence of your track-changing so that it can start offering you music you might like to play next.
Google Play Music also gives you the option to upload music onto the Google-branded cloud and stream it on your device via Wi-Fi or mobile data. There's also the nifty option of downloading the content onto the device if you want to have there for connection-less times.
From the Settings key you can get into the equalizer. It can be turned on and off and features several presets that along with a user defined one. If you plug in a headset, you can also play with the Bass boost and 3D effect sliders.
The Now Playing screen uses the song album art and gives you a quick shortcut to the rest of the artist's songs along with the play controls.
While the player is working, the lockscreen features the album art and track info for the current song along with simple playback controls. The notification area also lets you control the playback via an expandable notification.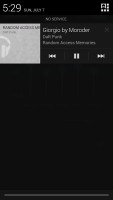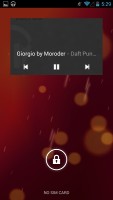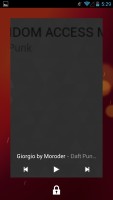 Playing music in the lockscreen
Extra loud audio output
We were very curious to see how the HTC One audio output was after the smartphones travel to the Google Play Store. As it turns out the One GPE was the best device we have tested so far when connected to an active external amplifier.
Not only is this the loudest smartphone by some distance, but it also produced perfectly clean audio output with no weak points whatsoever.
Surprisingly, things weren't as rosy when we plugged in a pair of headphones. The Google Play Edition HTC One let quite a lot of distortion creep in and stereo crosstalk worsened quite significantly. Now the distortion isn't too easy to detect outside of the audio lab, but the worsened stereo does have a somewhat negative impact on the sonic experience. Still that kind of loudness should make you easily forgive the minor flaws, particularly when the rest of the readings remain so great.
And here go the results so you can see for yourselves.
| | | | | | | |
| --- | --- | --- | --- | --- | --- | --- |
| Test | Frequency response | Noise level | Dynamic range | THD | IMD + Noise | Stereo crosstalk |
| HTC One GPE | +0.23, -0.05 | -95.4 | 93.1 | 0.0011 | 0.011 | -94.4 |
| HTC One GPE (headphones attached) | +0.20, -0.08 | -95.8 | 93.5 | 0.399 | 0.280 | -34.9 |
| HTC One | +0.11, -0.14 | -92.4 | 91.2 | 0.0012 | 0.013 | -92.4 |
| HTC One (headphones attached) | +0.16, -0.07 | -92.1 | 90.9 | 0.014 | 0.055 | -70.8 |
| Samsung Galaxy S4 | +0.03, -0.08 | -95.9 | 93.2 | 0.0030 | 0.0092 | -96.4 |
| Samsung Galaxy S4 (headphones attached) | +0.03, -0.08 | -96.0 | 93.3 | 0.0031 | 0.089 | -95.5 |
| Sony Xperia Z | +0.11, -0.10 | -81.9 | 82.1 | 0.043 | 0.041 | -81.3 |
| Sony Xperia Z (headphones attached) | +0.62, -0.09 | -81.7 | 81.5 | 0.204 | 0.249 | -56.4 |
| HTC Butterfly | +0.13, -0.29 | -82.5 | 82.3 | 0.0090 | 0.022 | -80.8 |
| HTC Butterfly (headphones attached) | +0.16, -0.24 | -82.3 | 82.1 | 0.0094 | 0.042 | -59.7 |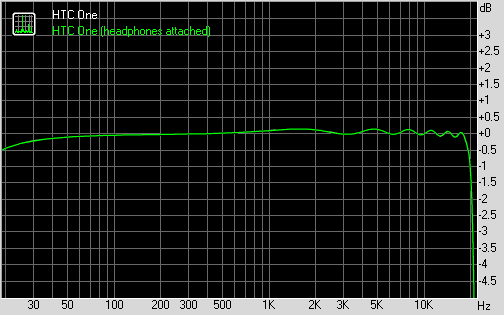 HTC One Google Play Edition frequency response
You can learn more about the whole testing process here.