The new Start menu
The first time we pressed the Start button on the Diamond2, we thought we'd done something wrong because it opened something similar to the old customizable application launcher. This time we were prepared and knew that instead of the old not particularly user-friendly menu you now get the slightly upgraded app launcher with more icons, some of which are configured by default.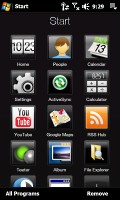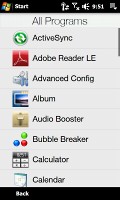 The customizable Start menu • All programs list
Windows Mobile 6.1 is still there
Once you get past the Home screen with all the fancy finger sweeps and animations, you are still left with the rather clunky and touch-unfriendly Microsoft OS. We are not against Windows Mobile by any means; however, having to poke around your device with a little stylus is so 1990s.
HTC, however, have made some efforts to tweak the core Windows usability too. Some of the most commonly used system settings, contacts management, and the messaging department have all benefited, likewise image and web browsing.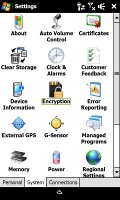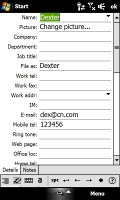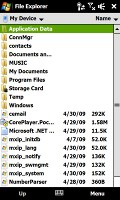 The old and familiar WinMo interface beneath the TouchFLO
HTC may have left in some of the old WinMo layout, but they did at least do something about the context menus. They are completely redesigned and you'll never have to meet the old ones. They are now with bigger sections and fonts, rounded edges, pretty backgrounds and most important – touch-optimized.
A gold medal for the contact manager
Contact management is usually considered one of the strongest points of Windows Mobile. You have unlimited contacts list, unlimited info fields for each contact and brilliant synchronization options. Shame it was so damn ugly.
But that's no more. Since the Diamond2 HTC have added a new interface which uses a small thumb icon for a person's picture, set against a gray background with nice font. You can pick a letter of the alphabet by using the letter column placed on the right.
Searching by gradual typing is also available.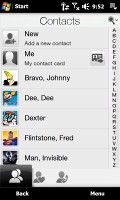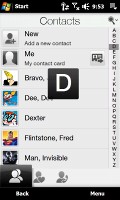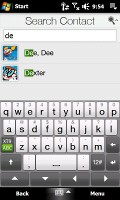 Phonebook with thumb scrolling • searching by typing or via the alphabetical list
The standard editing is OK, but unfortunately the advanced editing of a contact throws you back into the old WinMo skin. But hey, you still have a plethora of available info fields - and if by any rare chance, those are not enough, you can always rename some of the existing ones and use them instead.
Viewing a contact is a whole new experience. HTC have done a great job again redesigning the whole interface into something quite stylish and visually attractive.
There are some functional changes too. The contact's information is divided into groups – names, communication and information. There are four different icons at the bottom – the current info, all SMS with this contact, all emails and call history.