Telephony
Sense UI includes a straightforward dialer. There are five tabs: Call History, Phone, Favorites, People, and Groups. The cool thing about this dialer is you can switch between a number pad and a full keyboard.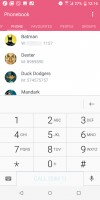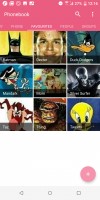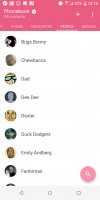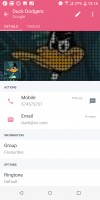 Call History and dial pad • Favorites • Phonebook • A contact
Apps
HTC has retired its app suite and now it's up to Google's default apps for handling everything. Those are more than capable, of course. You get Photos for pictures and videos, Play Music for your audio files, YouTube for online streaming, and Chrome for web browsing.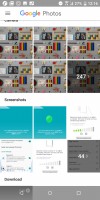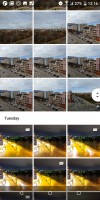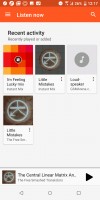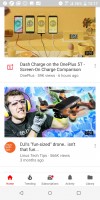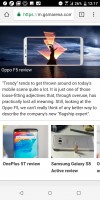 Photos • Photos • Play Music • YouTube • Chrome
Other noteworthy pre-installed apps are HTC's Files manager, News Republic, Record fitness app, and Amazon's Alexa.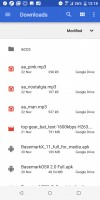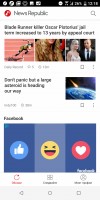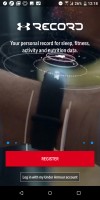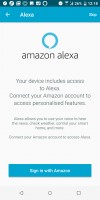 Files • News Republic • Record • Alexa
Boom Sound
Though is wasn't the first to pioneer it, the HTC One M7 was among the first modern smartphones to feature front-facing stereo speakers and the company does not intend to get rid of the feature from its flagships anytime soon.
HTC U11+ has two different modes for its Boom speakers - Music and Theater. Music mode is optimized for reaching all the highs, mids, and bass notes in the cleanest way possible. Theater mode is a more immersive experience while watching videos, as the speakers are set to project toward the front of the phone.
No matter which mode you choose, the HTC U11+ offers the loudest speaker output we have measured to date. For once HTC's Boom speakers are really boomy!
As far as the sound quality is concerned, although subjectively, it's equally impressive. You just have to hear it for yourselves.
| | | | | |
| --- | --- | --- | --- | --- |
| Speakerphone test | Voice, dB | Pink noise/ Music, dB | Ringing phone, dB | Overall score |
| Sony Xperia XZ Premium | 62.9 | 65.2 | 71.6 | Below Average |
| Sony Xperia XZs | 62.4 | 65.5 | 73.3 | Average |
| HTC One (M8) | 65.8 | 64.7 | 75.7 | Average |
| Samsung Galaxy Note8 | 67.8 | 69.5 | 71.5 | Good |
| Samsung Galaxy S8+ | 68.5 | 69.4 | 71.6 | Good |
| Apple iPhone X | 68.9 | 74.0 | 76.2 | Very Good |
| HTC U11 (Music) | 68.7 | 73.0 | 79.1 | Very Good |
| HTC 10 evo | 65.8 | 75.4 | 80.6 | Very Good |
| LG V30 | 66.9 | 72.3 | 84.5 | Very Good |
| Apple iPhone 8 Plus | 76.0 | 74.6 | 79.0 | Excellent |
| Huawei Mate 10 | 90.6 | 73.7 | 84.0 | Excellent |
| HTC U11+ | 91.5 | 75.4 | 90.5 | Excellent |
USonic earbuds
HTC first introduced its USonic headphones on the HTC 10 evo (a.k.a. Bolt), which was coincidentally the first HTC device without a headphone jack. With the U11+, HTC is debuting a new feature to its USonic earbuds: active noise cancellation. The included earbuds can actively cancel background noise thanks to all the processing of extraneous noise taking place on the phone rather than in the earbuds.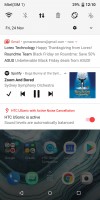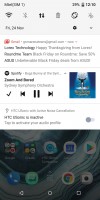 Toggling active noise cancellation
In addition to ANC, the USonic earbuds can be tailored to any person wearing them. Sonar sensors in the earbuds detect the echo in your ear canals and create an optimal profile. The calibration process involves a short static noise emitted through the earbuds. The whole process takes about 5 seconds.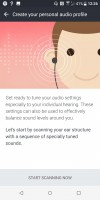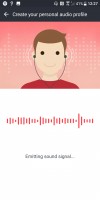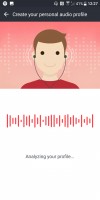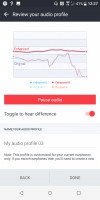 Creating a custom audio profile
The sound quality coming from these earbuds are light-years ahead of the "AKG" earbuds that Samsung bundled with its Galaxy S8. In fact, HTC demoed USonic to us by comparing the sound output from the bundled AKG earbuds hooked up to an S8.
It's very difficult to put perceived sound into words, but if we had to describe it: HTC's USonic earbuds are like if music was deconstructed and reconstructed to where you can hear all the instruments. It's truly something you need to hear for yourself.
HTC should set up demo booths around shopping malls showing off both Boom Sound and USonic. We feel these are one of the better selling points of the phone.
Audio quality
Unfortunately, our review unit did not come bunled with a USB-C to 3.5mm adapter. This means we couldn't test the audio quality because it very much depends on what kind of headphones or adapter you have - each has its own DAC and has to be tested individually.
The good news is that the HTC U11+ comes with a pair of USonic headphones, so you are ready to go out of the box. They are in-ear headphones, though, if you want on or over ear, you have to provide your own.