Vanilla and 3D user interface
The Huawei Ascend P1 comes with Android 4.0.3 Ice Cream Sandwich out of the box and lets you pick one of the two preinstalled launchers. One offers a virtually stock ICS experience, while the other throws in some extra tweaks and cool 3D effects.
Here's a user interface demo video to get things started.
The lockscreen is fairly busy. At its center is a circle with shortcuts in the four cardinal directions: unlock to the east, camera to the south, messaging to the west and call log to the north.
The upper area of the lockscreen displays the time and date, but you can swipe to the side to get to the music player controls. At the bottom is a shortcut to the dialer.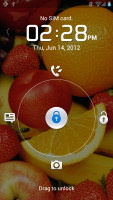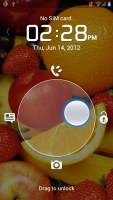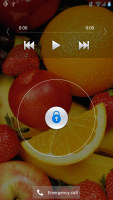 The Huawei lockscreen offers several shortcuts and music player controls
Beyond the lockscreen is a standard-looking homescreen with five panes (none to be added or deleted). At the bottom you get the familiar shortcut dock (four shortcuts with the app drawer button in the middle) and the Google search bar is fixed to the top of the homescreen.
Even the icons come straight from the holo theme that Ice Cream Sandwich brought. Hit the menu key however and you'll notice an option called "Theme settings". This offers two more themes that customize the look of the icons (though not the functionality).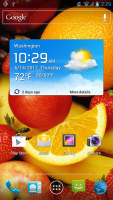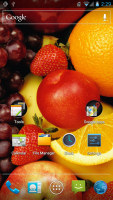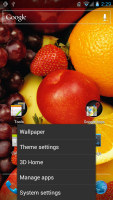 The standard-looking homescreen
The notification area features non-standard toggles for Wi-Fi, Bluetooth, GPS, Data and screen rotation. The rest is the same though: a shortcut to the settings and a list of recent events below (you can side-swipe to dismiss them).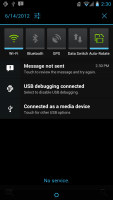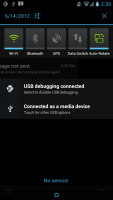 The notification area has grow toggles
The app drawer is taken directly from ICS - you swipe between horizontally aligned pages and you get two tabs, one for apps and one for widgets. The task switcher is pure ICS too - you get a vertical list of apps that you can discard with a sideways swipe.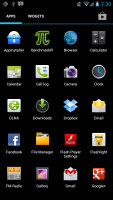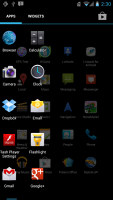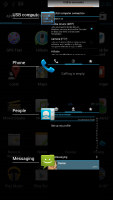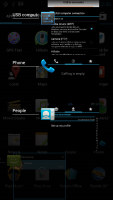 The app drawer • The task switcher
So far, so good. There's another launcher pre-installed - the 3D home. It's more flexible than the vanilla launcher and lets you have between 5 and 7 homescreen panes. To add or remove some pages, you do a pinch zoom to bring out a familiar aggregate view.
The 3D homescreen has a neat trick - 3D widgets. As you swipe between panes you get a nice 3D effect (as if you're rotating a cube) and you can see that some widgets have actual three dimensional shape. That only works for the five 3D widgets though - Calendar, Email, Music+, Photo album and Weather clock.
The app drawer features the same 3D effect when moving between pages, but is otherwise functionally identical. The notification area is untouched.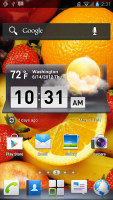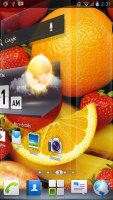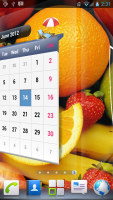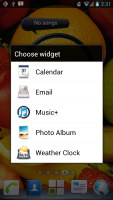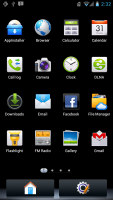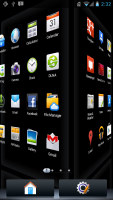 The 3D homescreen • Adding a 3D widget • The 3D app drawer
Another useful fesature is the Fast boot option - it's similar to HTC's solution and speeds up both shut down and start up times considerably. With this option enabled, the Huawei Ascend P1 will boot in about 6 seconds.
Synthetic benchmarks
The Huawei Ascend P1 is powered by a TI OMAP 4460 chipset, featuring two Cortex-A9 cores clocked at 1.5GHz, 1GB of RAM and a PowerVR SGX540 GPU. The screen has qHD resolution.
Note that the P1 has a Power saving option that lets the user balance performance and power consumption. For the benchmarks we set it to the highest performance mode available, but even in the power saving mode the Ascend P1 pretty much matched a Samsung Galaxy S II or the Galaxy Nexus (suggesting that this modes downclocks the CPU to 1.2GHz).
When it comes to performance though, the Huawei Ascend P1 exceeded our expectations - Benchmark Pi times successfully rival those of an HTC One X (with Tegra 3) or the Samsung Galaxy S III.
While multithreaded performance is behind quad-core droids or the ones using Snapdragon S4, it's still better than the rest of the Cortex-A9 based dual-cores.
Benchmark Pi
Lower is better
HTC One X (Snapdragon S4)
279
HTC One S
306
HTC One X (Tegra 3)
338
Samsung Galaxy S III
344
Huawei Ascend P1
351
Samsung Galaxy Nexus
408
Samsung Galaxy S II
452
Sony Xperia S
536
Sony Xperia P
539
HTC Sensation XE
583
Linpack
Higher is better
HTC One S
210
HTC One X (Snapdragon S4)
196
Samsung Galaxy S III
177.1
HTC One X (Tegra 3)
126.1
Huawei Ascend P1
97.0
Sony Xperia S
86.4
Samsung Galaxy S II
77.6
Samsung Galaxy Nexus
77.1
Sony Xperia P
66.9
HTC Sensation XE
50.4
NenaMark 2 shows decent 3D performance and qHD is a good middle ground between resource-hungry 720p and the relatively low WVGA resolution. Almost all 3D games should run at playable framerates. 3D performance isn't affected by enabling the Power saving mode.
NenaMark 2
Higher is better
HTC One S
60.5
Samsung Galaxy S III
58.8
Samsung Galaxy S II
51.6
HTC One X (Snapdragon S4)
49.1
HTC One X (Tegra 3)
47.5
Sony Xperia S
37.5
Huawei Ascend P1
36.7
Sony Xperia P
29.9
Samsung Galaxy Nexus
24
HTC Sensation XE
23
SunSpider shows JavaScript performance is somewhere on the level of an iOS6-running iPhone 4S. Even the HTC One X (both the Snapdragon S4 and Tegra 3 versions) doesn't have much lead.
For general HTML5 performance, BrowserMark gave the Ascend P1 scores higher than what the HTC's One line got. Actually, the P1 has one of the fastest browsers we've tested - great job, team Huawei.
SunSpider
Lower is better
Samsung Galaxy S III
1447
HTC One S
1708
New Apple iPad
1722
HTC One X (Tegra 3)
1757
HTC One X (Snapdragon S4)
1834
Huawei Ascend P1
1840
Samsung Galaxy S II
1849
Samsung Galaxy Nexus
1863
Apple iPhone 4S (iOS 5.1)
2217
Sony Xperia S
2587
Sony Xperia P
2784
HTC Sensation XE
4404
BrowserMark
Higher is better
Samsung Galaxy S III
169811
Huawei Ascend P1
127532
Samsung Galaxy S II
111853
Samsung Galaxy Nexus
103591
New Apple iPad
103264
HTC One S
98435
HTC One X (Tegra 3)
96803
HTC One X (Snapdragon S4)
92232
Apple iPhone 4S
88725
Sony Xperia S
74990
HTC Sensation XE
72498
Sony Xperia P
72237
We have to admit that we didn't have very high expectations of the TI OMAP 4460 chipset (we've seen it in action before), but the Huawei Ascend P1 punches above its weight in general performance, though 3D performance is just good - no big wins there.