The Honor 6X runs Android 6.0.1 Marshmallow out of the box, layered with Huawei's EMUI 4.1, of course. By now, we pretty much expect phones released at the beginning of the year to come with the latest flavor of Android. Thankfully, Honor says it will update the 6X to Android Nougat / EMUI 5.0 sometime in Q2 2017.
There are definitely some improvements of EMUI 5.0 that are worth mentioning. You can have more than 9 quick toggles, and the in-line notification replies have been improved. There are visual improvements throughout the UI (i.e. no more teal), as well as overall improved optimizations, battery life refinements, and the option to use an app-drawer with the default launcher.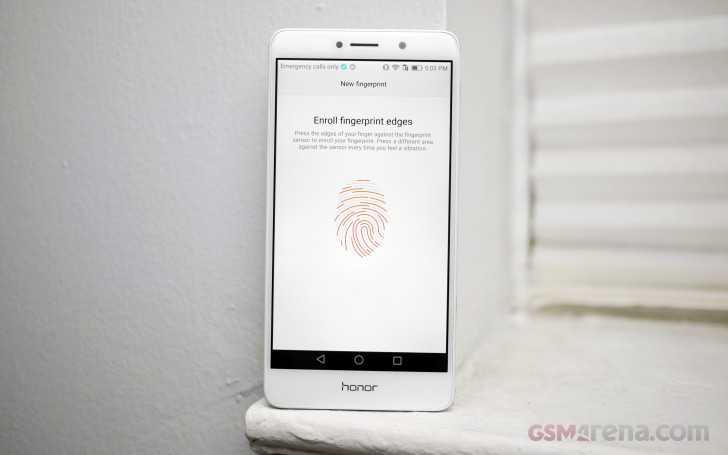 Keep in mind, that the UI will be even more refined with the Nougat update, which comes out with EMUI 5.0. There will be the option to get the app drawer back. The quick toggles will also look much better, and you will be allowed more than a 3x3 grid of toggles.
Anyway, here are the default home screens. Is something missing? Yeah, the app drawer button, which will be added with the new update. Right now, the UI is organized much like on the iPhone where all your apps reside on the homescreen.
You can also swipe down on a home screen (iOS-style) to bring up a search bar above a row of four of the most recently used apps. Here you can search for apps or contacts, or you can search the web or Twitter.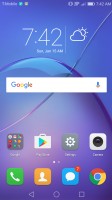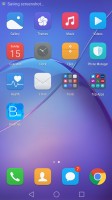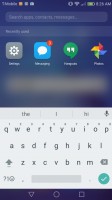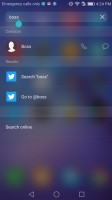 Homescreen 1 • Homescreen 2 • Swipe down for search box • Search contacts, Twitter, or Google
If you want to change the stock launcher, it's not a straightforward process. Once you install your third party launcher, you need to go into the apps menu, and tap the 'default app settings.' This is where you'll be able to change various default apps i.e. the launcher.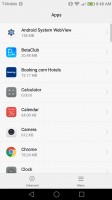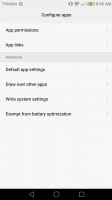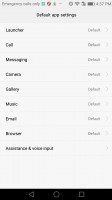 Apps menu • Advanced app settings • Default apps
There are a few ways to customize your home screens with EMUI's stock launcher. Tap and hold on an empty area on a home screen, and you can change wallpapers, add widgets, choose a page transition, or change the number of apps per home screen.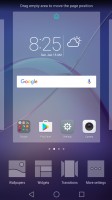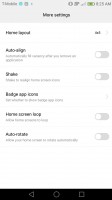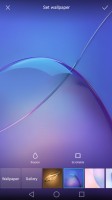 Home screen menu • More settings • Wallpaper chooser
The Honor 6X's fingerprint scanner works quite well. It's accurate and quick and brings you right past your lock screen. Setting it up is pretty straight forward. You'll want to add both index fingers so you can unlock the phone with either of your hands.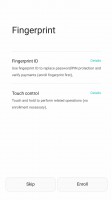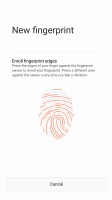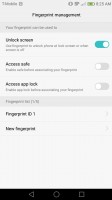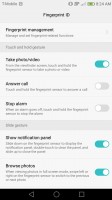 Adding a fingerprint and adjusting fingerprint settings
Speaking of which, the lock screen has the "magazine unlock" wallpaper, which changes every time you see the lock screen. Since you'll be bypassing it every time you use the fingerprint, you won't see any notifications on the lock screen when you have any kind of security feature enabled (at least with the default settings). This is one of those things that are addressed with the Nougat update.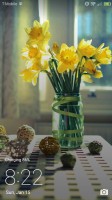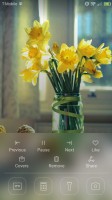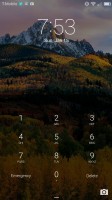 Unsecured lock screen • Swipe-up for 'control center' style of tools • Secured lock screen
The notification shade is one of the major improvements of the Nougat / EMUI 5.0 update as well. The one in EMUI 4.1 is laid out like a timeline. The 'Shortcuts' tab in the corner takes you to your quick toggles. Scroll down a bit, and you'll see an 'edit' button, which lets you switch out any of the toggles you don't like. The downside is the UI only allows a maximum of 9 active toggles.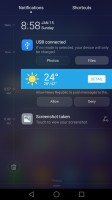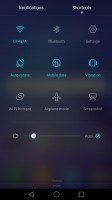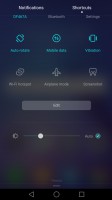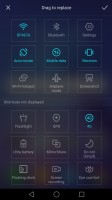 Notification shade • "Shortcuts" tab • Editing primary shortcuts
The app-switcher key shows a single row of recent apps. The Nougat update will change this to rolodex-style cards for easier finding and faster termination of recent apps.
The recent apps key can also be used to initiate a dual-window session. The dual-window feature, again, will be improved once Nougat rolls around. As of this review, you can only enable a few apps to be used with the current dual-window implementation, most of which are stock Huawei apps.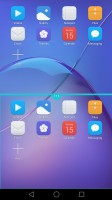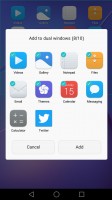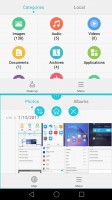 Tap-and-hold recent apps key • Adding more apps to dual windows • Dual windows options
There are more than enough settings for tweaking the Honor 6X to your liking.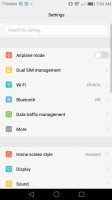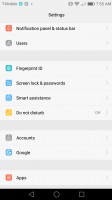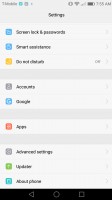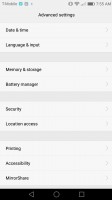 Settings 1 • Settings 2 • Settings 3 • Advanced settings
You can do things like change the display zoom and text size, add or remove the carrier name from the status bar, enable one-handed mode, customize the nav controls, or you can use the fingerprint scanner to pull the status bar down.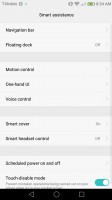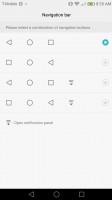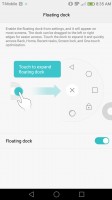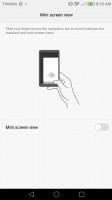 Smart assistance options • Nav bar options • Floating dock • Mini screen view
Wi-Fi+ knows when you're near your Wi-Fi hotspots and turns Wi-Fi off when you're out and about. The idea is for networks to switch optimally between Wi-Fi and mobile data to ensure a smooth transition into or out of Wi-Fi zones.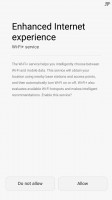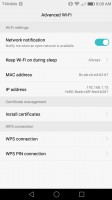 Wi-Fi+ introduction • Advanced Wi-Fi settings
There are plenty of display settings, including a color temperature tool for fine tuning color accuracy.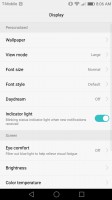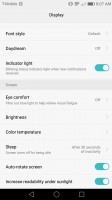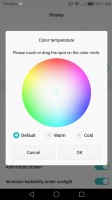 Display settings 1 • Display settings 2 • Color temperature tool
There is also a built-in Eye Comfort mode, which puts an amber-yellow filter over your screen to block out blue light at night. This can be scheduled with a start and end time.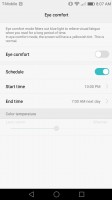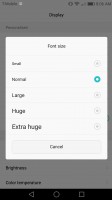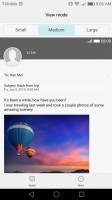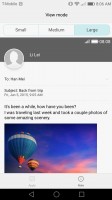 Eye comfort mode • Font size adjustment • View size adjustment
The Honor 6X comes equipped with lots of tweaks and settings for those who'd like to squeeze every bit of juice from an overnight charge. The phone is constantly notifying you of when an app is using excessive amounts of power, to which you can force close the app, or totally prevent it from running in the background. Just remember you might miss notifications from the app if you do this.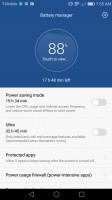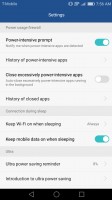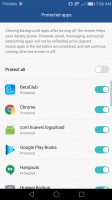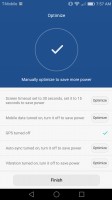 Estimated battery life remaining • Power settings • Protected apps • Battery optimization tool
Anyone who takes "Do not disturb" mode very seriously will have various settings for customizing quiet times.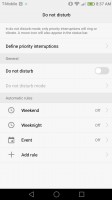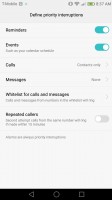 Do not disturb mode • Defining priority interruptions
Finally, for those customers who aren't a part of Honor's giant millennial target market, the Honor 5X's UI is able to simplify its interface with an "Easy mode" of sorts. The essential apps are on the launcher, text is enlarged, and settings are simplified.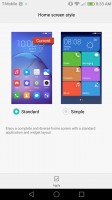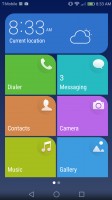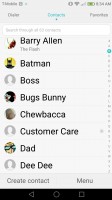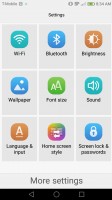 Simple home screen style • Simple launcher • Larger text in contacts • Simplified settings