Final words
The Honor 6X carries on the same philosophy that the company introduced with the 5X: create a smartphone with a satisfying price-to-value ratio (also known as "bang for buck" ratio). The Honor 6X makes some compromises, perhaps not all that power users would appreciate, but EMUI should offer enough customization and control to satisfy these users.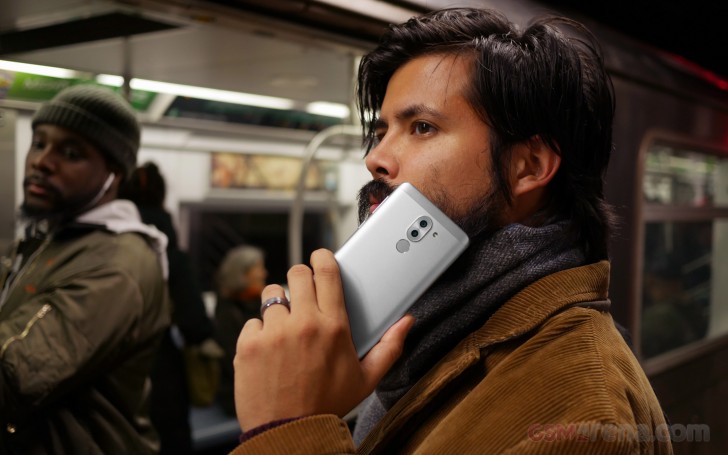 This smartphone was improved in almost every aspect over the Honor 5X - metal design, battery life, display quality, ergonomics, and performance. Just one major aspect was left out - the camera. We feel as though the 13MP camera sensor on the original 5X, as well as the front facing camera, took photos with better dynamic range and more details. The main camera's HDR mode also resulted with better photos than the 6X's.
If you're expecting an iPhone 7 Plus-like experience with the dual-camera setup on the 6X, you'll be quite disappointed. The camera is decent enough, but it ain't no iPhone. Wide aperture shots are surely becoming popular these days, especially with the 7 Plus' portrait mode, and the wide-aperture mode in the Honor 6X is definitely a welcome feature in phones of this price range, though it won't be the only one for long. ZTE is bringing the Blade V8 Pro to the US for $230 with dual-13MP cameras.
Honor priced the 6X $50 higher than the 5X at launch, though, it will be holding a total of four flash sales in January which knock the price down to $199. But before we tell you if it's worth your investment, let's talk about who this device is for.
Huawei Honor 6X key test findings:
Improved metal build, refined design with new ergonomics.
LTPS display is brighter at 550+ nits with better color accuracy and viewing angles over previous model.
Battery endurance is a rock-solid 84h, even longer with power save mode enabled. We just wish the phone supported some kind of fast-charging to top up that battery more quickly.
EMUI 4.1 offers extensive settings, options, and features, but is layered over a slightly dated Android Marshmallow, though Honor promises to update the 6X to Nougat with EMUI 5.0 in Q2 2017.
Fingerprint scanner is quick with excellent accuracy.
Solid performance from HiSilicon's Kirin 655 CPU and Huawei's software optimizations are paying off, this thing breezes through everyday tasks .
Loudspeaker scored 'Good' in loudness test, with below average dynamic range and tinny-distortion at higher volumes.
Audio output quality is decent with the headphones and offers loud volume levels.
The 12MP camera samples had below-average dynamic range, washed-out colors, and muddled textures. Photos tend to look underexposed as the camera tries to avoid clipping the highlights when metering the exposure. Wide-aperture mode takes advantage of the 2MP depth sensor, and the camera experience was quick, overall.
Front facing camera worked well enough, though dynamic range suffers in more drastic changes to ambient light. Otherwise, details are mostly lost in selfie backgrounds.
1080p videos look better regarding color accuracy and exposure and record in Audio. Otherwise, the phone offers no version of video stabilization.
The Honor 6X is great for anyone who doesn't mind EMUI's layout and design language. If you hated EMUI 4.1 Marshmallow, make sure you give EMUI 5.0 a change. The overall appearance and execution are cooperatively better. Otherwise, if you don't mind the lack of a USB-C port, quick charging, and dual-band Wi-Fi, you'll have a great time with the Honor 6X.
A large number of competitors exist in with comparable specs in this class of smartphones. A popular segment among Chinese manufacturers - the phones with 5.5" 1080p displays - are numerous and there are contenders of all price ranges. The first competitor we'll mention is the one set out to seek and destroy Honor in its own game.
The ZTE Blade V8 Pro was announced shortly after Honor announced the 6X at CES and it offers near-identical specs for a lower price. The Blade V8 Pro is powered by a Snapdragon 625 chipset, it packs 3GB of RAM, 3,000+ mAh battery, and a front-facing fingerprint scanner under the screen.
What really pins the two phones up against each other is the presence of USB-C and Quick Charge 2.0, NFC, and 5GHz Wi-Fi, none of which exist on the 6X. Not to mention, there's also a dual-13MP camera setup, all for a price of $230. That's $20 cheaper than the Honor 6X. Though it does come with Marshmallow, for now, the Blade V8 Pro will need a comparable software experience to compete with the 6X.
We reviewed the Moto M not too long ago, and we think it's a great alternative to those who'd rather have a more vanilla approach when it comes to Android. The Moto M packs an additional GB of RAM (4GB), and a Helio P10, which offers comparable performance to both the Kirin 655 and the Snapdragon 625. Oh yeah, this guy gets the Helio P15 in India, but battery life is a bit plagued partly because of the MediaTek chips.
The Lenovo K6 Note sports a Snapdragon 430 chipset, but unlike the Moto M, this UI features a wide variety of features baked into the UI. An AOSP-like appearance is complimented by custom features offered by Lenovo. While performance might not be on par, at least battery life will be. The K6 Note's 4,000 mAh battery yields the handset an impressive overall endurance score of 91h.
The Honor 8 may be an alternative for those looking for something more. The Honor 8 launched in Q3 of last year and is the first Honor smartphone to come with a dual-camera. Though this camera setup is superior because all photo modes make use of the secondary monochrome 12MP sensor and this helps take photos with better dynamic range, overall.
The Honor 8 is a higher price range, but you'll at least be getting all the features the Honor 6X is missing: USB-C, Quick Charge 2.0, IR blaster, 5GHz Wi-Fi, and a customizable key that lives behind the fingerprint scanner. Granted, the Honor 8 is a bit smaller with a 5.2-inch screen, but if you are after the dual camera setup is a good proposition.
The Samsung Galaxy A5 (2017) might be your cup of tea if you're looking for something by a more renowned manufacturer. The Exynos 7880 chipset proves to be quite efficient: combined with a 3,000 mAh battery and an AMOLED screen, the Galaxy A5 (2017) yielded a 95h endurance score. It's also waterproof, but again, has a smaller screen.
Honor's entry-level offering for the US is (still) a great value considering what you get: an all-around great-looking phone with a mostly-metal build, an efficient CPU, a great display, a quick dual-camera, a responsive fingerprint scanner, and an excellent battery life. But with Honor's success in the segment, we expect to see even more great competition from similar contenders on this huge market.