Android 8.1 Oreo and EMUI 8.2
The Huawei Mate 20 lite runs Android 8.1 under its thoroughly custom EMUI launcher, v8.2 in this instance, which Android purists are guaranteed not to like. In the latest version of EMUI you'd be getting improved the Face Unlock and Gallery with machine learning, some new Gaming tricks, and a brand new Party Mode for music playback sync across different devices (how's that new, though).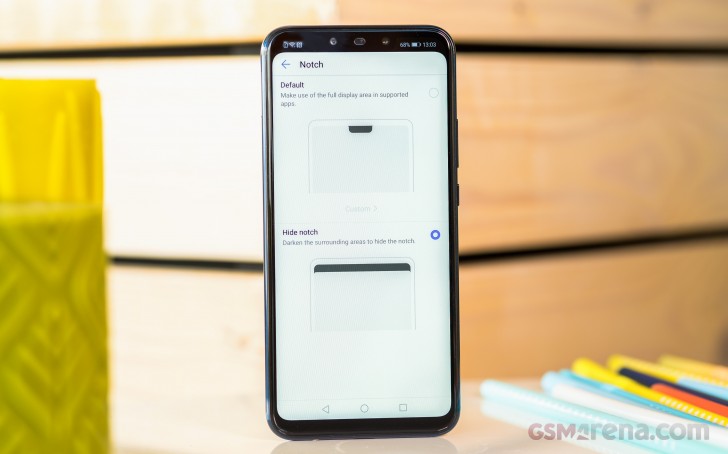 You can either embrace the notch, or you can opt to mask it with a black status bar that extends all the way down to the bottom edge of the notch.
Out of the box, there is no app drawer on the EMUI 8 - it's a single tier interface like on the iPhone. However, if you miss Android's usual layout, you can enable it back in the Display settings.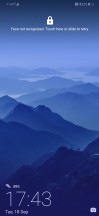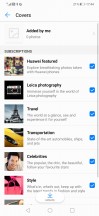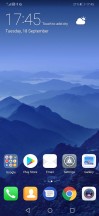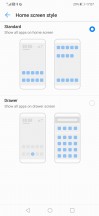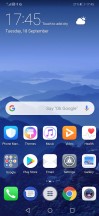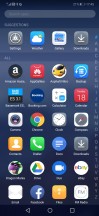 Lockscreen • Covers • Homescreen • Homescreen styles • App drawer shortcut in the middle • App drawer
EMUI has Magazine lock screen, as usual, which rotates through a bunch of wallpapers (covers), so you see a different one every time you fire up the display.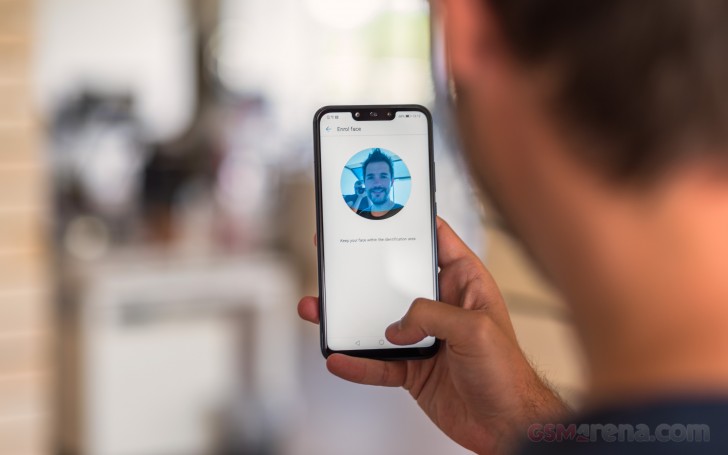 Huawei's EMUI offers plenty of customization and features like (not so secure) face unlock, smart rotation, and lift to wake. The face unlock has been enhanced with machine learning and will learn to recognize your face even with changes such as facial hair or sunglasses.
Themes are supported, too, and there is a lot to choose from.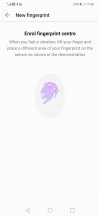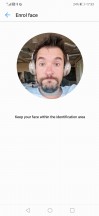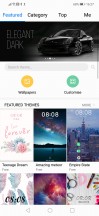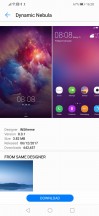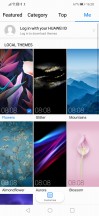 Fingerprint enrolment • Face enrolment • Themes
The notification shade is pretty much a standard affair, with the usual Huawei take on the graphics. There's a brightness slider and a row of toggles, and you pull down again for more toggles. Multitasking is pretty standard as well. Tap-holding the Recents key will let you activate split screen. You could have a video playing on top of the two windows if for some reason you find that useful.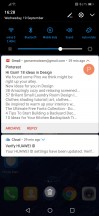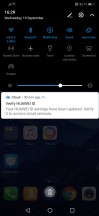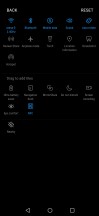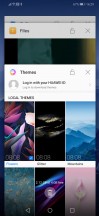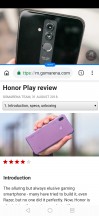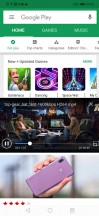 Notification area • Toggles • Toggle settings • Recent apps • Split screen • Video on top
From the Phone Manager app, you can access shortcuts to storage cleanup, battery settings, blocked numbers, Virus scan powered by Avast, and mobile data usage.
Huawei's own Music app is here and offers a way to listen to stored MP3s. Huawei's Health app is also pre-installed. It offers Google Fit syncing and step counting. There's a file manager app and a note-taking app. There is an abundance of replacements for these in the Play Store, however.
There is an improved AI-powered gallery with EMUI 8.2. The app now supports automatic sorting with highlights. The machine learning decides the sorting criteria - location, date, event, etc.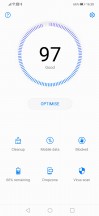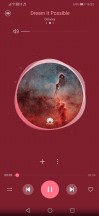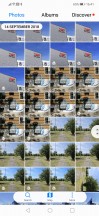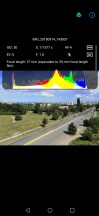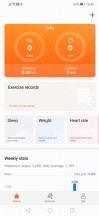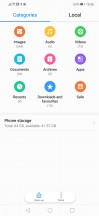 Phone Manager • Music Player • Gallery • Image details • Huawei Health • Files
The Party Mode is a new feature courtesy of EMUI 8.2, which we already saw on the Honor Play. It's available from an app of the same name and allows the user to connect to multiple phones to play the same song simultaneously.
There's a Game Suite on board that groups your games in one place and adds some functionality for uninterrupted gaming.
Synthetic benchmarks
The Mate 20 lite is the first phone to utilize Huawei's own midrange Kirin 710 chipset. It's made on a 12nm process (its efficiency already proven in the battery chapter) and features an octa core CPU in a 4x2.2 GHz Cortex-A73 & 4x1.7 GHz Cortex-A53 configuration. The GPU is a Mali-G51 MP4. Our review unit has 4GB of RAM, but a higher spec 6GB version will also be available in some places.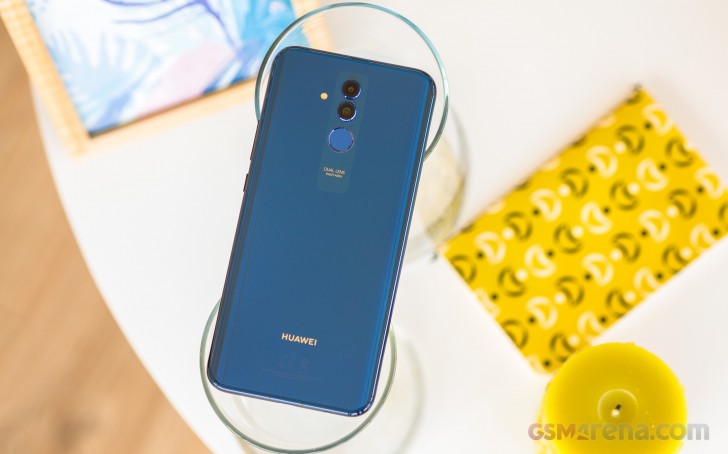 When it comes to single-core CPU performance, the Mate 20 lite matches rather closely Snapdragon 660-equipped competitors Nokia 7 Plus and Xiaomi Mi A2 and is a clear step ahead of S636 devices. However, the Mi 8 SE (Snapdragon 710 ) noticeably is more potent, equaling the Honor Play and 10 that pack a Kirin 970.
GeekBench 4.1 (single-core)
Higher is better
Xiaomi Pocophone F1
2438
Honor Play
1899
Honor 10
1894
Xiaomi Mi 8 SE
1890
Nokia 7 plus
1634
Xiaomi Mi A2
1617
Huawei Mate 20 Lite
1595
vivo V11
1457
BlackBerry KEY2 LE
1343
Nokia 6.1 Plus
1331
Xiaomi Redmi Note 5 AI Dual Camera
1329
Huawei P20 Lite
938
Huawei Mate 10 Lite
913
Nokia 6 (2018)
882
Sony Xperia XA2
865
Sony Xperia XA2 Plus
839
As for multi-core performance, the Mate 20 lite can't quite catch up with the Nokia 7 Plus, and the Mi 8 SE is again ahead too. The Honors are predictably even more powerful. Again, phones with the lower-tier 600-series Snapdragons are behind the Mate.
GeekBench 4.1 (multi-core)
Higher is better
Xiaomi Pocophone F1
9003
Honor Play
6696
Honor 10
6591
Xiaomi Mi 8 SE
5908
Nokia 7 plus
5893
Huawei Mate 20 Lite
5574
vivo V11
5535
BlackBerry KEY2 LE
4965
Nokia 6.1 Plus
4929
Xiaomi Redmi Note 5 AI Dual Camera
4918
Xiaomi Mi A2
4625
Nokia 6 (2018)
4225
Sony Xperia XA2
4215
Sony Xperia XA2 Plus
4144
Huawei P20 Lite
3756
Huawei Mate 10 Lite
3603
In the graphics department, the Mate 20 lite is a bit behind the S660 rivals, though still ahead of the 636s and 630s of this world. The GPU is also a marked improvement over the one in the older in-house Kirin 659, but nowhere near the Kirin 970's.
GFX 3.1 Car scene (1080p offscreen)
Higher is better
Xiaomi Pocophone F1
35
Honor 10
23
Honor Play
22
Xiaomi Mi 8 SE
13
Nokia 7 plus
9.1
Xiaomi Mi A2
9
vivo V11
8.2
Huawei Mate 20 Lite
7.6
Xiaomi Redmi Note 5 AI Dual Camera
6.3
Nokia 6.1 Plus
6.3
Nokia 6 (2018)
5.6
Sony Xperia XA2
5.5
Sony Xperia XA2 Plus
5.5
Huawei P20 Lite
3.1
Huawei Mate 10 Lite
2.9
GFX 3.1 Car scene (onscreen)
Higher is better
Xiaomi Pocophone F1
31
Honor 10
21
Honor Play
21
Xiaomi Mi 8 SE
12
Nokia 7 plus
8.6
Xiaomi Mi A2
8.6
vivo V11
7.4
Huawei Mate 20 Lite
6.7
Xiaomi Redmi Note 5 AI Dual Camera
6
Sony Xperia XA2
6
Nokia 6 (2018)
6
Nokia 6.1 Plus
5.9
Sony Xperia XA2 Plus
5.1
Huawei P20 Lite
2.8
Huawei Mate 10 Lite
2.7
The clear distinction between the different chips is summarized in Antutu with the Mate 20 Lite splitting the small difference between the S660 Nokia 7 Plus and Mi A2, with the Mi 8 SE a step ahead of them and the 636s behind.
AnTuTu 7
Higher is better
Xiaomi Pocophone F1
265314
Honor Play
204876
Honor 10
200440
Xiaomi Mi 8 SE
170218
Nokia 7 plus
140820
Huawei Mate 20 Lite
136583
Xiaomi Mi A2
130927
BlackBerry KEY2 LE
116764
Nokia 6.1 Plus
115571
Xiaomi Redmi Note 5 AI Dual Camera
115195
Nokia 6 (2018)
90918
Huawei P20 Lite
87431
Sony Xperia XA2 Plus
86374
Overall, Huawei's latest midrange chip is a very close match for the Snapdragon 660 but the 710 in the Kirin's name tries to position it against Qualcomm's equally numbered SoC, which is out of reach. No harm in that though - the Kirin 710/Snapdragon 660 level of performance is more than most people would need day to day.