Final words
It used to be sad times for people who are in the market for big-screen phone (with the Galaxy Note7 demise) this fall season. But the Huawei Mate 9 is preparing for a rebound and is piercing through the clouds to offer a compelling alternative.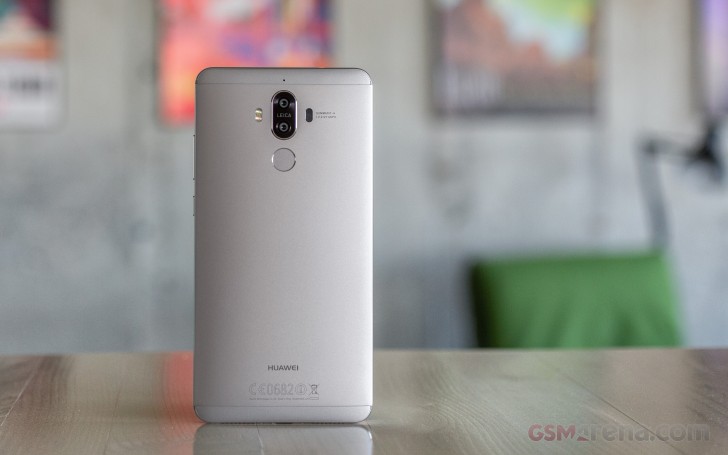 A proper top-shelf phablet, the Mate 9's aluminum body is as premium as they come. AMOLED die-hards may not be thrilled about the Mate's LCD, but in reality, there's little to complain about it - other than the bluish tint, it's simply great. Battery life is not record-breaking, yet the Mate is as dependable or better than most any flagship out there.
But the real head-turner here is the camera. Episode 2 of the Huawei-Leica collaboration brings a higher resolution 20MP monochrome shooter to accompany the 12MP regular RGB one. The two also work in unison to deliver 20MP color shots (almost as good), but stick to 12MP color or 20MP black and white and you won't be disappointed.
Huawei Mate 9 key test findings
Top quality aluminum unibody is both great to look at and premium to the touch.
Excellent bright and contrasty display, very good in sunlight too. Color accuracy isn't great though.
Solid battery life, excellent at web browsing, very good at video playback, okay for voice calls.
EMUI is a functional Android overlay, even if it has its quirks. Huawei has worked a lot on single-handed operation and it shows, knuckle gestures are somewhat gimmicky, but the addition of an app drawer will make transition easier for those not used to a single-tiered interface.
Class-leading CPU performance by the Kirin 960 chipset, GPU doesn't shine but is a substantial leap forward from previous designs.
Very loud and extremely clean output from the built-in speaker.
Multimedia package gets the job done - the gallery is basic, but the image editor is very powerful, the video player has little more than play/pause, and the music app looks good and works well, but lacks an equalizer.
Audio output quality is solid both on headphones or when attached to an external amplifier.
Still images show cautious processing with accurate colors, high detail level and good dynamic range. The monochrome camera takes these another notch up (minus the colors, obviously).
4K videos are very detailed, if a little noisy, but the h.265 codec makes for problematic sharing. 1080p footage is nothing special.
We mentioned the Pixel XL a few times on the previous pages and we'll kick off the comparisons with Google's phone. Pricing info on the Mate 9 is pretty scarce for markets outside the EU, and that's where the Pixel XL is probably the most expensive. A 32GB plus-sized Phone by Google will run you €200 more than the larger-screened (5.9" vs. 5.5") Mate 9 with twice the storage and a microSD slot (the Pixel doesn't have one). Of course, the Pixel comes with unlimited cloud storage for photos and videos at full resolution, but does that really offset the price difference?
The Pixel's camera is superior in point-and-shoot mode, but the Mate 9 has a lot more going for it as a photographic tool - the monochrome 20MP cam is chief on the list of features, but there's also an easily accessible Pro mode for those that want to tweak things further. While the Mate will comfortably outlast the Pixel in web browsing, its battery life isn't necessarily better overall - we sort of expected an easy win for the Huawei phablet in this department.
The Pixel is also much better suited to VR, if that's your thing, thanks to the higher-res display (QHD vs. the Mate's 1080p) and, you know, being the only phone to support Google Daydream as of today.
In the absence of a Galaxy Note7, Samsung has the Galaxy S7 edge to pit against the Mate 9, another measly 5.5-incher against the 5.9" beast. This one, as well as the Pixel above, sports a higher-res display, and has its own VR platform, so the Mate loses to it on this front as well. The S7 edge is generally longer-lasting too, and it's got an IP68 rating. The Mate 9, on the other hand has a superior front-facing camera, an additional monochrome shooter (we'll go on listing that against all rivals), and arguably more 'photographic'-looking images overall.
The LG V20 is more around the Mate 8's size ballpark - 5.7 inches of real display plus a ticker is as close at it gets. It's also got two cameras, albeit in a very different setup - whether you choose the V20's super wide-angle cam over the Mate 9's monochrome one is entirely up to you. What's very objective is the Mate 9's vastly superior battery life, but then the V20's power pack is user replaceable - decisions, decisions!
The Xiaomi Mi 5s Plus takes the same dual-camera approach as the Mate 9 - one shoots color, the other - black and white, only both are 13MP. Best thing about the Mi 5s Plus - it costs less than half the Mate 9, despite having similar top-end specs. You may not be able to get one outside of China though, and if you manage to, it'll be a little more expensive and then there's the matter of claiming your warranty should you need to.
Just how cheesy would it sound if we say that the Mate 9 could very well be your 'best mate'? It'll keep you company all day and well into the night (in a decidedly non-disturbing way), it'll be with you in both vividly colorful moments and thought-provoking black-and-white dilemmas, and it'll look good while doing all of it. Okay, hold it, the Mate 9 is still nothing but a smartphone - it's just a very good one.